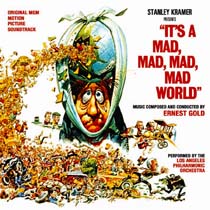 Close your eyes for a moment and pretend you're on Jeopardy! The answer: "This 1963 widescreen epic opened Hollywood's Cinerama Dome." The question: "What is It's a Mad, Mad, Mad, Mad World?" Raise your hand if you got it right! Yes, Mad World, as we'll abbreviate it for expediency's sake, is this author's epic film to end all epic films (sorry, Ben-Hur!) and certainly one of the only Hollywood epic comedies! While the designation "all-star" has been applied before and since, perhaps no film ever lived up to that billing just as much. Witness: Spencer Tracy. Milton Berle. Sid Caesar. Edie Adams. Ethel Merman. Jonathan Winters. Mickey Rooney. Buddy Hackett. Phil Silvers. Dick Shawn. Jimmy Durante. Peter Falk. Not good enough for you? Jack Benny. Stan Freberg. Sterling Holloway. Arnold Stang. Buster Keaton. Don Knotts. Still not starry enough? Jerry Lewis. Carl Reiner. Jim Backus. And the Three Stooges. And there are more, but I'll spare you. Mad World is one of the most legendary films of all time, a wild comic romp through the state of California in which the cast of thousands embark on a chase for $350,000.00. The visuals of sites long-vanished or altered are as priceless as the cast, the likes of whom won't be seen again. The story of the film's various edits and running times is almost as interesting as the movie itself; I direct the curious to writer Mark Evanier's exemplary pages on the film for as much as a discerning Madphile could want to know. (And much like the film has endured to the present day, so has the Cinerama Dome as a first-run venue. If you're in Hollywood, see a movie there...and then walk a few steps down Sunset Boulevard to Amoeba Music. You'll thank me later!)
Part of the Mad World mythology is the terrifically fun score by Ernest Gold (1921-1999), Academy Award winner for Exodus and father to Andrew "Thank You for Being a Friend" Gold. La-La Land has just released the third CD incarnation of It's a Mad, Mad, Mad, Mad World: Original MGM Motion Picture Soundtrack (La-La Land LLLCD 1167), following editions by Rykodisc (RCD 10704, 1997) and Kritzerland (KR 20014-7, 2010). Rykodisc's Deluxe Edition treatment added dialogue tracks and an interview with Gold and Kramer, whereas Kritzerland restored the original LP running order, vastly improved the sound quality and added bonus tracks. La-La Land's is the most complete presentation yet of a delicious score on two discs, with the first containing (for the first time on CD) the score as actually heard in the film and the second devoted to that original LP.
So why is the new It's a Mad, Mad, Mad World a mixed blessing? Hit the jump to find out!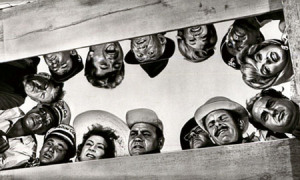 What's the single most compelling reason to make this purchase? Ernest Gold's score is sure to bring a smile to the face of even the most stone-faced listener. The central theme employs a bouncy waltz-like motif that will immediately recall cartoon lunacy in the best sense of the phrase. Think "Merrie Melodies," and this is one of the merriest of them all.  Gold and lyricist Mack David (brother of Hal) adapted this into the song that is heard over the main titles. The theme is light-hearted but has just enough tension that it could veer into insanity and danger at any time. A circus atmosphere might also come to mind, and like a real circus and its oom-pah-pah rhythms, Gold's themes are occasionally a bit sinister, and almost always wild and unexpected!
The score is a varied and grandiose one befitting the large-scale production. There are robust action cues, taut, suspenseful ones and manic, exciting pieces like "Turnabout/Get Going/Still Going/Auto Mania." Also be sure to listen for the many musical in-jokes, such as a violin cue for Jack Benny's appearance, and the "Three Chords" played for the Three Stooges! There's a quote of "Old Folks at Home" and even some jazzy source music ("Whole Tone Blues") in this expansive work. Gold created a truly visual score, in which a listener can immerse himself and immediately picture the zany travelers and one kooky situation after another. Few higher compliments can be paid to a film score. Gold's music doesn't just accompany Kramer's images, but echoes and enhances them.
It's likely that this restoration of the complete score to Mad World has been a labor of love for producer Ray Faiola of Chelsea Rialto Studios and his co-producer Ford A. Thaxton.  Both gentlemen can boast of considerable accomplishments in the field of film score restoration, and they're to be applauded for the desire to issue a complete Mad World. This project presented a challenge, however, as the original music elements to Mad World are no longer available, as producers at both Rykodisc and Kritzerland knew. Faiola and Thaxton took a dramatic step, restoring the score from "the limited range rear recording angles from the original six-track composite soundtrack." Translation: the first disc of this release has been mastered from the rear channels of the commercially-available DVD. (These were music-only channels.) Faiola has made a considerable effort to make this source sound acceptable, and he goes to great lengths in his liner notes to explain the tweaks he has made in the digital realm. Still, he acknowledged that the sound is "not an optimum recording" and simply put, the mono sound, indeed, isn't optimum. Disc One lacks crispness and fidelity, and does reveal its origins from a sub-standard, non-first generation source. This is an effort to make listenable music from channels that weren't meant to be isolated. It should be noted, though, that Faiola and Thaxton have made available some 30 minutes of additional music not contained on the re-recorded LP, heard on Disc Two, and that alone will be enough to make this purchase warranted.
As for Disc Two, Gold's re-recorded album presentation of his score, it's no improvement over the 2010 Kritzerland edition which was remastered from the original album master tapes. There is no indication here of subsequent remastering. Faiola and Thaxton have altered the original LP sequence here by moving the two Shirelles songs written by Gold and David, "You Satisfy My Soul" and "Thirty-One Flavors," to the end of the album, so Gold's instrumental score plays uninterrupted.
Jeff Bond has contributed lengthy track-by-track liner notes to accompany Faiola's technical notes, and as always Bond is knowledgeable and entertaining. The extensive full-color 20-page booklet happily contains musician information and numerous photos.
If you're an It's a Mad, Mad, Mad, Mad World fanatic, you'll no doubt have to have this, just for the first appearance of the original score on disc. Be aware that this is a 2,000-unit limited edition. But if you're looking to hear the score in superior sound, stick with Kritzerland's 2010 issue (now, alas, out-of-print) of the LP presentation, re-recorded by Gold, as your go-to disc. (That disc also contained bonus tracks of the original film Overture, Main Title, Intermission, Entr'acte, Finale and Exit Music, plus the Main Title without sound effects.) The new, complete Mad World will stand as a historical document. In any edition, though, the inspired lunacy of Ernest Gold's score will no doubt satisfy your soul!