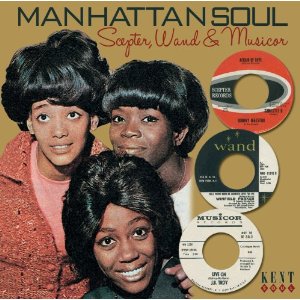 Tomorrow evening, New York's Broadhurst Theatre will be filled with the sounds of soul. The new Broadway musical Baby, It's You! will begin previews on March 26, bringing to the stage the story of New Jersey housewife Florence Greenberg (portrayed by Tony Award winner Beth Leavel) and her mighty musical empire founded in 1959. Greenberg, a pioneering woman in a field then dominated by men, nurtured the careers of The Shirelles and Dionne Warwick, among others, shepherding the songs of Carole King, Van McCoy, Burt Bacharach and Luther Dixon to worldwide recognition. Somewhat overlooked today in the shadow of the Motown girls that followed, The Shirelles were the first American girl group to top the Billboard Hot 100. Their music had a direct effect on not only Motown's "Sound of Young America" but the British Invasion acts that followed. Baby, It's You! tells their story, as well as that of Greenberg's taboo romance with Luther Dixon and Warwick's meteoric rise to fame at Scepter.
While The Shirelles' "Dedicated to the One I Love" and the Bacharach/Mack David/Barney Williams "Baby, It's You" will be heard every evening, the hits were just the tip of the iceberg. There were many other, lesser-known performers signed to Scepter and its sister label Wand, both initially based out of that famous Broadway address, No. 1650: the "second Brill Building." The U.K. label Kent remembers these artists and the music they've left behind with the new release of Manhattan Soul: Scepter, Wand and Musicor (Ace/Kent CD KEND 347), exploring the vaults of Greenberg's labels as well as Aaron Schroeder's Musicor, the home of Gene Pitney and also based at 1650. Opening a Kent anthology is often like discovering a long-hidden treasure chest, and this compilation is no exception. Kent has previously issued many Scepter, Wand and Musicor masters, but only one of the 24 tracks here has ever appeared on the label before, and there are previously unreleased cuts, too.
Of the hitmaking composers and producers mentioned above, Van McCoy makes an appearance on Manhattan Soul, as of course does Luther Dixon, arguably Scepter's most prominent writer and arranger until Bacharach (and his protégé Dionne Warwick) came along. Dixon is represented three times, while Nickolas Ashford and Valerie Simpson appear twice. The songs of Curtis Mayfield, Inez Foxx (of "Mockingbird" fame) and even a young Daryl Hall also are featured. Compilation producer and annotator Ady Croasdell has selected the crème of the crop; although not every track is an instant classic, none are less than interesting, most are worthy of re-examination, and some are positively electric. Hit the jump to travel back to 1650 Broadway, circa the swinging '60s!
What's most striking is the eclectic line-up of writers, producers and of course, performers under the "Manhattan soul" umbrella. Maxine Brown's "I Want a Guarantee" is hard-driving Northern Soul with girl group backing and an edgy rock guitar; previous Ace compilations have made the case for Maxine as one of the all-time greats, and "I Want a Guarantee" more than affirms that position. (She was, in fact, probably the label's top female singer after Warwick, although her songs are criminally unknown today.) The Sweet Inspirations are heard providing prominent background vocals on Helen Henry's "A Little Bit of Heartbreak," an unissued Wand master, although information about both Helen and the song's unknown writers and producers has been lost to time. This track employs a classic soul template with an emotive lead vocal from the mysterious Ms. Henry, plus brass, tinkling keys and shouts of "Yeah, yeah, yeah!" that just might compel the listener to sing along!
There are some higher-profile artists heard, too. The Platters, as well as Johnny Maestro and the Crests, are surprising inclusions. The late, great Maestro is hardly known as a soul shouter, but you wouldn't know it from his powerful vocal on the dramatic "Afraid of Love." The Tony Bruno/Victor Milrose number (both songwriters show up elsewhere on the disc, too) is filled with vocal abandon and a musical tension far removed from "Sixteen Candles" or "The Worst That Could Happen." The Toys are best known for "A Lover's Concerto" in 1965; the 1968 Musicor track "You Got It Baby" appears here, and this uptempo charmer positively smokes! Before Jerry Fischer replaced David Clayton-Thomas for Blood, Sweat and Tears' New Blood and No Sweat albums, he recorded "I've Got to Find Someone to Love Me" with The Nightbeats; this Musicor number is a slick one, with a passionate, pleading vocal.
Ed Townsend, heard on the previously-unreleased "Stick by Me," went on to co-write and produce Marvin Gaye's Let's Get it On after producing The Shirelles, Maxine Brown, Tommy Hunt and Chuck Jackson at Scepter/Wand. "Stick by Me" has a "Twist and Shout" vibe, with ascending "Aaaahs!" Much like Motown, Scepter often recorded multiple versions of the same song in the hopes of creating a hit. Lee Thomas' "Millionaire," written by Luther Dixon and Van McCoy, was also recorded by Lee Thomas and Chuck Jackson at Scepter. Thomas' version makes its first-ever appearance here.
Fans of Philadelphia soul will be surprised to find a few selections here just for them, despite the anthology's title. (As the songs were released on the New York labels, they still qualify!) The Buckeye Politicians' "Girl I Could Love You More," a Luther Dixon production written by Dixon and the Almon brothers, also sounds a bit out-of-place, having been recorded at the City of Brotherly Love's legendary Sigma Sound Studios in 1971. But it terrifically shows Dixon's adapting sensibilities. A Bobby Martin production from 1970 by Winfield Parker of Barbara Mason's song "Will There Ever Be Another Love for Me" is another Philly highlight. George Tindley's performance of "So Help Me Woman," co-written by a pre-fame Daryl Hall, is deliciously smooth in only the way a Philly track can be and like many of that city's most famous songs, has a memorable hook. It clearly anticipates the melodic ease of Hall's later recordings.
Dionne Warwick is absent from Manhattan Soul, but The Shirelles are thankfully spotlighted, like a visit from an old friend amidst all of the strangers. Their unissued "One Time Too Many" makes a strong impression. This Ashford/Simpson/Armstead collaboration, heard as what was most likely a demo, is simply too good to have sat on a shelf since its recording; Shirley Alston's emotional vocal is a stunner.
The broad scope of the Scepter/Wand sound will be heard at the Broadhurst each night in Baby, It's You! But for a complementary experience, don't hesitate to add Manhattan Soul to your collection to see just how deep Florence Greenberg's soul was.