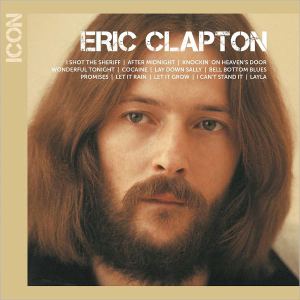 UPDATE 4/4: We now have confirmation on the track lists for each set!
Original post: Next week, another batch of ICON compilations will be released by Universal Music Group. This is particularly interesting, considering that all of the track lists for these upcoming sets have yet to be revealed.
Indeed, pre-order links on Amazon and other sites don't even have all of these track lists, or cover art, finalized. (This is doubly ironic considering another batch of ICON titles is slate for May, and pre-order links are starting to crop up.) Fortunately, we've managed to pull together all but one of the sets (the two-disc compilation track list for The Who remains elusive) into one post for your perusal. It's a mostly classic rock-oriented batch (The Who, Eric Clapton, Joe Cocker, Cat Stevens) with some new and old soul/blues acts (Quincy Jones, B.B. King, Avant), modern rock (Sublime) and a few smaller names (Nonpoint, Local H) thrown in for good measure. The set by the metal band Nonpoint features some previously unreleased material, which must be one of the first such instances on the usually barebones ICON sets.
Each title comes out April 5. The remaining track lists will be plugged in when they're confirmed; the rest are after the jump!
Sublime, ICON (Geffen/UMe B0015251-02, 2011)
Greatest Hits
Date Rape
Badfish
Smoke Two Joints
Doin' Time
Scarlet Begonias
Saw Red
What I Got
Wrong Way
Santeria
Caress Me Down
Superstar Punani
Tracks 1 and 7 from Robbin' the Hood (Gasoline Alley/MCA, 1994)
Tracks 2-4 and 6 from 40 oz. to Freedom (Gasoline Alley/MCA, 1992)
Tracks 5 and 8-11 from Sublime (MCA, 1996)
Track 12 from Second-Hand Smoke (MCA, 1997)
B.B. King, ICON (Geffen/UMe B0015301-02, 2011)
How Blue Can You Get?
Every Day I Have the Blues (Live)
Don't Answer the Door
The Thrill is Gone
Hummingbird
Ain't Nobody Home
Chains and Things
Guess Who
I Like to Live the Love
Let the Good Times Roll (Live)
Playin' with My Friends
I'll Survive
Track 1 from ABC/Paramount single, 1964
Track 2 from Live at the Regal (ABC, 1965)
Track 3 from Blues is King (Bluesway, 1967)
Track 4 from Completely Well (Bluesway, 1969)
Tracks 5 and 7 from Indianola Mississippi Seeds (ABC, 1970)
Track 6 from B.B. King in London (ABC, 1971)
Track 8 from Guess Who (ABC, 1972)
Track 9 from To Know You is to Love You (ABC, 1973)
Track 10 from Bobby Bland and B.B. King Together Again...Live (ABC/Impulse!, 1976)
Track 11 from Blues Summit (MCA, 1993)
Track 12 from Blues on the Bayou (MCA, 1998)
B.B. King, ICON 2-CD (Geffen/UMe B0015302-02, 2011)
Disc 1
How Blue Can You Get?
Help the Poor
Every Day I Have the Blues (Live)
Sweet Little Angel (Live)
All Over Again
Don't Answer the Door
Paying the Cost to Be the Boss
Why I Sing the Blues
The Thrill is Gone
Nobody Loves Me But My Mother
Hummingbird
Chains and Things
Disc 2
Ain't Nobody Home
Ghetto Woman
Guess Who
To Know You is to Love You
I Like to Live the Love
Let the Good Times Roll (Live)
Never Make a Move Too Soon
Better Not Look Down
There Must Be a Better World Somewhere
When Love Comes to Town (Live)
Playin' with My Friends
I'll Survive
Disc 1, Track 1 from ABC/Paramount single, 1964
Disc 1, Track 2 from L.A. Midnight (ABC, 1971)
Disc 1, Tracks 3-4 from Live at the Regal (ABC, 1965)
Disc 1, Track 5 from ABC-Paramount single, 1965
Disc 1, Track 6 from Blues is King (Bluesway, 1967)
Disc 1, Track 7 from Bluesway single, 1968
Disc 1, Track 8 from Live & Well (Bluesway, 1969)
Disc 1, Track 9 from Completely Well (Bluesway, 1969)
Disc 1, Tracks 10-12 from Indianola Mississippi Seeds (ABC, 1970)
Disc 2, Tracks 1-2 from B.B. King in London (ABC, 1971)
Disc 2, Track 3 from Guess Who (ABC, 1972)
Disc 2, Tracks 4-5 from To Know You is to Love You (ABC, 1973)
Disc 2, Track 6 from Bobby Bland and B.B. King Together Again...Live (ABC/Impulse!, 1976)
Disc 2, Track 7 from Midnight Believer (MCA, 1978)
Disc 2, Track 8 from Take It Home (MCA, 1979)
Disc 2, Track 9 from There Must Be a Better World Somewhere (MCA, 1981)
Disc 2, Track 10 from How Blue Can You Get? Classic Live Performances 1964-1994 (MCA, 1996)
Disc 2, Track 11 from Blues Summit (MCA, 1993)
Disc 2, Track 12 from Blues on the Bayou (MCA, 1998)
Local H, ICON: The Island Years (Island/UMe B0015322-02, 2011)
Cynical
Bound for the Floor
High-Fiving MF
All the Kids Are Right
Tag-Along
Eddie Vedder
Mayonnaise and Malaise (Radio Edit)
All-Right (Oh, Yeah)
Fritz's Corner
Smothered in Hugs
Cool Magnet
Back in the Day
Track 1 and original version of Track 7 from Ham Fisted (Island, 1995)
Tracks 2-3, 6, 9 and 12 from As Good As Dead (Island, 1996)
Tracks 4, 8 and 11 from Pack Up the Cats (Island, 1998)
Track 5 from Gravesend: Music from the Original Motion Picture (Island, 1997)
Track 10 from Sling Blade: Music from the Miramax Motion Picture (Island, 1996)
Joe Cocker, ICON (A&M/UMe B0015328-02, 2011)
The Letter (Live)
High Time We Left
You Are So Beautiful
Feelin' Alright
Delta Lady
Cry Me a River (Live)
She Came in Through the Bathroom Window
Darling Be Home Soon
Woman to Woman
Midnight Rider
Something
With a Little Help from My Friends
Tracks 1 and 6 from Mad Dogs & Englishmen (A&M, 1970)
Tracks 2 and 9-10 from Joe Cocker (A&M, 1972)
Track 3 from I Can Stand a Little Rain (A&M, 1974)
Tracks 4 and 12 from With a Little Help from My Friends (A&M, 1969)
Tracks 5, 7-8 and 11 from Joe Cocker! (A&M, 1969)
Avant, ICON (Geffen/UMe B0015360-02, 2011)
Read Your Mind (feat. Snoop Dogg)
Separated
Makin' Good Love
Lie About Us (feat. Nicole Scherzinger)
Don't Take Your Love Away
My First Love (feat. Keke Wyatt)
Don't Say No, Just Say Yes
4 Minutes
You Know What (feat. Lil Wayne)
Kiss Goodbye
Body Police
Tracks 1 and 5 from Private Room (MCA, 2003)
Tracks 2 and 6 from My Thoughts (MCA, 2000)
Tracks 3 and 7 from Ecstasy (MCA, 2002)
Tracks 4 and 8-9 from Director (Geffen, 2006)
Tracks 10-11 from The Letter (Verve Forecast, 2010)
The Who, ICON (Geffen/UMe B0014399-02, 2011)
I Can't Explain
My Generation
Happy Jack
I Can See for Miles
Magic Bus
Pinball Wizard
Squeeze Box
Baba O'Riley
Behind Blue Eyes
Who Are You
Join Together
Won't Get Fooled Again
Track 1 from non-LP single (Brunswick, 1964)
Track 2 from My Generation (Brunswick, 1965)
Track 3 from non-LP single (Reaction (U.K.)/Decca (U.S.), 1966)
Track 4 from The Who Sell Out (Track, 1967)
Track 5 from non-LP single (Track (U.K.)/Decca (U.S.), 1968)
Track 6 from Tommy (Polydor, 1969)
Track 7 from The Who by Numbers (Polydor, 1975)
Tracks 8-9 and 12 from Who's Next (Polydor, 1971)
Track 10 from Who Are You (Polydor, 1978)
Track 11 from non-LP single (Track (U.K.)/MCA (U.S., 1972)
The Who, ICON 2-CD (Geffen/UMe B0015407-02, 2011)
Disc 1
I Can't Explain
My Generation
The Kids Are Alright
Substitute
Happy Jack
Pictures of Lily
I Can See for Miles
Magic Bus
Pinball Wizard
I'm Free
The Seeker
Won't Get Fooled Again
Disc 2
Baba O'Riley
Behind Blue Eyes
Let's See Action
Join Together
5:15
Love Reign O'er Me
Squeeze Box
Who Are You
You Better You Bet
Eminence Front
Real Good Looking Boy
It's Not Enough
Disc 1, Track 1 from non-LP single (Brunswick, 1964)
Disc 1, Tracks 2-3 from My Generation (Brunswick, 1965)
Disc 1, Track 4 from non-LP single (Reaction (U.K.)/Atco (U.S.), 1966)
Disc 1, Track 5 from non-LP single (Reaction (U.K.)/Decca (U.S.), 1966)
Disc 1, Track 6 from non-LP single (Track (U.K.)/Decca (U.S.), 1967)
Disc 1, Track 7 from The Who Sell Out (Track, 1967)
Disc 1, Track 8 from non-LP single (Track (U.K.)/Decca (U.S.), 1968)
Disc 1, Tracks 9-10 from Tommy (Polydor, 1969)
Disc 1, Track 11 from non-LP single (Track (U.K.)/Decca (U.S.), 1970)
Disc 1, Track 12 and Disc 2, Tracks 1-2 from Who's Next (Polydor, 1971)
Disc 2, Track 3 from non-LP single (Track (U.K.)/Decca (U.S.), 1971)
Disc 2, Track 4 from non-LP single (Track (U.K.)/MCA (U.S.), 1972)
Disc 2, Tracks 5-6 from Quadrophenia (Polydor, 1973)
Disc 2, Track 7 from The Who by Numbers (Polydor, 1975)
Disc 2, Track 8 from Who Are You (Polydor, 1978)
Disc 2, Track 9 from Face Dances (Polydor, 1981)
Disc 2, Track 10 from It's Hard (Polydor, 1982)
Disc 2, Track 11 from Then and Now (Polydor/Geffen, 2004)
Disc 2, Track 12 from Endless Wire (Polydor/Geffen, 2006)
Eric Clapton, ICON (Polydor/UMe B0015401-02, 2011)
I Shot the Sheriff
After Midnight
Knockin' on Heaven's Door
Wonderful Tonight
Cocaine
Lay Down Sally
Bell Bottom Blues - Derek and The Dominos
Promises
Let It Rain
Let It Grow
I Can't Stand It
Layla - Derek and The Dominos
Tracks 1 and 10 from 461 Ocean Boulevard (RSO, 1974)
Tracks 2 and 9 from Eric Clapton (Polydor, 1970)
Track 3 from non-LP single (RSO, 1975)
Tracks 4-6 from Slowhand (RSO, 1977)
Tracks 7 and 12 from Layla and Other Assorted Love Songs (Polydor, 1970)
Track 8 from Backless (RSO, 1978)
Track 11 from Another Ticket (RSO, 1981)
Eric Clapton, ICON 2-CD (Polydor/UMe B0015402-02, 2011)
Disc 1
Sunshine of Your Love - Cream
Crossroads (Live at Winterland) - Cream
White Room - Cream
Presence of the Lord - Blind Faith
Layla - Derek and The Dominos
Bell Bottom Blues - Derek and The Dominos
Why Does Love Got to Be So Sad? - Derek and The Dominos
After Midnight
Let It Rain
Blues Power
Willie and the Hand Jive
Let It Grow
Disc 2
I Shot the Sheriff
The Sky is Crying
Further On Up the Road
Have You Ever Loved a Woman
Knockin' on Heaven's Door
Hello Old Friend
Cocaine
Wonderful Tonight
Promises
Tulsa Time
Lay Down Sally
I Can't Stand It
Disc 1, Track 1 from Disraeli Gears (Polydor, 1967)
Disc 1, Tracks 2-3 from Wheels of Fire (Polydor, 1968)
Disc 1, Track 4 from Blind Faith (Polydor, 1969)
Disc 1, Tracks 5-7 from Layla and Other Assorted Love Songs (Polydor, 1970)
Disc 1, Tracks 8-10 from Eric Clapton (Polydor, 1970)
Disc 1, Tracks 11-12 and Disc 2, Track 1 from 461 Ocean Boulevard (RSO, 1974)
Disc 2, Track 2 from There's One in Every Crowd (RSO, 1975)
Disc 2, Tracks 3-4 from E.C. Was Here (RSO, 1975)
Disc 2, Track 5 from non-LP single (RSO, 1975)
Disc 2, Track 6 from No Reason to Cry (RSO, 1976)
Disc 2, Tracks 7-8 and 11 from Slowhand (RSO, 1977)
Disc 2, Tracks 9-10 from Backless (RSO, 1978)
Disc 2, Track 12 from Another Ticket (RSO, 1981)
Nonpoint, ICON (Geffen/UMe B0015405-02, 2011)
What a Day
Mindtrip
Endure
Years
Tribute
Evil Ways
Your Signs
Excessive Reaction
Mint
Across the Line
What a Day (Acoustic)
Pickle
Tracks 1-5 from Statement (MCA, 2000)
Track 6 from international versions of Statement
Tracks 7-9 from Development (MCA, 2002)
Tracks 10-12 previously unreleased
Cat Stevens, ICON (A&M/UMe B0015410-02, 2011)
Peace Train
Moonshadow
Oh Very Young
The Wind
Roadsinger - Yusuf
Everytime I Dream - Yusuf
Morning Has Broken
Father and Son
Trouble
Miles from Nowhere
If You Want to Sing Out, Sing Out
Wild World
Tracks 1-2, 4 and 7 from Teaser and the Firecat (A&M, 1971)
Track 3 from Buddha and the Chocolate Box (A&M, 1974)
Tracks 5-6 from Roadsinger (Hip-O, 2009)
Tracks 8, 10 and 12 from Tea for the Tillerman (A&M, 1970)
Track 9 from Mona Bone Jakon (A&M, 1970)
Track 11 recorded 1971; from Footsteps in the Dark: Greatest Hits Vol. 2 (A&M, 1984)
Quincy Jones, ICON (A&M/UMe B0015430-02, 2011)
I'll Be Good to You (with Ray Charles and Chaka Khan)
Stuff Like That
Ai No Corrida
The Streetbeater (Sanford and Son Theme)
Soul Bossa Nova
One Hundred Ways (with James Ingram)
Just Once (with James Ingram)
Everything Must Change
Tomorrow (A Better You, A Better Me) (with Tevin Campbell)
You Put a Move on My Heart (with Tamia)
The Secret Garden (Sweet Seduction Suite) (with El DeBarge, James Ingram, Al B. Sure! and Barry White)
Tracks 1, 9 and 11 from Back on the Block (Qwest, 1989)
Track 2 from Sounds...and Stuff Like That!! (A&M, 1978)
Tracks 3 and 6-7 from The Dude (A&M, 1981)
Track 4 from You've Got It Bad Girl (A&M, 1973)
Track 5 from Big Band Bossa Nova (Mercury, 1962)
Track 8 from Everything Must Change (A&M, 1974)
Track 10 from Q's Jook Joint (Qwest, 1995)