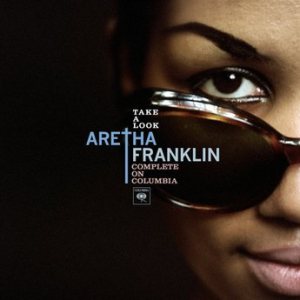 Some legends are repeated so often that they've come to be accepted as the truth. One such legend has it that the suits at Columbia Records, circa 1960-1965, were a chain of fools who kept Aretha Franklin from reaching her potential. After all, the record states that one year and one record after being released from Columbia, a superstar was born. But what if that notion was completely incorrect, and Aretha Franklin's talent was already fully formed and on display at Columbia? Listen to the extensive, new 12-disc box set Take a Look: Complete at Columbia (Legacy 88697 79279-2) and you just might reconsider your thoughts on Franklin's formative period. If these tracks sound nothing like "Think" or "The House That Jack Built," they do sound like the work of a fiercely talented young woman standing at the intersection of jazz, pop, soul, blues and gospel, ready to explore each and every avenue without hesitation. Had she never recorded the Columbia sides, it's doubtful that Franklin would have had the life and musical experience that she so viscerally harnessed into I Never Loved a Man the Way I Loved You. Anyone with more than a passing interest in the career of this volcanic vocalist owes it to himself to Take a Look at Aretha Franklin Complete on Columbia.
Take a Look is a compact yet heady 11-CD/one-DVD package, containing seven original albums plus one disc of sessions with Bobby Scott, another with Clyde Otis, the complete unreleased LP A Bit of Soul, an Odds and Sods-type disc (including the tracks overdubbed after Franklin's departure from Columbia) and a DVD of rare television performances on The Steve Allen Show. Most of the original LPs have been supplemented by never-before-on-CD mono mixes as well as a handful of alternates, outtakes and rehearsal takes.
Much of this material has been aired before. In his introductory essay which makes a solid case for the significance of the Columbia period, compilation producer Leo Sacks acknowledges that "Aretha's Columbia inventory has been picked over more frequently than a Barney's warehouse sale." He's only slightly exaggerating, as Columbia has been packaging and re-packaging Franklin's work since 1967. That said, there's a valuable experience in listening to these records chronologically. It's not only a tour of the varying strands of American music, but of one artist's journey to forming a style that is so recognizable today. Hit the jump for a trip to New York City, 1960, where a young girl, direct from Detroit, begins to make music history!
"Won't Be Long": Aretha in the Beginning
Aretha Franklin wasn't a stranger to the recording studio when she entered Columbia's hallowed 30th Street Studios in 1960, having already committed to vinyl an album of religious selections produced in 1956 at the church of her father, Reverend C.L. Franklin. Aretha was 14 at the time, and was a mere 19 when Columbia began grooming her for stardom. She already had a voice way beyond her years, so perhaps it was logical to producer John Hammond that she record material tailored for an older audience.
For her debut album, Aretha (with The Ray Bryant Combo), Hammond followed the formula he once prescribed for his "discovery" Billie Holiday: standards and blues with a jazz rhythm section plus horns and "head charts." Per Hammond, there was "an almost complete absence of arrangements" for the LP. Ironically, there was no Ray Bryant Combo; in the liner notes to the new box, Bryant reveals that his "combo" was invented for the album! Aretha's tracks reveal a sweet, even coy insouciance on songs like "Right Now," and alternatively, a roof-raising belt on "Sweet Lover." She even takes bandleader/composer Meredith Willson to church on his song "Are You Sure" from the Broadway musical The Unsinkable Molly Brown! (A choice bonus track is a rehearsal take of Hammond and Franklin working out the tempo and feel of this tune.) Anyone who couldn't detect the soul already present in Aretha's performances, seemingly influenced in equal part by jazz and gospel, simply wasn't listening! There's no effort to make a pop record here, which may be surprising. In 1960, Columbia was still under the sway of A&R king and "MOR" pioneer Mitch Miller, with his famous distaste for rock and roll. Clearly, Miller saw potential in the adult market for Franklin given this recording of maturity and sophistication.
The oddest component of Aretha is the presence of six songs by arranger J. Leslie McFarland, the best of which may be the infectious "Won't Be Long." Soul historian David Nathan tells of the legendarily eccentric McFarland, who is "said to have stalked naked the corridors of the Brill Building!" He couldn't have found a better voice than Franklin's, but imagine if the Brill Building's top tier had been engaged to write for Franklin at this early point in her career. Would "(You Make Me Feel Like a) Natural Woman" have emerged earlier from Carole King's piano?
"Here Today and Gone Tomorrow": Many Approaches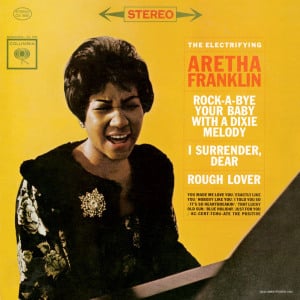 The single biggest liability to Franklin's Columbia years would appear to be the lack of a steady guiding hand. For her second LP, The Electrifying Aretha Franklin, Hammond still produced, but turned the arrangements over to the accomplished Richard ("Mack the Knife") Wess. Additional sessions were produced by Al Kasha with arrangements by Robert Mersey, a key figure in the careers of Andy Williams, Johnny Mathis and Barbra Streisand, all Columbia recording artists. While there are more standards here than on Aretha's first album, another four McFarland compositions show up. It doesn't take long for Aretha to unleash her vocal pyrotechnics; the climax of "You Made Me Love You" is positively spine-tingling! Her spiritual background must have informed her passionate reading of "That Lucky Old Sun," too. "Rock-A-Bye Your Baby with a Dixie Melody," off this album, became Franklin's first Top  40 hit.
On The Tender, The Moving, The Swinging Aretha Franklin, Mersey is in a jazz bag on the opening cut, but expectedly lush (remember his big, brassy charts for Andy Williams' Christmas albums?) on the 1932 chestnut "Try a Little Tenderness." However, it's not quite reinvented here, as Otis Redding's take would be in 1966. What stands out when considering these early albums  is that Franklin didn't yet have all of the skills in her arsenal to turn a song like "Tenderness" upside down, as she would "I Say a Little Prayer," "Respect" or "Let It Be" in later years. Despite that distinctive voice, all of the other ingredients just weren't in place yet, but that doesn't make these recordings any less worthwhile.  Gary Geld and Peter Udell (of "Sealed with a Kiss," "Hurting Each Other" and the musical Shenandoah) contribute "I Don't Know You Anymore," which is stylistically of a piece with the other jazz and blues material. Aretha also takes an early swing at Berry Gordy's "I'm Wandering," written for Jackie Wilson, showing that Columbia's A&R staff was branching out in finding material suited for the singer. The arrangement of "I'm Wandering" oddly recalls Elvis Presley's "If I Can Dream," of all things!
Mersey returned with the production of 1963's Laughing on the Outside highlighted by a languid version of Jule Styne, Betty Comden and Adolph Green's "Make Someone Happy." She invested heart and soul into "If Ever I Would Leave You," introduced by the label's heartthrob Robert Goulet in the musical Camelot, the cast album of which was a Columbia release. Franklin also took a detour to Hollywood to lay down three tracks recorded with The Wrecking Crew, one of which had the involvement of Terry Melcher (the son of Columbia recording artist Doris Day)!
The artist was soon teamed with producer/arranger Bobby Scott, now best-known for composing "A Taste of Honey" and "He Ain't Heavy, He's My Brother." Scott offered an up-tempo, unique take on "Moon River" and provided Franklin with the dramatic "Tiny Sparrow," on which she wrapped her pipes around the yearning lyrics: "If only I were a tiny sparrow/If I had wings and could fly so high/I'd fly away to my heart's lover…" Despite the quality of the October 1963 sessions, the thirteen cuts weren't assembled onto an album, and so all of Scott's tracks appear on Take a Look for the first time in one place.
"One Step Ahead": Clyde Otis Arrives
Dinah Washington's roots were in the blues, and Franklin's undoubtedly gospel, so Unforgettable: A Tribute to Dinah Washington, in essence, sanctified the blues. This tribute album helmed by Mersey may be the box set's turning point, as the singer finally and indelibly came into her own, paying homage to a major influence while asserting her own voice. Washington, the "Queen of the Blues" and a torch song specialist, died on December 14, 1963, and the tribute was recorded just two months later. One of Washington's own compositions covered on the LP, "Soulville," predicts just where Aretha would wind up. Franklin was already masterful at bringing a song to an emotional crescendo, and her "Unforgettable" is, well, unforgettable. Producer Clyde Otis and arranger Belford Hendricks had worked with Washington on classics like the 1959 Grammy Award-winning "What a Diff'rence a Day Made." Perhaps Unforgettable gave Columbia the idea to pair Franklin with Otis and Hendricks, who were able to bring Washington into the mainstream to the chagrin of some jazz purists.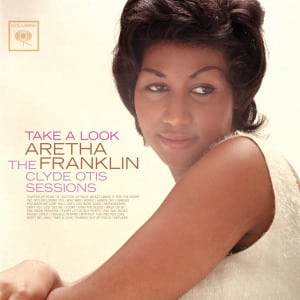 Initial July 1964 sessions with Otis were productive but Columbia didn't release the material as an album. Those efforts are represented here by The Clyde Otis Sessions. It's amazing that so much quality material was left aside, including the song which gives the box set its title. "Take a Look" predates "What's Going On?" and other socially-conscious songs ("Lord, what's happening to this human race?/I can't even see one friendly face…") that drew headlines in the years to come. In spite of a powerful, pointed statement ("Take a look at your children…") and ending summation ("Nobody wins when the price is hate"), "Take a Look" perhaps didn't have a great impact because of its string-drenched arrangement that didn't speak to the youth culture upon its release by Columbia in 1967 after Franklin's departure for Atlantic.
Typically of the entire Columbia period, Otis' tracks were diverse. Traditional arrangements of "That's Entertainment!" and "Zing! Went the Strings of My Heart" could be outtakes from a tribute to Hollywood. The same sessions produced a scorching take on Van McCoy's "Sweet Bitter Love," a song widely regarded as a career highlight. Frank Loesser's "I Wish I Didn't Love You So," from the film The Perils of Pauline, shows a mature vocalist in full control of her interpretive powers. Interestingly, Franklin, Otis and Hendricks took on two songs associated with Barbra Streisand. Columbia signed Franklin in 1960 and Streisand two years later. In contrast to Franklin's short tenure, Streisand remains at Columbia today, having achieved and maintained superstar status. While Aretha's take on "People" is another assured vocal performance, she doesn't attempt to out-sing her labelmate. Rather, she sings the Jule Styne/Bob Merrill standard in a straightforward, affecting fashion. The same goes for John Kander and Fred Ebb's "My Coloring Book," recorded by Streisand on 1963's The Second Barbra Streisand Album. How often have the singers' careers intersected since?
After the July sessions were shelved, Otis, Hendricks and Franklin reunited a few months later in October to record the bulk of what became Aretha's first real attempt at the pop (read: teenage) market, Runnin' Out of Fools. (Tracks from July rounded out the album.) Aretha staked her claim to the growing R&B market and younger listeners with this lost classic. The choice of material announced a new Aretha: opening track "Mockingbird," the alluring, delectable pop of Chip Taylor's "I Can't Wait Until I See My Baby's Face," the cover of "Walk On By," recorded just six months after Dionne Warwick's original. "Walk On By" suffers in comparison to the Warwick original because Otis and Hendricks adhere so slavishly to Bacharach's original arrangement; Franklin had much better results with a new take on "I Say a Little Prayer" at Atlantic. The bonuses on this disc include two radio spots (one comparing Aretha to Columbia's reigning gospel star Mahalia Jackson!) and two fun Christmas songs in mono, "Winter Wonderland" and "The Christmas Song." A third mono Christmas cut, "Kissin' by the Mistletoe," is appended to The Electrifying Aretha Franklin.
"This Could Be the Start of Something": Not the End, But the Beginning
A Bit of Soul was intended to follow Fools; like its predecessor, it teamed Aretha with Otis and Hendricks. Despite being recorded, compiled and assigned a master number, A Bit of Soul was scrapped. Take a Look presents the LP in its intended sequence for the first time, and it reveals that Columbia was moving Aretha forward in the pop market. "Only the One You Love" and "One Step Ahead" are two particularly fine uptown soul efforts from the team of Eddie Snyder and Charles Singleton, known for "Strangers in the Night" and "Spanish Eyes." Aretha also delivers sympathetic performances of Van McCoy's "Remember Me" and "Follow Your Heart," and the most Atlantic-like of the sides, Ashford and Simpson's "Cry Like a Baby." ("Take It Like You Give It," from the same sessions, has the same R&B attitude.) Only the Neal Hefti movie theme "How to Murder Your Wife" feels out of place.
When the decision was made to stockpile the Soul tracks, Aretha was brought back to 30th Street to cut Yeah!!! In Person with Her Quartet. Otis and Hendricks remained, but the prevailing style was once again jazz, which may have proved too schizophrenic for the record-buying public. Aretha covers Steve Allen ("This Could Be the Start of Something"), Cole Porter ("Love for Sale") and Anthony Newley and Leslie Bricusse ("Once in a Lifetime," from Stop the World! I Want to Get Off!) on this "live" set, which was overdubbed with ambient sound and applause to give the illusion of being a live record. Happily, Take a Look presents both the overdubbed version and, for the first time, the original and unadorned tracks. This disc would make for a particularly happy stand-alone reissue!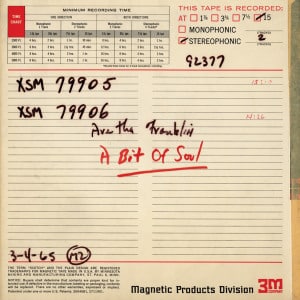 Aretha Franklin didn't say Yeah!!! to renewing her Columbia contract. However, she didn't sever her ties with the label immediately. Following the "live" album, there were two more sessions in May and October 1965. Bob Johnston (Blonde on Blonde) was behind the controls and Mersey arranged. No recording occurred in 1966, and in December of that year, she signed with Atlantic. The rest is, of course, history. Columbia reacted swiftly to the singer's absence from its studios, and nine LPs of recycled material were issued between June 1966 (before she had actually left) and November 1972.
The final CD of Take a Look contains the last seven songs recorded by Aretha at Atlantic, along with twelve tracks which were overdubbed following her departure and two more outtakes. Columbia's sweetening of Aretha's original recordings with additional strings and brass didn't escape the notice of the singer, who sued Columbia for altering her original arrangements. The case was settled out-of-court.
"It's Just a Matter of Time": In Retrospect
Was Columbia Records simply the wrong place at the wrong time for Aretha Franklin? Did the label try to impose many unnatural styles on a singular talent? What if she had stayed on the jazz trajectory? Well, she's periodically revisited jazz and standards since, even covering Burton Lane and E.Y. Harburg's "Look to the Rainbow" at Arista in 1986; she had recorded "Over the Rainbow" from the same lyricist at Columbia. Ironically, many rock and pop artists today turn to the Great American Songbook for a shot in the arms sales-wise, and Aretha was recording this material at the beginning of her career. Maybe Columbia was onto something, after all. When the time was right for Aretha to dig deep into the depths of her soul for the forcefully relevant rhythm and blues of the Atlantic years, she had a wealth of training under her belt. She had built on her gospel roots, sang with groups large and small, interpreted the great American songwriters and learned the blues from Dinah Washington. With all of this experience, the seismic debut at Atlantic doesn't seem so far out of left field.
Take a Look is the lavish and comprehensive tribute this era has long deserved. It's presented in a format similar to last year's The Complete Mono Recordings for Bob Dylan, with each album in a replica mini-sleeve, but the box and sleeves are smaller this time around. The box opens and closes thanks to a magnetic strip, and it also contains a numbered certificate for the limited first pressing of 5,000.
The enclosed 60-page booklet is copiously annotated, with a note from producer Sacks, an essay by Daphne A. Brooks and shorter remembrances from John Hammond in 1977 and Ray Bryant in 2010. Finally there is recording information including date and personnel (when available), and an LP and singles discography with chart information. All that's missing is an indication as to where many tracks (particularly on The Bobby Scott Sessions, The Clyde Otis Sessions and A Little Bit of Soul) not included on the core studio albums first appeared; such information would have been welcome.
Sony's ace engineer Mark Wilder, also doing a splendid job on Masterworks' new CTI jazz releases, has done an impressive, consistent job bringing the sound quality into the 21st century in both mono and stereo. Wilder has also mastered the sound of the DVD, Aretha '64, which is a fine collection of five songs performed on The Steve Allen Show in 1964.  Picture quality is terrific, and it's housed in a sleeve with period-appropriate artwork.
There has, apparently, been an error in manufacture of the box set. On Disc 4, Laughing on the Outside, two tracks ("You've Got Her" and "Here's Where I Came In (Here's Where I Walk Out)") are missing. They have been replaced, respectively, with a repeat of the album's title song and a unique edit of "For All We Know" minus its verse. We have contacted Sony about this problem and hope to be able to share any further information with you shortly. It appears that there may be one previously released track not present: a third version of "Skylark" originally issued on Legacy's 1992 Jazz to Soul compilation. Two versions of "Skylark" are here.
I'll leave the final words to Daphne A. Brooks: "Listening to the ways that she sorts through a vast repertoire of vocal phrasings, musical aesthetics and stylings, we can re-trace the triumphant footprints of an artist who would, by the end of the 1960s, reinvent the fabric of our musical culture." Take a Look: Aretha Franklin on Columbia makes a powerful case for its tracks to be considered an integral part of one of the most remarkable bodies of American music. This music is indeed, tender, moving, swinging, electrifying and unforgettable. Not a bad combination, eh?
You can order Take a Look here!