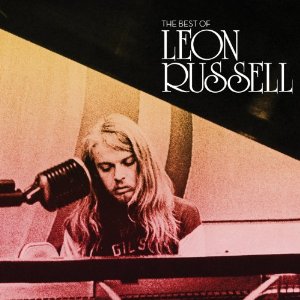 There wasn't a dry eye in the house when Leon Russell, upon accepting his induction to the Rock and Roll Hall of Fame, thanked Elton John for rescuing him from "a ditch beside the highway of life."  Thanks to the success of The Union, the collaborative album between John and his early idol, Leon Russell's profile has been considerably high of late.  It's been so high, in fact, that one member of the Steve Hoffman Music Forums even queried of the community, "Is Leon Russell getting too much exposure?"  Judging by the new The Best of Leon Russell (Capitol/EMI 509990 71044 2, 2011), the answer is most definitely "No!"
The Best of Leon Russell is the pianist/arranger/composer's first anthology since Retrospective, released by Capitol's The Right Stuff imprint in 1997.  Its 16 tracks have 11 in common with that compilation, but one added track is among the album's most important, and trumpets this collection's raison d'etre: "If It Wasn't For Bad," from The Union.  This is the third track on this set, and it signals that The Best of Leon Russell has been largely designed as a primer for Russell fans who might have discovered the idiosyncratic artist from the John collaboration.  It also happens to be a fine reminder of a musician who, indeed, spent too long on the side of that highway.
Hit the jump for more on The Master of Space and Time!
After making an impression around the scene in Tulsa, Oklahoma, Leon Russell first gained wide prominence as an in-demand session pianist for the famed Los Angeles "Wrecking Crew," playing for Phil Spector, Frank Sinatra and everybody in between.  A close ally of producer Snuff Garrett, Russell arranged such pop classics as Gary Lewis and the Playboys' "This Diamond Ring" and co-wrote the group's hits "Everybody Loves a Clown" and "She's Just My Style," to which he contributed some smoking guitar!  After all of this success, he concentrated on his songwriting and a budding solo recording career.  Yet Russell has always been difficult to categorize.  He has embraced rock, soul, gospel, country, blues and even psychedelia during his career, but the melodic pop sensibility honed from his early days is very much in evidence on solo compositions like "This Masquerade," "A Song for You," "Superstar" and "Delta Lady."
Those are just four of the songs penned by Russell and made famous by others ranging from the Carpenters to Joe Cocker, for whom Russell served as bandleader on the famous Mad Dogs and Englishmen tour in 1970.  The famed record of that tour is as much a showcase for Russell as lead singer Cocker.  Of his major hits as a songwriter, only "Superstar" is absent from The Best Of, as Russell never recorded it himself.  (Bonnie Bramlett, its co-writer, recorded the original, and Rita Coolidge's Mad Dogs version helped in her rise to stardom, but it was Bette Midler's take that inspired Richard Carpenter to pen his Grammy-nominated arrangement.  The Carpenters' "Superstar," highlighted by Karen Carpenter's beautifully aching, intense vocal, hit No. 2 on the Hot 100, and the brother-and-sister duo continued drawing from Russell's songbook.)  Is anybody from Ace Records reading this?  Russell would make an ideal candidate for a volume in the Songwriters and Producers series!
Those used to the smooth vocals of Donny Hathaway or Karen Carpenter might need some time to adjust to Russell's raw, croaking drawl on "A Song for You," but the emotional, tender nature of the vocal wins out in the end.  Russell had his biggest hit as a solo singer with "Tight Rope," from his 1972 Shelter Records album Carney, also his highest-charting LP.  "Tight Rope" makes the influence he had on Elton John crystal clear: the honky-tonk piano pounding, the soulful R&B-flecked vocal, the potent chorus.  "I copied Leon Russell and that was it," Elton admitted in 1971.  Just listen to "Honky Cat" back to back with some vintage Russell, and you'll know what I mean; you might also notice the similarities between "Your Song" and "A Song for You."
The Best of Leon Russell does an admirable job of bringing together the various strands of Russell's sound.  "Lady Blue" is pure and lovely mid-seventies MOR from the 1975 album Will o'the Wisp, while a Willie Nelson duet on "Heartbreak Hotel" shows off Russell's country roots.  This was, after all, the artist who risked breaking his commercial streak at Shelter in 1973 by releasing Hank Wilson's Back, a tribute to the early songs of the C&W genre.  For his efforts, he was rewarded with a Top 30 placement for the album!  Unfortunately nothing from Hank Wilson has been included here, although Russell's cover versions haven't been ignored altogether.  He championed Bob Dylan's songbook, and his interpretation of "A Hard Rain's A-Gonna Fall" appears.  So does a funky reinvention of Tim Hardin's "If I Were a Carpenter."
Leon Russell has always been famous for his work with other artists, whether as session man, arranger or songwriter.  He counted among his pals the late George Harrison, who invited him to participate in the landmark benefit The Concert for Bangla Desh at New York City's Madison Square Garden in 1971.  One track, an epic, nearly ten-minute medley of "Jumpin' Jack Flash" and the Leiber/Stoller/Pomus "Young Blood" on which an electrifying Russell takes the lead, makes an appearance to close out the new compilation.  No tracks between 1979 ("Heartbreak Hotel") and 2010 ("If It Wasn't for Bad") have been chosen for inclusion.  Though he sat out much of the 1980s, Russell has continued to record steadily, primarily for his own label.  Prior to The Union, his last major label studio effort was 1992's Anything Can Happen, produced by Bruce Hornsby, and a track from that project would have been especially welcome.
All of the tracks on The Best of Leon Russell have been remastered by Robert Vosgien (the engineer behind Rhino's terrific Quadradisc series).  Most disappointingly, liner notes, producer/musician credits and discographical information are all missing.  How would a budding fan (presumably one of the targets of this CD) know where to go next?  This also does a disservice to those who worked with Russell, including Denny Cordell, Marc Benno, Phil Spector and the star-studded array that played on 1970's Leon Russell, from which four songs here are extracted: George Harrison, Ringo Starr, Klaus Voormann, Mick Jagger, Charlie Watts, Bill Wyman, Delaney and Bonnie Bramlett, Eric Clapton, Steve Winwood, Joe Cocker and Merry Clayton!  Leon Russell's always gotten by with a little help from his friends.
We're reprinting below the discographical information that's missing from the disc itself.  While the legendary Master of Space and Time may deserve better annotation, he's very well-served by the music on The Best of Leon Russell.  With his vibrant, eccentric, rough and singular songs again getting the chance to reach a broad audience, the Leon Russell renaissance continues.
Leon Russell, The Best of Leon Russell (Capitol/EMI 509990 71044 2, 2011)
Tryin' to Stay 'Live - The Asylum Choir
Shoot Out on the Plantation
If It Wasn't for Bad - Elton John & Leon Russell
A Song for You
Hummingbird
Tight Rope
Delta Lady
Stranger in a Strange Land
A Hard Rain's A-Gonna Fall
This Masquerade
Out in the Woods
If I Were a Carpenter
Heartbreak Hotel - Willie Nelson & Leon Russell
Lady Blue
Back to the Island
Jumpin' Jack Flash/Youngblood (Medley) (Live)
Track 1 from Asylum Choir II (Shelter, 1971)
Tracks 2, 4-5 and 7 from Leon Russell (Shelter, 1970)
Track 3 from The Union (Decca, 2010)
Tracks 6 and 10-11 from Carney (Shelter, 1972)
Tracks 8-9 from Leon Russell and the Shelter People (Shelter, 1971)
Track 12 from Stop All That Jazz (Shelter, 1974)
Track 13 from Willie & Leon: One for the Road (Columbia, 1979)
Tracks 14-15 from Will o' the Wisp (Shelter, 1975)
Track 16 from The Concert for Bangla Desh (Apple/EMI, 1971)