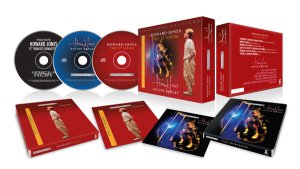 Less is more, they tell you. If a song like "Yesterday" was done with a full band, would it have retained its emotional impact than its original, heartrending arrangement? Now, that argument often rings true, but sometimes a little more is pretty fun, too.
Anyone who enjoys the music of the 1980s can attest to this. Some of the best hits of that decade were flush with production techniques and overdubs that would have been shunned in decades past. The synthesizer and the drum machine became the producer's best friends, and with a rising visual revolution in the music business thanks to MTV, less may not have always been more, but more wasn't so bad on its own. Taking the rising popularity of dance clubs and 12" remixed singles into account, it wouldn't be inaccurate to say that in the '80s, more was more.
One of the most underrated examples of the "more is more" aesthetic is Howard Jones, the British singer-songwriter with big ideas, big hair and a big synth-heavy sound. In 1983, when Jones was 28, he was one of the brightest stars on the U.K. pop scene, composing lively tunes awash in keyboards and soul underpinnings (listen to hits like "Things Can Only Get Better," featuring a funky bass line, a horn breakdown and background vocals by Afrodiziak!) and packing lyrical messages about independence ("Look Mama"), lost love ("No One is to Blame," "What is Love?") and international relations ("Like to Get to Know You Well," which touted a dedication on the original single sleeve "to the original spirit of the Olympic Games"). All of his first nine singles went Top 20 in the U.K., and he remains a strong draw in concert, years after releasing his music independently and exploring other avenues of music technology.
It was a pleasant surprise to find out last year that Jones was, in collaboration with his old home base at Warner Music Group, remastering and reissuing his back catalogue independently through his own label, Dtox. Remastered editions of his first two LPs, 1983's Human's Lib and 1985's Dream Into Action, were well-received, with a limited-edition box set including a bonus disc of unreleased live material selling out briskly. Now, Jones turns his attention to two remix albums that were released in between each respective record, 1984's The 12" Album and 1986's U.S.-only Action Replay. Again, both have been issued in a limited edition box (Dtox DTOXSET2) with some great material making its way from the Warner vaults. Taken together, they show off the strengths - and the limitations - of synthpop music of the 1980s.
The 12" Album (originally released as WEA WX-14 in the U.K.) was the ideal stopgap release after Jones hit the top of the U.K. charts with Human's Lib. Featuring three tracks that appeared on various singles, two new remixes and a new track (the anthemic "Always Asking Questions"), it's exactly the kind of release crafted for a fan who wants some more morsels of an artist's music while waiting for a full LP. But The 12" Album wasn't structured as a cash-in; it treated the material with the kind of respect usually reserved for an album, sequencing each track properly to provide two sides' worth of fine listening. "Always Asking Questions" segues into a new version of Jones' debut single "New Song," armed with an intensely catchy set of synth hooks, which in turn slides effortlessly into the extended version of "What is Love?" Although none of them were meant to be taken as a song cycle, they work perfectly as such. While the second side may not be as strong as the first - featuring Jones in several languages on a remix of "Like to Get to Know You Well" and a throwaway mostly-instrumental in "Total Conditioning" - it's still a darn good offering of synthpop.
The music really shines, however, on Action Replay (Elektra 9 60466-1-Y), thanks to a new twist on an old song. "No One is to Blame," from Action Replay, featured laid-back, bittersweet piano melodies under Howard's metaphoric tale of love and loss, but the production was a little rough around the edges. By the time the song came to the States, Jones had a secret weapon: Phil Collins. The singer/songwriter/drummer/producer was everywhere by this time - 1985 was the year of Live Aid and No Jacket Required, with Genesis' Invisible Touch on the horizon for '86 - and he sat behind the boards (and the drum kit) for a special re-recording of the song, which went to No. 4 in the U.S., Jones' highest-charting single in that territory. While the rest of the disc isn't as intentionally cohesive as The 12" Album, featuring three previously-released remixes, a CD bonus track and "Always Asking Questions" held over from the last remix record, it rarely drags. "Look Mama" is a treat, as is the underrated rarity "Specialty."
Those who order the box set of both records receive a bonus disc, modeled after Jones' vintage fan-club discs on WEA ("RISK"). On that platter are 11 remixes and B-sides, eight of which make their first appearance on CD and one of which - an alternate of "New Song" - bows for the first time anywhere. Two of Jones' best singles not appearing on the remix albums, "Things Can Only Get Better" and "Life in One Day," appear in their 12" versions here, along with further extensions of "Look Mama" and "Like to Get to Know You Well," which edge ever so closely toward the line of "too much of a good thing." The bonus disc is far more of a test to listen all at once than the other albums, but taken in smaller doses, they're more than enough to brighten your spirits.
It gives this author great pleasure to praise not only the content of this box, but the presentation as well. The main two albums are presented in sturdy Super Jewel Boxes with cardboard slipcovers. (Admittedly, these are among the first releases I own in such cases; why haven't more reissue labels utilized these packages, with their easy-to-remove liner notes and disc trays?) The "RISK" bonus disc is in a cardboard slipcase replicating the original fan-club sleeve, with full credits and discographical information printed on the back. Short track-by-track notes are present in the booklets for each disc, with a few paragraphs on the release of each original EP. (The best treat, notes-wise, is found in the Action Replay booklet, in the form of a short discussion on "No One is to Blame" from Phil Collins!) The discs are housed in a good-looking, sturdy cardboard box that flips open from the bottom; each box is numbered on the rear lower left-hand corner. ("0271" for me, for those keeping score at home.)
The pop music of the 1980s is surely not for everyone. But when it's done well, it can be a great thing. And Howard Jones knew how to do it well. It's a credit to all involved that this material is presented with just as much love as was originally intended decades ago. If everyone put this kind of work into all kinds of reissues...well, things could only get better.