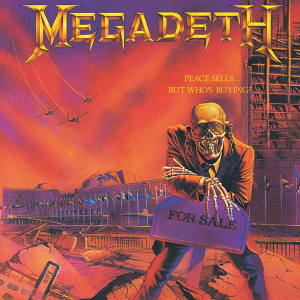 Dave Mustaine was determined not to become a footnote in heavy metal history. The guitarist had spent a mostly uneventful two years in the employ of a Los Angeles band named Metallica, who fired him shortly before recording their debut album, Kill 'Em All, in 1983. (Mustaine did pen four tracks on the record, including favorites "The Four Horsemen" and "Jump in the Fire.")
Undeterred, Mustaine formed his own band, Megadeth, in 1985. Their debut, Killing is My Business...and Business is Good!, was released through Combat Records and led to a moderately successful tour. But it was their sophomore release, Peace Sells...But Who's Buying?, released the next year, that took them into the metal stratosphere. Acquired and released by Capitol just as metal was entering the mainstream (dovetailing with the beginning of MTV's Headbanger's Ball), Peace Sells remains a cornerstone of the thrash metal genre.
Now, 25 years later, EMI/Capitol is celebrating the success of the album in a brand-new 25th anniversary edition and deluxe box set. The standard, double-disc deluxe edition features the original album plus a previously unreleased live concert from the band's 1987 world tour, as well as new liner notes from Mustaine and former Metallica band mate Lars Ulrich. For hardcore fans and collectors, there's going to be a deluxe box set that includes all the material from the two-disc set, two discs' worth of alternate mixes of the album by Mustaine (as released on a remastered CD in 2004) and original mixer Randy Burns (whose mixes were replaced by Capitol before the album was released - some of those tracks were included on the remastered CD as well), a DVD of the original album and concert in high-resolution audio, and the album and concert across three vinyl records.
The sets is available on July 12. Read the press release here and hit the jump for the track list.
Megadeth, Peace Sells...But Who's Buying? 25th Anniversary Edition (EMI/Capitol, 2011)
Disc 1: Original LP
Wake Up Dead
The Conjuring
Peace Sells
Devil's Island
Good Mourning/Black Friday
Bad Omen
I Ain't Superstitious
My Last Words
Disc 2: Live concert, 1987 (previously unreleased)
Wake Up Dead
The Conjuring
Bad Omen
Rattlehead
Killing is My Business...and Business is Good
Looking Down the Cross
My Last Words
Peace Sells
These Boots Were Made for Walkin'
Devils Island
Mechanix
Last Rites/Loved to Deth
Good Mourning/Black Friday
Disc 3: Original LP - mixed by Dave Mustaine
Disc 4: Original LP - mixed by Randy Burns
Disc 5: DVD (original LP + live concert, 1987 in hi-res audio)
LP 1: Original LP
LPs 2-3: Live Concert, 1987
Disc 1 originally released as Capitol ST-12526, 1986
Disc 3 originally released as Capitol 72435 98624 2 2, 2004
Disc 4 previously unreleased except for Tracks 1-3 and 5, which were bonus tracks on Capitol 72435 98624 2 2, 2004