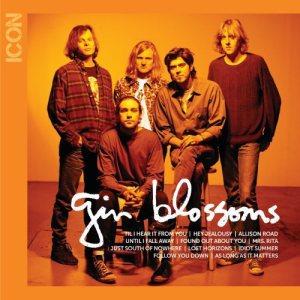 Mark your calendars, friends: a new batch of ICON budget compilations are due from Universal.
Between May 3 and 24, UMe is releasing a clutch of ICON sets that run the gamut from country (Willie Nelson, Hank Williams) to R&B (New Edition, Kelly Price), from classics (The Mamas & The Paps, Louis Armstrong) to modern day heroes (Gin Blossoms, Rob Zombie). As usual, there's not much in the way of brand-new or rare material, although some titles have some one-off tunes to their credit. Others, namely Willie Nelson and Louis Armstrong, cover the lesser-known periods of each artist, so that's certainly notable.
Really, the only set that might have something unreleased is the double-disc ICON from Rob Zombie. The All Music Guide listing states that the 2-CD version of "Mars Needs Women" is a "new version"; whether that's true or not remains to be seen, but it would be a rare moment of welcome vault material for the series. Both single and double-disc versions of the Rob Zombie set are due out May 3, while the remainder are out on May 24. Read the track lists after the jump and order them at Amazon here.
Rob Zombie, ICON (Geffen/UMe B0014596-02, 2011)
Superbeast
Dragula
Living Dead Girl
Feel So Numb
Never Gonna Stop (The Red, Red Kroovy)
Scum of the Earth
House of 1000 Corpses
Foxy, Foxy
American Witch
The Devil's Rejects
What?
Mars Needs Women
Tracks 1-3 from Hellbilly Deluxe (Geffen, 1998)
Tracks 4-5 from The Sinister Urge (Geffen, 2001)
Track 6 from Mission: Impossible II - Music from and Inspired by (Hollywood, 2000) - later released on The Sinister Urge (Geffen, 2001)
Track 7 from House of 1000 Corpses: Original Motion Picture Soundtrack (Geffen, 2003)
Tracks 8-10 from Educated Horses (Geffen, 2006)
Tracks 11-12 from Hellbilly Deluxe II (Roadrunner/Loud & Proud, 2010)
Rob Zombie, ICON 2-CD (Geffen/UMe B0015605-02, 2011)
Disc 1
Thunder Kiss '65 - White Zombie
Black Sunshine - White Zombie
Super-Charger Heaven - White Zombie
More Human Than Human - White Zombie
Feed the Gods - White Zombie
The One
Great American Nightmare (with Howard Stern)
Superbeast
Dragula
Living Dead Girl
Demonoid Phenomenon
Meet the Creeper
Disc 2
Feel So Numb
Never Gonna Stop (The Red, Red Kroovy)
Scum of the Earth
House of 1000 Corpses
Foxy, Foxy
American Witch
The Lords of Salem
Let It All Bleed Out
The Devil's Rejects
What?
Sick Bubblegum
Mars Needs Women (New Version)
Disc 1, Tracks 1-2 from La Sexorcisto: Devil Music, Volume 1 (Geffen, 1992)
Disc 1, Tracks 3-4 from Astro-Creep 2000 (Geffen, 1995)
Disc 1, Track 5 from Airheads: Original Soundtrack Album (Arista, 1994)
Disc 1, Track 6 from Escape from L.A.: The Soundtrack (Atlantic, 1996)
Disc 1, Track 7 from Private Parts: The Album (Warner Bros., 1997)
Disc 1, Tracks 8-12 from Hellbilly Deluxe (Geffen, 1998)
Disc 2, Tracks 1-2 from The Sinister Urge (Geffen, 2001)
Disc 2, Track 3 from Mission: Impossible II - Music from and Inspired by (Hollywood, 2000) - later released on The Sinister Urge (Geffen, 2001)
Disc 2, Track 4 from House of 1000 Corpses: Original Motion Picture Soundtrack (Geffen, 2003)
Disc 2, Tracks 5-9 from Educated Horses (Geffen, 2006)
Disc 2, Tracks 10-11 from Hellbilly Deluxe II (Roadrunner/Loud & Proud, 2010)
Disc 2, Track 12 possibly previously unreleased
Gin Blossoms, ICON (A&M/UMe B0015403-02, 2011)
Til I Hear It from You
Hey Jealousy
Allison Road
Until I Fall Away
Found Out About You
Mrs. Rita
Just South of Nowhere
Lost Horizons
Idiot Summer
Follow You Down
As Long As It Matters
Track 1 from Empire Records: The Soundtrack (A&M, 1995)
Tracks 2-6 and 8 from New Miserable Experience (A&M, 1992)
Track 7 from Up and Crumbling EP (A&M, 1991)
Track 9 from Wayne's World 2: Music from the Motion Picture (Reprise, 1993)
Tracks 10-11 from Congratulations...I'm Sorry (A&M, 1995)
Willie Nelson, ICON (Lost Highway/UMe B0015404-02, 2011)
Mendocino County Line (with Lee Ann Womack)
Maria (Shut Up and Kiss Me)
You Don't Know Me
Night Life
She is Gone
My Own Peculiar Way
Back to Earth
Funny (How Time Slips Away)
The Harder They Come
Crazy (Live @ the Beacon Theatre, New York City - 2003)
On the Road Again (Live)
Tracks 1-2 from The Great Divide (Lost Highway, 2002)
Track 3 from You Don't Know Me: The Songs of Cindy Walker (Lost Highway, 2006)
Tracks 4 and 8 from Songs (Hip-O, 2005)
Track 5 from Spirit (Island, 1996)
Track 6 from Teatro (Island, 1998)
Track 7 from Songbird (Lost Highway, 2006)
Track 9 from Countryman (Lost Highway, 2005)
Track 10 from Lost Highway (Lost Highway, 2009)
Track 11 from Willie Nelson & Friends: Stars & Guitars (Lost Highway, 2002)
Conway Twitty, ICON (MCA Nashville/UMe B0015526-02, 2011)
It's Only Make Believe
Hello Darlin'
After the Fire is Gone - Loretta Lynn and Conway Twitty
You've Never Been This Far Before
I See the Want To in Your Eyes
Touch the Hand
Play, Guitar Play
Don't Take It Away
Happy Birthday Darlin'
I'd Love to Lay You Down
Tight Fittin' Jeans
Track 1 from Conway Twitty Sings (MGM, 1958)
Track 2 from Hello Darlin' (Decca, 1970)
Track 3 from We Only Make Believe (Decca, 1971)
Track 4 from You've Never Been This Far Before (MCA, 1973)
Track 5 from I'm Not Through Loving You Yet (MCA, 1974)
Track 6 from The High Priest of Country Music (MCA, 1975)
Track 7 from Play, Guitar Play (MCA, 1977)
Tracks 8-9 from Cross Winds (MCA, 1979)
Track 10 from Heart & Soul (MCA, 1980)
Track 11 from Mr. T (MCA, 1981)
Louis Armstrong, ICON (Hip-O/UMe B0015528-02, 2011)
What a Wonderful World
Hello, Dolly!
Dream a Little Dream of Me
Mame
Love is Here to Stay - Ella Fitzgerald and Louis Armstrong
When the Saints Go Marching In
Someday (You'll Be Sorry)
When You're Smiling (The World Smiles with You)
A Kiss to Build a Dream On
When It's Sleepy Time Down South
Jeepers Creepers
Tracks 1 and 3 from What a Wonderful World (ABC-Paramount, 1968)
Tracks 2, 7, 9 and 11 from Hello, Dolly! (Kapp, 1964)
Tracks 4 and 6 from Mame (Mercury, 1966)
Track 5 from Ella and Louis Again (Verve, 1957)
Tracks 8 and 10 from Satchmo: A Musical Autobiography (Verve, 1957)
The Mamas & The Papas, ICON (MCA/UMe B0015530-02, 2011)
California Dreamin'
Go Where You Wanna Go
Monday, Monday
I Saw Her Again
Look Through My Window
Dancing in the Street
Dedicated to the One I Love
Creeque Alley
Twelve Thirty (Young Girls Are Coming to the Canyon)
Glad to Be Unhappy
Dream a Little Dream of Me
Tracks 1-3 from If You Can Believe Your Eyes and Ears (Dunhill, 1966)
Tracks 4 and 6 from Dancing in the Street (Dunhill, 1966)
Tracks 5, 7 and 8 from The Mamas & The Papas Deliver (Dunhill, 1967)
Tracks 9 and 11 from The Papas & The Mamas (Dunhill, 1968) - Track 9 first released as a single in 1967
Track 10 from non-LP single - Dunhill, 1967
Hank Williams, ICON (Mercury Nashville/UMe B0015533-02, 2011)
Hey, Good Lookin'
Jambalaya (on the Bayou)
Your Cheatin' Heart
I'll Never Get Out of This World Alive
I'm So Lonesome I Could Cry
Why Don't You Love Me (Like You Used to Do)
Long Gone Lonesome Blues
Move It On Over
Honky Tonkin'
I Saw the Light
Lovesick Blues
Track 1 from MGM single 11000, 1951
Track 2 from MGM single 11283, 1952
Track 3 from MGM single 11416, 1953
Track 4 from MGM single 11366, 1952
Track 5 from MGM single 30637, 1949
Track 6 from MGM single 10696, 1950
Track 7 from MGM single 30639, 1950
Track 8 from MGM single 10033, 1947
Track 9 from MGM single 10171, 1947
Track 10 from MGM single 10271, 1947
Track 11 from MGM single 10352, 1948
Muddy Waters, ICON (MCA/UMe B0015541-02, 2011)
I Can't Be Satisfied
Rollin' and Tumblin', Part 1
Rollin' Stone
Long Distance Call
(I'm Your) Hoochie Coochie Man
Rock Me
I Just Want to Make Love to You
I'm Ready
Trouble No More
You Shook Me
Got My Mojo Working
Track 1 from Aristocrat single 1305, 1948
Track 2 from Aristocrat single 412, 1950
Track 3 from Chess single 1426, 1950
Track 4 from Chess single 1452, 1951
Track 5 from Chess single 1560, 1954
Tracks 6 and 11 from Chess single 1562, 1956
Track 7 from Chess single 1571, 1954
Track 8 from Chess single 1579, 1954
Track 9 from Chess single 1612, 1955
Track 10 from Chess single 1827, 1962
Kelly Price, ICON (Def Jam/UMe B0015593-02, 2011)
Friend of Mine
Secret Love
Soul of a Woman
You Complete Me
It's Gonna Rain
As We Lay
You Should've Told Me
Love Sets You Free
Take It to the Head
He Proposed
You Bought the Sunshine
Tracks 1-4 from Soul of a Woman (Island, 1998)
Tracks 5 from Life: Music Inspired by the Motion Picture (Interscope, 1999)
Track 6-8 from Mirror Mirror (Def Soul, 2000)
Tracks 9-11 from Priceless (Def Soul, 2003)
New Edition, ICON (Geffen/UMe B0015599-02, 2011)
Cool It Now
Mr. Telephone Man
Can You Stand the Rain
Hit Me Off
Lost in Love
If It Isn't Love
A Little Bit of Love (is All It Takes)
Count Me Out
With You All the Way
You're Not My Kind of Girl
I'm Still in Love with You
Tracks 1-2 and 5 from New Edition (MCA, 1984)
Tracks 3, 6 and 10 from Heart Break (MCA, 1988)
Tracks 4 and 11 from Home Again (MCA, 1996)
Tracks 7-9 from All for Love (MCA, 1985)