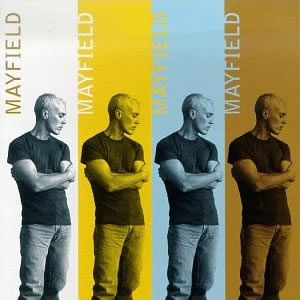 Curt Smith, vocalist/bassist for Tears for Fears, is set to reissue one of his earlier solo projects this summer. Mayfield (1998) was Smith's second album, recorded under the same name as the record (Curt is Mayfield - get it?). It'll feature a new track, a new recording of the song "Trees." Smith talks about the album and other projects in this interview with social networking site Flavors.
Demon Music Group's Harmless imprint is releasing another compilation of rare grooves mixed by one Tom Moulton. Some of the disco legend's earliest works are covered here, some obscure (First Choice, The Quickest Way Out), others less so (the Loose Change and TJM albums were recently reissued by Big Break Records). The track list is after the jump of this post.
Looking for some more background on the deluxe edition of Twisted Sister's Under the Blade? Addicted to Vinyl has you covered.
Here's one we totally overlooked from our friends at MusicTAP: this Tuesday, Virgin is reissuing Australian rockers Sick Puppies' latest album, 2009's Tri-Polar. The album will be expanded with a bonus disc featuring this year's unplugged EP Polar Opposite, three non-LP B-sides and a new track. That's quite a package!
And finally, some music geek-intensive notes you may have missed: check out the Library of Congress' National Jukebox, which features rare masters owned by Sony Music from their entire catalogue (Columbia, OKeh, Victor and other labels) up to 1925. And Rhino's famed RMAT (Rhino Musical Aptitude Test), issued to record stores across the country long ago, is back as an app! Better get those trivia muscles flexing; it looks like there'll be a contest soon...
Various Artists, Philly Re-Grooved: The Tom Moulton Remixes Volume 2 - The Master Returns (Harmless HURTCD109 (U.K.), 2011)
Incompatible - Ultra High Frequency
Smarty Pants - First Choice
Beware, She's Pulling My Strings - The Quickest Way Out (a.k.a. Flashlight)
One Step Away - First Choice
Love at First Sight - Moment of Truth
Who Am I - The Quickest Way Out
I'm Hopelessly in Love with You - Moment of Truth
Straight from the Heart - Loose Change
Put Yourself in My Place - TJM
Rising Cost of Love - Loose Change
Actions Speak Louder Than Words - Terry Collins
Track 1 from Wand single 11262, 1973
Tracks 2 and 4 from Philly Groove single PG-179, 1973
Track 3 from Philly Groove single PG-901-DJ, 1978
Tracks 5 and 7 from Nocturna: Original Motion Picture Soundtrack (MCA Records MCA2-4121, 1979)
Track 6 from Warner Bros. single WBS 8239, 1976
Tracks 8 and 10 from Loose Change (Casablanca Records NBLP 7189, 1979)
Track 9 from TJM (Casablanca Records NBLP 7172, 1979)
Track 11 from Kwanzaa Records single KWA-7739, 1973