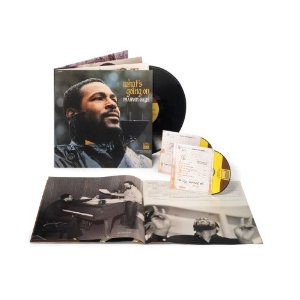 For most music producers, there's a kind of strangeness to working on multiple reissues of the same classic album over time. Not so for Harry Weinger, vice-president of A&R at Universal Music Enterprises and, as one of UMe's resident Motown gurus, the producer of several deluxe editions of Marvin Gaye's classic LPs, including What's Going On. "You learn between anniversaries," Weinger said. "And luckily, I was there for both of them."
When What's Going On became one of Universal's first in a then-new series of Deluxe Editions - now iconic for their double-sized digipacks with silver slipcases, boasting an extra disc or more of bonus musical material - it set a precedent for how all deluxe reissues should work. That set, released in 2001, contained roughly three versions of the album - the original, beloved mix as finalized under Gaye's watch in West Hollywood's Sound Factory; an unreleased alternate mix commissioned in Detroit without Gaye and a triumphant 1972 live show at Washington, D.C.'s Kennedy Center, Gaye's first live performance since the death of duet partner Tammi Terrell - not to mention three rare single versions and a demo of a track that would end up on Gaye's next album, Let's Get It On.
With that kind of bonus content, many fans' eyebrows were raised when a 40th anniversary package was announced for release in May (now scheduled for June 7), boasting 11 unreleased bonus tracks among a raft of other session material that's seen release on other packages. But Weinger had indeed learned a lot about Gaye's sublime, densely-packed musical statement since overseeing its reissue a decade ago. And this time, he sought to capture a fuller picture of Gaye's frame of mind in which the album came to be.
As the release of the new set approaches, Weinger took the time to provide a lengthy and enlightening commentary on his journey through the What's Going On era and some of the special facets that set this package apart from previous ones. What follows is the first of two segments of Harry's discussion with me. It was anything but a traditional Q&A session; one question posed to the producer can easily split off into several discussions covering more questions you might not have realized you had. It is presented in chronological order, with minimal editing for clarity.
Join us after the jump to hear Harry Weinger's thoughts on the album, its production and the challenges of another reissue of What's Going On - as only he can answer them.
HW on the impact and meaning of What's Going On:
"What's Going On was part of a growing movement where artists were able to express themselves rather than be instruments of a producer or a songwriter. It's self-produced self-expression. The sense that hippie rock musicians or folk artists were the only ones who were allowed to express themselves in this way - black music in general was thought of as dance music or entertainment - so you had an African-American artist express themselves in a different way and it was accepted."
HW on why UMe had to commemorate the 40th anniversary of the record:
"One thing was for certain: if the 40th went by and nothing happened, there'd be a lot of people saying, 'Why didn't you do anything for the 40th?' So the question was what's there [in the vault], and what would interest a new generation that's never heard the record. There are straight reissues, there's the 30th anniversary edition with a live show - but you need something new to introduce this record."
On the first portion of bonus material on the new set, which chronicles the lead-up to and eventual release of the album:
"When we did the 30th anniversary edition, we used the singles that were different. We didn't have a home for all of the singles. So that was a good start - let's start with all of the singles. And then I remembered in my research there were mixes that were done when the record was first rejected. Initially, when doing the 30th it seemed a little redundant to add it, because we had that instrumental mix. That was more of a unique piece from the heart that I'd wanted to share.
So I remembered these different reels from the Quality Control meetings. That's got to go on there. So we have the singles and then the material leading up to the recording of the album."
Addressing certain "repeat" tracks from previous reissues and Marvin Gaye projects - some of which aren't entirely repeats:
"For the Deluxe Edition, we had a tape ["Head Title (a.k.a Distant Lover)"] from the original recording engineer, Steve Smith. It was a rough mix that he made and put away even though Marvin had asked him to destroy the tape. I assumed at the time that we didn't have the multitrack tape, but as I discovered, we did! The rough mix that Steve had graciously given me for the original project had water damage, and we had to edit around all the water damage, presenting a truncated, incomplete version of that tune. But no one had ever heard it before, so you couldn't compare it to anything.
So for this set, hen I started thinking about what we had, if we had enough to be made into 'product' - well,'Head Title,' we have a full version we can mix now. The demo of 'Symphony' had already been out [on the 2002 Deluxe Edition of Let's Get It On], but it was not in context. So there's several tunes - namely some of the instrumentals on Disc 2 - that are now in context."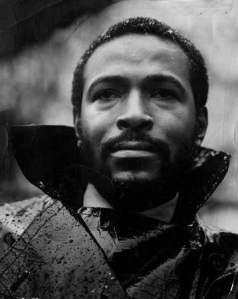 On making the new box a very Detroit-centered package, and background on some of the instrumental and demo material on the second disc of the box set:
"Because What's Going On is considered the last great Motown album recorded in Detroit, I felt that this package should be very Detroit-centric. In the year following the release of the album, Marvin Gaye is wrestling with his career, what he's done and should he move to L.A. - which is what Berry Gordy had done and the company was starting to do. So Marvin is wrestling with this, and also becoming the voice of his generation, a role he struggled with and actually avoided. So in the aftermath of the record, he goes into Studio B in Detroit and hunkers down with fellow musicians. And they just cut these jams. There's some vocals, but mostly it's instrumental jams, with Marvin on percussion and keyboards.
I've read some Internet complaints about why we held these back. I didn't hold them back, I wasn't sure what was really developed there - whether there was anything to develop into something releasable. We had put 'Running from Love' and 'Mandota' out - again, out of context - but that belongs in Detroit. (pauses) Actually, on Let's Get It On, it's somewhat in context; in all fairness, what the Deluxe Edition was for me at the time, was showing you what led up to that record. But they really belong with the aftermath of What's Going On. And that's what Disc 2 is. A couple of them had already come out - the track 'Struttin' the Blues' was released in small excerpts on The Master box set - and they were hidden. Now they're not hidden, and it's more of the fuller track. And 'You're the Man' belonged there too.
In a dialogue with sales about having something to create a special package for, I said, 'Well, there's instrumentals, there's the singles, some unreleased tracks - and I think it would be great, since it's a Detroit, Motor City-centric package, to take the Detroit Mix and make it available on vinyl.' That also gave us the opportunity to make a 12" x 12" package with a nice big book, readable essays and big photos."
On what didn't make the cut, why the new tracks are worth your time:
"The only other piece from that period was the live show, and since you can buy it not only as the Deluxe Edition and the separate Rarities Edition disc - that's available separately, I could leave it alone. But I wanted to put everything in context. And the instrumentals at first I was wondering, because there's not a lot of Marvin's vocals - but I tell you, everyone who's heard it, from wives to studio assistants to people walking down the hall - everyone wants a copy. They're really cool.
There are a few more jams that really are just noodling. Maybe for the 50th anniversary, someone who wants to do the complete instrumental sessions - that's up to them. I wouldn't vote for that. And I certainly didn't want to do any remixes in the package. The album itself is the album - there are no other takes of the songs on session reels.
[At the time] I didn't really look for anything after the record other than the live show. I didn't understand the time frame. And it all kind of overlaps - all of the tracks on Side 2 of Let's Get It On originated in Detroit. But it was finished in L.A."
Tune in tomorrow for Part 2, where Weinger discusses mastering, packaging and what's next on the UMe calendar!