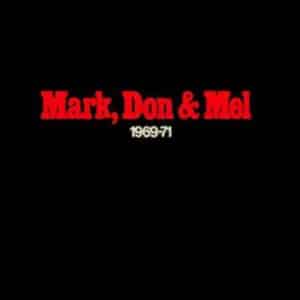 To commemorate that American band, Grand Funk Railroad, Capitol/EMI Iconoclassic is putting the band's first compilation on CD for the first time anywhere, 40 years after its original release.
Mark Don & Mel 1969-1971 captures Grand Funk Railroad's early years over what was originally four sides of vinyl, featuring tracks taken from the band's first five studio LPs and a live album. The band had yet to reach its commercial peak with 1973's We're An American Band and its chart-topping title track - in fact, they had yet to add keyboardist Craig Frost as a full-time member (over first choice Peter Frampton, who was bound by his new solo deal with A&M) - but the songs captured herein are still the kind of stadium-filling crowd pleasers one expects from the Grand Funk ensemble.
Amazon's listing has the compilation due on July 26 - but does not specify how the tracks will be ordered. The original double-vinyl pressing had Sides 1 and 4 on one disc followed by Sides 2 and 3. The track list after the jump presents all four sides in order, but we'll let you know if anything changes.
Grand Funk Railroad, Mark Don & Mel 1969-1971 (originally released as Capitol LP SABB-11042, 1971 - reissued Iconoclassic, 2011)
Time Machine
Into the Sun
Heartbreaker
Feelin' Alright
Footstompin' Music
Paranoid
Loneliness
Are You Ready (Live)
Mean Mistreater (Live)
T.N.U.C. (Live)
Inside Looking Out
Closer to Home (I'm Your Captain)
Tracks 1-3 from On Time (Capitol, 1969)
Track 4 from Survival (Capitol, 1971)
Tracks 5 and 7 from E Pluribus Funk (Capitol, 1971)
Tracks 6 and 11 from Grand Funk (Capitol, 1969)
Tracks 8-10 from Live Album (Capitol, 1970)
Track 12 from Closer to Home (Capitol, 1970)