Close your eyes and think of your favorite childhood vacation destination. That familiar locale, perhaps a constant lake house where you dreamt of the perfect summer and did your best to achieve it. The silly family rituals, the bonds you made with others, the warm feeling that comes with those kind of memories.
Now picture that same destination, revisited as a luxurious, all-expenses-paid package. There's not a worry in sight, no shortage of requests to be fulfilled by servers and staff - the epitome of melt-into-your-beach-chair luxury.
Which one do you like more? Your answer will help you decide whether or not you should make the new 40th anniversary edition of Marvin Gaye's What's Going On (Motown/UMe B0015552-02) a part of your record collection. This luxurious set is the kind of set you're going to all but need if you're hungry for this album or any album by Gaye. But it's hardly a replacement to the just-as-fantastic, near-perfect deluxe edition that arrived in stores 10 years earlier.
What's Going On, in its original album form, is an unassailable classic. It's as full of darkness, confusion, faith and introspection in 2011 as it was upon its original release in 1971. What's more, though, is it never lets the title statement serve as anything less than an open-ended statement on a time - easily the impoverished, war-weary America that Marvin wandered in his lifetime, as well as the broke, hungry, confused landscape of today. And even with the weighty subject material, it never stops being a killer soul offering. The conceptual nature of the record allows tracks and tempos to wrap around through each other like coils, never compromising the lyrical themes or the beats laid down by Motown's very best session musicians (credited here on What's Going On for the first time anywhere).
The 30th anniversary Deluxe Edition of the album (Motown 440 013 404-2, 2001) had several revelatory layers to peel back for fans: first, there was a stunning alternate mix of the entire record, a muted, even jazzier affair mixed in Detroit instead of Motown's new, burgeoning Los Angeles headquarters. Then there was a powerful live performance at Washington, D.C.'s Kennedy Center in 1972 - Gaye's first venue since the death of longtime duet partner Tammi Terrell - that featured the tracks from the record in their entirety, out of order but in no way robbed of their power. As if that weren't enough, some of the album's best single mixes, long unheard on homogenized classic radio stations, were given CD debuts. Top it off with a respectable package - one of the first of Universal's standard Deluxe Editions with digipak, thick liner notes booklet and silver slipcase (even more appreciated in these dark times for packaging) - and you can't be blamed for being totally content.
So what's on the new set that may tickle your fancy? We don't want to escalate, but you may want to, after the jump.
The meat of the new set for collectors and Marvin Gaye enthusiasts are 21 tracks' worth of outtakes and session material. A very small handful of that material, presented after the regular album on Disc 1, dates to the brief period in which Marvin went on strike from Motown after they rejected the "What's Going On" single as having too little commercial potential. (Ha!) That includes one of the highlights of the outtake material, an early version of what would become "Distant Lover" on Gaye's Let's Get It On (1973). Though this track isn't particularly new, having been included on the 30th anniversary edition a decade ago, that original version was presented in truncated form (owing to oxide damage on the source material), and this version is presented from a full, first-generation master source.
A few of the other tracks here aren't new either, having been included on the subsequent deluxe edition of Let's Get It On released several years ago or the 1994 box set The Master. Like some of that material, the new tracks on Disc 2 - cut with some of Detroit's best session players, including guitarists Wah Wah Watson and Ray Parker, Jr. and drummer Hamilton Bohannon - are mostly spare, loose instrumental grooves. None of them capture Gaye's frame of mind as encapsulated in What's Going On. But don't let that deter you entirely. The grooves, however short and light on vocals as they can be, aren't mere scraps at the end of a master tape. They're brush strokes on the canvas of Gaye's career, fast maturing and evolving at the time.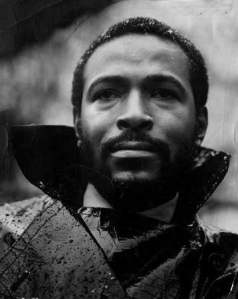 The other extras in the set are perhaps even more for the hardcore collectors: a vinyl copy of the still-sharp Detroit mix of the album and an LP-sized book of liner notes. While the essays by longtime Marvin Gaye writers David Ritz and Ben Edmonds don't expand terribly upon previous writings on the album, it is a treat - particularly, again, considering that most Universal deluxe editions have been sorely lacking from the angle of physical presentation - to have a beloved album given that sort of attention. The LP-sized WGO package will look damn good sitting on your shelf, and it will feel good to hear the bonus material (to say nothing of the great single mixes included throughout the package, and the discarded first mix of the title track, which lacks much of its instrumentation but retains most of its power).
Bottom line: do you capital-L-bold-italicized-underlined LOVE What's Going On? Then you're going to love this set, which is as good as any love letter of a reissue as they come. But if your love doesn't go quite that deep, you'll be happy picking up the 30th anniversary deluxe edition on its own, and falling in love with those extras. And let's not forget, above all, that you're still dealing with a record for the ages. And that's what's going on.