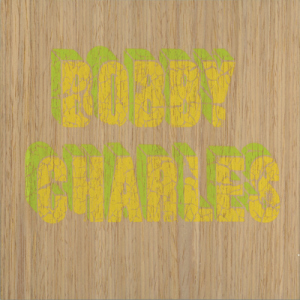 Gumbo's on the menu, and Rhino Handmade is serving.  The self-titled Bearsville debut LP from Bobby Charles is a N'awlins stew of roots music, laid-back country, soul and pure rock-and-roll from the man who gave the world "See You Later, Alligator," and Rhino Handmade has expanded the original 1972 LP with two discs of delicious bonus material (RHM2 52663, 2011), shipping today from the label.
It's somewhat ironic that Bobby Charles was recorded in Woodstock, New York, as the man born Robert Charles Guidry (1938-2010) was a New Orleans boy through and through.  Though Bill Haley had the hit with "See You Later, Alligator," Charles had a string of solo recordings on the Chess, Jewel, Paula and Imperial labels but had taken other detours when notorious manager Albert Grossman persuaded him to set up shop at Bearsville.  You can take the band out of the bayou, but you can't take the bayou out of the band…and when that band is four-fifths of The Band (no emphasis necessary), what results is a stone-cold classic that perhaps will get its long-overdue time in the sun.
Though the booklet contains a photograph of Robbie Robertson with Bobby and other Band members in the studio, Robertson apparently didn't play on any of these tracks, but Rick Danko, Garth Hudson, Levon Helm and Richard Manuel certainly did.  Despite his songwriting credentials, Charles was not a musician himself; guitarist Amos Garrett comments in the liner notes that "Bobby couldn't play a note on any instrument."  But the musicianship is top-notch throughout, with his Band-mates joined by Mac Rebennack, a.k.a. Dr. John, as well as Garrett, Ben Keith, Geoff Muldaur, Bob Neuwirth, David Sanborn and other notables.  Bobby Charles plays a bit like an alternate Band album with Robbie Robertson's idiosyncratic songwriting replaced by that of Charles, whose sly but positive lyrical outlook makes a world of difference.
Rick Danko co-produced the original 10-track album with John Simon and Charles, recording at Bearsville Studio outside Woodstock, a place described by Charles in the deluxe edition's accompanying interview as "kinda magical."  It was an opportunity for the public to become reacquainted with Charles' own drawling voice, as his greatest songs reached the commercial heights in renditions by Clarence "Frogman" Henry ("(I Don't Know Why I Love You) But I Do") or Fats Domino ("Walking to New Orleans.")
Hit the jump to visit Bearsville Studio, 1972, as Bobby takes the microphone!
 "I Must Be In a Good Place Now" characterizes the easygoing, upbeat feeling that's found throughout the album.  This piano-driven ballad offers sincerity and simplicity, hand in hand:  "Oh what a good day to go fishin'/And catch the sunset in the hills/And dream of my yesterdays and tomorrows/And hope that you'd be with me still."  The album's most famous track, "Small Town Talk," was written with Danko and championed by influential English DJ John Peel, with its light reggae feel and lyrical jab at those who would trade in gossip: "Who are we to judge one another? That could cause a lot of hurt," intones the empathetic singer.  Charles co-wrote with Domino and Dave ("The Monkey") Bartholomew a touching ode to not putting off till tomorrow what you could do today, "Grow Too Old."  This track's fiery guitar and smoking sax (likely played by Sanborn) drive the poignant message home.
There's even a touch of Randy Newman present, or more likely it was the talented Newman who absorbed the same influences as Charles in his formative years spent in Louisiana.  The drawling "Save Me Jesus" ("from this godforsaken place") is direct, with much of the "creative" non-rhyming that Newman correctly points out is part of the city's plain-spoken musical tradition.  One track is worthy of Mr. Newman at his pointed best, "He's Got All the Whiskey."  Charles croons the song in a conspiratorial whisper, "He's got all the power/And he won't give me none," most assuredly directed at the controlling Grossman, who also guided the careers of Bob Dylan and Peter, Paul and Mary, among others.  The simplicity of the repeated phrases lends it the air of an old folk melody, and it's easy to concentrate on the sizzling interplay between the musicians.  There's great looseness to the proceedings, the same spirit that Levon Helm still visits in his Midnight Rambles today.
Though most of the songs are universal in lyric, "Tennessee Blues," like "He's Got All the Whiskey," was directly lifted from Charles' own life experiences, this song specifically about his drug bust in that state.  Still, its prominent accordion (likely Garth Hudson) makes the blues sound rather appealing.  Its funky groove still commands power today, and it's simply too bad that definitive credits have never materialized as to which players contributed to which tracks.  ("All musical arrangements homemade" is the blanket credit along with the musicians' names.  Could this have been a project of Rhino Homemade?)  There's fantastic, rollicking piano all over Bobby Charles, but any part could have been the work of Manuel, Hudson, Rebennack or even John Simon or Geoff Muldaur.  Ben Keith's pedal steel, however, sounds distinct as does Woodstock legend Garrett's fluid guitar and Hudson's accordion and organ.
Disc One of this 3-CD set has been expanded by eight additional tracks, including the mono single of "Small Town Talk," the single edit of "Save Me, Jesus" and an extended version of "Whiskey."  They're followed by three songs first aired on the Japan-only Bearsville Box (Pony Canyon 727, 1996): "New Mexico," "Homemade Songs" and "Rosie."  Two further outtakes, "Don't Be Surprised" and "You Were There," round out the first disc (along with a brief hidden track).
Rick Danko's high harmony lends his co-written track "New Mexico" a rustic feel, and "Homemade Songs" is a slow-burning, country-and-western delight with that genre's most familiar lyrical themes explored: "I only know one thing for certain/That I've been down so long/I'm hurtin'."  Similar ground is covered on "You Were There," another altogether sweet song:  "You picked me up when I was down/You helped me find my way around…You brought me sunshine when all I had was rain."  Keith's pedal steel and dobro add the requisite country flourishes.
The lovably ragged "Homemade Songs" reappears on Disc 2 in a longer version, along with the first attempt at "Whiskey" and a demo of "New Mexico" in variable sound quality.  There's one more outtake from the original LP, "Done a Lot of Wrong Things," with Charles' arresting candor: "But that's all right…because I had fun!"  The main attraction of the second disc, however, is the inclusion of thirteen never-before-released tracks cut in November and December 1974 with producer Paul Rothchild (Janis Joplin, The Doors) for a second Bearsville LP that never materialized.  Though musician credits are all but non-existent for these tracks, it's believed that Dr. John and Paul Butterfield contributed to the sessions.  Charles had actually toured with Butterfield's band, though not as a musician.  Rather he still saw himself as a song plugger, using each tour stop to pitch his songs to local recording artists!
Though the booklet is short on details about these lost tracks, they're real gems.  The wistful melody contrasts with the positive lyric of "Ain't That Lucky," while "Better Days" and "You Came Along" are spiritual cousins of "You Were There."  In turn, "Why Are People Like That" is a worthy successor to "You Get all the Whiskey," a musical lament with aggressive piano licks.  "Nickles [sic], Dimes, Dollars" commands your attention with its churchy, soulful organ.
The third and final disc of Bobby Charles features 30 minutes of an interview (joined in progress, it seems) with the singer/songwriter conducted by Barry Hansen, the future Dr. Demento.  Recorded shortly before the release of the LP, Charles speaks in a hushed manner without the slightest touch of pretense.  He's generous with praise for his contemporaries like Allen Toussaint, opining "Wished I had wrote it" of the Toussaint-written hit for Ernie-K-Doe, "Mother-in-Law."  He sounds altogether modest when Hansen asserts that "See You Later, Alligator" is as much a standard as Toussaint's classic songs ("He's an amazing cat – I've got a lot of respect for him")  The interview doesn't appear to have been recorded with an audience in mind, as the artist and his interviewer freely discuss the other releases of the day.  When Hansen offers of the word "product" that "I don't like that word," Charles resignedly adds, "I don't either…but everything is," an astute observation by a world-weary survivor of the record business.  Of up-and-coming fellow Bearsville artist Todd Rundgren, Charles describes a meeting: "He was really loaded…he played drums like I never heard anybody play drums before…he can play anything!...He writes some nice songs, too."  Bobby Charles was apparently a master of understatement.  Though replay value on interview discs is by nature limited, Disc 3 makes for illuminating listening.
Rhino Handmade's package is typically clever, with the package a cardboard replica of a wooden box.  (Careful, you just might get a splinter!)  The banner of Louisiana is emblazoned on the back cover; could Bobby Charles have been from anywhere else?  Brian Barr contributes the fine essay in the 40-page booklet, though track-by-track commentary would have been welcome.  The album's original artwork is preserved in the booklet.
Rick Danko went on to re-record a couple of the album's tracks for his 1977 Arista debut, and of course, Charles joined The Band for their Winterland farewell as captured in The Last Waltz.  One particular lyrical sentiment of Charles' has remained with me, from the outtake "You Came Along": "God bless the gift of laughter, and thank God for a world of songs."  Thank God for Bobby Charles and his gift of song, and thanks to Rhino Handmade for making this long-lost treasure once again available in an edition that no doubt would have made its modest artist proud.