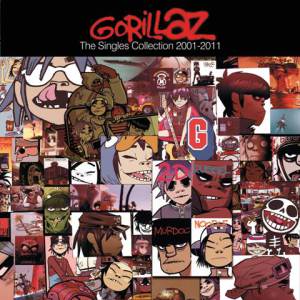 Gorillaz don't look 10 years old, do they? Granted, it's not easy to assess the age of a band made almost entirely out of cartoons. Adding to the confusion, the band's future-forward hip-hop doesn't sound much like a product of any time period. Regardless, the band is indeed at the decade mark - and they're being commemorated with a new compilation.
The fictitious members of the band - vocalist/keyboardist 2D, bassist Murdoc Niccals, guitarist Noodle and drummer Russel Hobbs - actually have a rather excellent musical and artistic pedigree behind them. Blur frontman Damon Albarn and Tank Girl comic creator Jamie Hewlett were roommates in London, watching a lengthy stretch of MTV in 1998, and decided to create a project that would subtly comment on what they saw as a lack of substance. The band incorporated rock, rap and electronic influences in its sound, and Albarn has recruited a stable of stars to contribute to the project, including rappers Del tha Funkee Homosapien, Snoop Dogg, De La Soul and Mos Def, producer Dan the Automator and musicians including Bobby Womack, Mick Jones and Paul Simonon of The Clash and Ike Turner. With a captivating backstory for each member of the band and a stable of hits that includes the U.K. Top 10 singles "Clint Eastwood," "19-2000," "DARE" and the worldwide hit "Feel Good Inc.," Gorillaz have every reason to celebrate this milestone.
And whatever the exact reason of this milestone - rumors are floating that the project may be finished, with the Twitter account of Murdoc himself doing little to disavow the rumors (sample tweet: "Gorillaz are TEN. Ten years old, eh? T.E.N. What's that stand for? The End is Nigh...!" - he has since gone onto create other acronyms from "ten") - The Singles Collection 2001-2011 looks to be a taut collection of their singles from three of their albums: Gorillaz (2001), Demon Days (2005) and Plastic Beach (2010). (There's nothing from the iPad album The Fall (2010).) Two classic remixes of "Clint Eastwood" and "19-2000" round out the 15-track set.
The set will be available as a CD, CD/DVD, vinyl LP and collector's vinyl 7" box set, all of which are available to pre-order here. The standard track list is after the jump.
Gorillaz, The Singles Collection 2001-2011 (Virgin/EMI, 2011)
Tomorrow Comes Today
Clint Eastwood
19-2000
Rock the House
Feel Good Inc.
DARE
Dirty Harry
Kids with Guns
El Mañana
Stylo
Superfast Jellyfish
On Melancholy Hill
Doncamatic
Clint Eastwood (Ed Case & Sweetie Irie Refix)
19-2000 (Soulchild Remix)
Tracks 1-4 from Gorillaz (Parlophone (U.K.)/Virgin (U.S.), 2001)
Tracks 5-9 from Demon Days (Parlophone (U.K.)/Virgin (U.S.), 2005)
Tracks 10-13 from Plastic Beach (Parlophone (U.K.)/Virgin (U.S.), 2010)
Track 14 from Parlophone CD single 79050 (U.K.), 2001
Track 15 from Parlophone CD single 79590 (U.K.), 2001