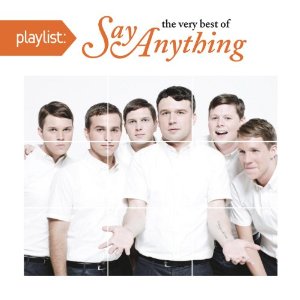 It feels like it's been a long time since the last batch of Playlist titles from Legacy (by our records, it's been five months), but a bunch of new titles are on shelves as of yesterday.
There's a lot of country and modern rock in this batch, including titles from Gene Autry, Phil Vassar and Joe Diffie (on the country end) and Say Anything, Coheed and Cambria and Mudvayne (on the rock end). There's also one from rap/reggae artist Matisyahu (surely you recall the Orthodox Jewish musician, whose toasting abilities were stunningly high), sets from The Hooters, Kris Kristofferson, Rosemary Clooney and Phoebe Snow and at least one title pushed back from a previous batch (Philly-soulsters The Intruders).
All the sets are pretty generic hits-and-album-cuts compilations, the standard Playlist fare for sure (the Phil Vassar set is actually identical to his 2006 compilation Greatest Hits Vol. 1), but the set for former Destiny's Child singer Kelly Rowland features a great amount of remixes from promos and hard-to-find CD singles that hardcore fans would probably want to add to their collections.
Hit the jump to check out all the titles and order them on Amazon here.
Kelly Rowland, Playlist: The Very Best of Kelly Rowland (Columbia/Legacy 88697 56711-2, 2011)
When Love Takes Over - David Guetta with Kelly Rowland
Dilemma (with Nelly)
Haven't Told You
I'm Beginning to See the Light
Beyond Imagination
Work (Freemasons Radio Edit)
Train on a Track (Rob Fusari Remix)
Stole (5AM Remix)
Like This (with Eve)
Comeback
Every Thought is You
Still in Love with My Ex
Daylight
Can't Nobody (Cedsolo Hip-Hop Remix)
Track 1 from One Love (Virgin/EMI, 2009)
Tracks 2-3 and 5 from Simply Deep (Columbia, 2002)
Track 4 from Mona Lisa Smile: Music from the Motion Picture (Epic/Sony Music Soundtrax, 2003)
Track 6 from "Work" CD single (Columbia, 2007). Original version from Ms. Kelly.
Track 7 from "Train on a Track" international CD single (Columbia, 2003). Original version from Simply Deep.
Track 8 from "Stole" U.K. CD single (Columbia, 2003). Original version from Simply Deep.
Tracks 9-12 from Ms. Kelly (Music World/Columbia, 2007)
Track 13 from Ms. Kelly: Diva Deluxe (Music World/Columbia, 2008)
Track 14 from "Can't Nobody" U.K. CD single (Columbia, 2003). Original version from Simply Deep.
Matisyahu, Playlist: The Very Best of Matisyahu (Epic/Legacy 88697 80499-2, 2011)
King Without a Crown
Chop 'Em Down (Live)
Close My Eyes (Live)
Youth
Warrior
Jerusalem (Out of Darkness Comes Light)
Indestructible
Spark Seekers
Message in a Bottle
One Day
I Will Be Light (Live Acoustic)
Smash Lies
For You
Temple
Tracks 1, 4 and 7 from Youth (JDub/Or/Epic, 2006)
Tracks 2-3 from Live at Stubb's (JDub/Or, 2005)
Tracks 5-6 and 9 from No Place to Be (JDub/Or/Epic, 2006)
Track 8 from Youth Dub (JDub/Or/Epic, 2006)
Tracks 10 and 12-13 from Light (JDub/Or/Epic, 2009)
Track 11 previously unreleased
Track 14 from iTunes edition of Light (JDub/Or/Epic, 2009)
The Intruders, Playlist: The Very Best of The Intruders (Epic/Legacy 88697 80920-2, 2011)
Together
A Love That's Real
(We'll Be) United
Cowboys to Girls
Me Tarzan, You Jane
Friends No More
Slow Drag
(Love is Like a) Baseball Game
Sad Girl
When We Get Married
Jack Be Nimble
(You'd Better) Check Yourself
I'll Always Love My Mama
Energy of Love
Tracks 1-3 and 12 from The Intruders Are Together (Gamble, 1967)
Tracks 4, 6 and 8-9 from Cowboys to Girls (Gamble, 1968)
Track 5 from Gamble single 225, 1969
Track 7 from Gamble single 221, 1968
Track 10 from When We Get Married (Gamble, 1970)
Track 11 from Music Voice single 504, 1964
Track 13 from Save the Children (Philadelphia International, 1973)
Track 14 from Energy of Love (TSOP, 1974)
Say Anything, Playlist: The Very Best of Say Anything (RCA/Legacy 88697 88912-2, 2011)
The Writhing South
Wow, I Can Get Sexual Too
Woe
I Want to Know Your Plans
Every Man Has a Molly
Admit It!!!
Baby Girl, I'm a Blur
Shiksa (Girlfriend)
The Church Channel
Hate Everyone
Do Better
Less Cute
Crush'd
Cemetery
Tracks 1 and 3-6 from Say Anything...is a Real Boy (Doghouse, 2004 - reissued J, 2006)
Track 2 from Say Anything...Was a Real Boy bonus disc (J, 2006)
Tracks 7-9 from In Defense of the Genre (J, 2007)
Tracks 10-14 from Say Anything (RCA, 2009)
The Hooters, Playlist: The Very Best of The Hooters (Columbia/Legacy 88697 92780-2, 2011)
Brother, Don't You Walk Away
Day by Day
All You Zombies
And We Danced
Satellite
Karla with a K
Fightin' on the Same Side
South Ferry Road
Deliver Me
Johnny B.
Don't Knock It 'Til You Try It
500 Miles
Blood from a Stone
Graveyard Waltz
Tracks 1, 9, 11 and 12 from Zig Zag (Columbia, 1989)
Tracks 2-4, 8 and 13 from Nervous Night (Columbia, 1985)
Tracks 5-7, 10 and 14 from One Way Home (Columbia, 1987)
Mudvayne, Playlist: The Very Best of Mudvayne (Epic/Legacy 88697 93187-2, 2011)
Dull Boy
Dig
Not Falling
Fish Out of Water
Do What You Do
Beautiful and Strange
Determined
Scream with Me
World So Cold
Death Blooms
Fall Into Sleep
-1
1000 Mile Journey
Happy?
Tracks 1 and 4-5 from The New Game (Epic, 2008)
Tracks 2, 10 and 12 from L.D. 50 (No-Name/Epic, 2000)
Tracks 3 and 9 from The End of All Things to Come (Epic, 2002)
Tracks 6, 8 and 13 from Mudvayne (Epic, 2009)
Tracks 7, 11 and 14 from Lost and Found (Epic, 2005)
Coheed & Cambria, Playlist: The Very Best of Coheed & Cambria (Columbia/Legacy 88697 93190-2, 2011)
Welcome Home
Here We Are, Juggernaut
Devil in Jersey City
Feathers
The Running Free
Pearl of the Stars
The Suffering
Ten Speed (of God's Blood and Burial)
A Favor House Atlantic
Everything Evil
No World for Tomorrow (Live)
Blood Red Summer
In Keeping Secrets of Silent Earth: 3
Wake Up (Acoustic)
Tracks 1 and 8 from Good Apollo, I'm Burning Star IV, Volume 1: From Fear Through the Eyes of Madness (Columbia, 2005)
Tracks 2 and 6-7 from Year of the Black Rainbow (Columbia, 2010)
Tracks 3 and 10 from The Second Stage Turbine (Equal Vision/Defiance, 2002)
Tracks 4-5 from Good Apollo, I'm Burning Star IV, Volume 2: No World for Tomorrow (Columbia, 2007)
Track 11 from Neverender: Children of the Fence (Columbia, 2009)
Tracks 9 and 12-13 from In Keeping Secrets of Silent Earth: 3 (Equal Vision/Columbia, 2003)
Track 14 exact origin unknown
Phoebe Snow, Playlist: The Very Best of Phoebe Snow (Columbia/Legacy 88697 93886-2, 2011)
Autobiography (Shine, Shine, Shine)
Two-Fisted Love
Teach Me Tonight
No Regrets
In My Girlish Days
San Francisco Bay Blues (Live)
Pre-Dawn Imagination
Goin' Down for the Third Time
Sweet Disposition
Garden of Joy Blues
At Last (Live)
There's a Boat That's Leavin' Soon for New York
Poetry Man
Good Times (Live)
Tracks 1, 3 and 5 from It Looks Like Snow (Columbia, 1976)
Tracks 2, 4, 7-9 and 12 from Second Childhood (Columbia, 1976)
Track 6 exact origin unknown
Track 10 from Never Letting Go (Columbia, 1977)
Track 11 from The New York Rock and Soul Revue: Live at the Beacon (Giant, 1991)
Track 13 from Phoebe Snow (Shelter, 1974)
Track 14 from The Very Best of Phoebe Snow (Columbia/Legacy, 2001)
Rosemary Clooney, Playlist: The Very Best of Rosemary Clooney (Columbia/Legacy 88697 94178-2, 2011)
Come On-a My House
In the Cool, Cool, Cool of the Evening
Hey There
Half as Much
Botch-a-Me (Ba-Ba-Bacciami Piccina)
The Lady is a Tramp
You Started Something
You Make Me Feel So Young
Blue Rose
Love, You Didn't Do Right by Me
Blame It on My Youth
Mambo Italiano
This Ole House
Tenderly
Mangos
From This Moment On
Billy Swan, Playlist: The Very Best of Billy Swan (Monument/Legacy 88697 94237-2, 2011)
Everything's the Same (Ain't Nothin' Changed)
Your True Love
Shake Rattle and Roll
Number One
I Just Want to Taste Your Wine
Don't Be Cruel
Ubangi Stomp
You're the Pain (in My Heart)
(You Just) Woman Handled My Mind
Stranger
Matchbox
Vanessa
Rock and Roll Moon Blues, Pt. 1
I Can Help
Tracks 1, 7-10 and 13 from Rock 'n' Roll Moon (Monument, 1975)
Tracks 2, 4-5 and 12 from Billy Swan (Monument, 1976)
Tracks 3, 6 and 14 from I Can Help (Monument, 1974)
Track 11 from Choice Cuts (BMG, 1997)
Kris Kristofferson, Playlist: The Very Best of Kris Kristofferson (Monument/Legacy 88697 94238-2, 2011)
Why Me
To Beat the Devil
Me and Bobby McGee
Sunday Mornin' Comin' Down
The Silver Tongued Devil and I
Help Me Make It Through the Night
Sugar Man
Loving Her Was Easier (Than Anything I'll Ever Do Again)
Stranger
The Taker
Nobody Wins
For the Good Times
Once More with Feeling
Living Legend
Tracks 1, 7 and 11 from Jesus Was a Capricorn (Monument, 1972)
Tracks 2-4, 6 and 12 from Kristofferson (Monument, 1970)
Tracks 5, 8 and 10 from The Silver Tongued Devil and I (Monument, 1971)
Track 9 from Who's to Bless and Who's to Blame (Monument, 1975)
Track 13 from Shake Hands with the Devil (Monument, 1979)
Track 14 from Easter Island (Monument, 1978)
Gene Autry, Playlist: The Very Best of Gene Autry (Legacy 88697 94240-2, 2011)
Back in the Saddle Again
That Silver Haired Daddy of Mine
You're the Only Star (in My Blue Heaven)
South of the Border (Down Mexico Way)
My Mexicali Rose
Blueberry Hill
You Are My Sunshine
I Hang My Head and Cry
I'm Thinking Tonight of My Blue Eyes
At Mail Call Tonight
Have I Told You Lately That I Love You
Don't Fence Me In
Red River Valley
Home on the Range
Track 1 from Columbia single 37010
Tracks 3 and 5 from Columbia single 37002
Track
Joe Diffie, Playlist: The Very Best of Joe Diffie (Epic/Legacy 88697 94367-2, 2011)
Home
If You Want Me To
If the Devil Danced (in Empty Pockets)
Is It Cold in Here
Not Too Much to Ask
Ships That Don't Come In
Prop Me Up Beside the Jukebox (If I Die)
Honky Tonk Attitude
John Deere Green
Pickup Man
Third Rock from the Sun
So Help Me Girl
Bigger Than The Beatles
This is Your Brain
Tracks 1-3 from A Thousand Winding Roads (Epic, 1990)
Tracks 4 and 6 from Regular Joe (Epic, 1992)
Track 5 from Come On Come On (Columbia, 1992)
Tracks 7-9 from Honky Tonk Attitude (Epic, 1993)
Tracks 10-12 from Third Rock from the Sun (Epic, 1994)
Track 13 from Life's So Funny (Epic, 1995)
Track 14 from Twice Upon a Time (Epic, 1997)
Phil Vassar, Playlist: The Very Best of Phil Vassar (originally released as Greatest Hits Vol. 1 - Arista Nashville 82876 78729-2, 2006 - reissued Arista Nashville/Legacy 88697 96972-2, 2011)
Bye Bye
In a Real Love
Carlene
I'm Alright
Last Day of My Life
My Next Thirty Years
Little Red Rodeo
American Child
Twenty One
Just Another Day in Paradise
For a Little While
The Woman in My Life
Six-Pack Summer
That's When I Love You
I'll Take That as a Yes (The Hot Tub Song)
Tracks 1, 4-7, 9, 11 and 12 from Greatest Hits, Vol. 1 (Arista Nashville, 2006)
Tracks 2 and 15 from Shaken Not Stirred (Arista Nashville, 2004)
Tracks 3, 10, 13 and 14 from Phil Vassar (Arista Nashville, 2000)
Track 8 from American Child (Arista Nashville, 2002)