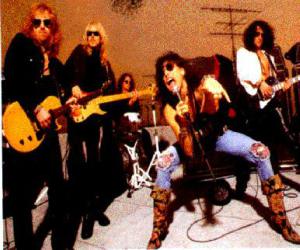 Welcome to another installment of Reissue Theory, where we focus on notable albums and the reissues they may someday see. As Aerosmith come ever closer to finishing another new album, we imagine a box set that celebrates their first great, entirely unexpected comeback.
If all goes according to plan, by next spring you could be hearing the first new, original Aerosmith album in more than a decade. Frontman Steven Tyler anticipates a March release date on the new disc, to be produced by Jack Douglas, the man at the helm for the great early LPs by the Bad Boys of Boston.
But it's worth remembering that the upcoming album won't nearly be the band's first comeback. Far from it, of course: Aerosmith have done an astounding job of hitting the ropes and coming back swinging like mad. A band with so many career phases certainly has the catalogue to match, but it's honestly arguable that the band's hooks-and-hits-laden years on Geffen Records in the late '80s and early '90s are due for as thorough an assessment as, say, Columbia gave the group with 1994's Box of Fire, a 14-disc box that presented the first CD remasters of the band's output from 1973 to 1982, with handful of bonuses.
After the jump, walk this way for a trip down memory lane as we reflect on Aerosmith's astounding climb back up to the top, and how that climb could be celebrated in mega-box set form.
After a strong run through the 1970s, Aerosmith spent the end of the decade, and the start of a new one, in more than a few nights in the ruts. Lead guitarist Joe Perry left the group in 1979, and rhythm guitarist Brad Whitford departed halfway through production of the band's last Columbia album, 1982's Rock in a Hard Place (earning only an "additional musician" credit). The band's excessive lifestyle saw no sign of ending; Tyler collapsed onstage during a Boston show that year, and drug abuse was high.
But gradually, the hatchet was beginning to be buried among Tyler, Perry, Whitford, bassist Tom Hamilton and drummer Joey Kramer. All five men were in attendance for an Aerosmith show at Boston's Orpheum on Valentine's Day 1984, and within months, the original lineup was back together. A subsequent tour (titled after the band's hit "Back in the Saddle") was a success, and the band signed with Geffen Records to work on a new album.
However, Done with Mirrors, produced by Ted Templeman and released in 1985, was not a success, denting the Top 40 and yielding no hit singles ("Let the Music Do the Talking," a cover of a Joe Perry Project song, only managed No. 48 on the Billboard Hot 100). The next year, though, two crucial things happened that put Aerosmith back on track to success. One was the guidance of new manager Tim Collins (a holdover from The Joe Perry Project), who pushed for all five members to successfully get sober. (Collins famously told the band in 1984 that, if he could rid the band of drugs, he could make them the biggest band in the world by 1990.)
[youtube=http://www.youtube.com/watch?v=4B_UYYPb-Gk&ob=av2e]
The other was Def Jam Records co-founder/producer Rick Rubin pulling a copy of Toys in the Attic out for Joseph "Run" Simmons, Daryl "D.M.C." McDaniels and Jason "Jam Master Jay" Mizell to listen to while working on Run-D.M.C.'s Raising Hell. Rubin convinced the rap group to cover "Walk This Way," with its rapid-fire vocal delivery, and managed to get Tyler and Perry to add new vocals and guitar to the track. The new "Walk This Way" was a smash, a Top 5 single in the U.S. and the first crossover hit in hip-hop history.
The stage was set for Aerosmith to come back in a big way and 1987's Permanent Vacation did just that. Produced by Bon Jovi producer Bruce Fairbairn and featuring songs mostly co-written between Tyler and Perry and some of the best professional songwriters of the decade, including Desmond Child, Jim Vallance and Holly Knight, the album was a Top 20 hit, yielding major hits in the Motley Crue-inspired "Dude (Looks Like a Lady)" (No. 14), the propulsive "Rag Doll" (No. 17) and the crossover ballad "Angel" (No. 3).
It made little sense to tinker with a successful formula, and for the next several years, more Aerosmith albums, done with Fairbairn in the producer's chair and Child and Vallance penning tracks with Tyler and Perry, were made. Astoundingly, they defied the sequel syndrome; each one did better than the one before. 1989's Pump sold seven million copies (to Permanent Vacation's excellent five million) and yielded four Top 40 hits, three of which ("Love in an Elevator," "Janie's Got a Gun," "What It Takes") were Top 10 tracks. "Janie's Got a Gun" was a pivotal tune for the band, winning them their first Grammy. Follow-up Get a Grip (1993) moved another seven million units, topped the Billboard charts (their first to do so) and had hits in "Amazing," "Cryin'" and the Grammy winners "Livin' on the Edge" and "Crazy."
[youtube=http://www.youtube.com/watch?v=7nqcL0mjMjw]
The 1990s saw Aerosmith emerge as both a brand and a band, with various media appearances, eye-catching music videos and licensing agreements struck in the intervening years. Indeed, by the release of 1994's Big Ones compilation, the band had appeared in a pivotal role in the film Wayne's World 2, done a set at Woodstock '94, released two video games, Revolution X and Quest for Fame (both admittedly terrible) and had organized a vast reissue campaign of their classic Columbia material, including the box sets Pandora's Box (1991) Box of Fire (1994). The band had, in a rather bold move, actually signed a new contract with Columbia in 1991, but had to wait six years to act on it, finishing their six-album contract with Geffen by compiling a live set in 1998, after the release of 1997's chart-topping Nine Lives. As weary as critics may have gotten of the Aerosmith formula by the release of 2001's Just Push Play (the last album of new Aerosmith material), Aerosmith haven't had a massive flop album (sales-wise) since their major comeback. It'll be fun to see if they can pull it off again.
For our theoretical nine-disc Geffen box set (appropriately titled Box of Fire II), we took all of the band's major studio albums (straight reissues except for Done with Mirrors, which had a bonus track on all CD pressings) and the double-disc live A Little South of Sanity compilation and combined them with three bonus discs. One, "Big Ones Remixed," collates just about all of the many major remixes of Aerosmith's hit singles through the '80s and '90s (most of which are terribly dated, but incredibly rare on CD). Another, "Rough Ones," is full of non-album tracks and B-sides, including three rare live tracks from the band's Back in the Saddle Tour and the not-so-rare Run-D.M.C. version of "Walk This Way." Finally, there's a real treat - the band's performance on MTV Unplugged in 1990, which eschews the big hits for album cuts from the Columbia and Geffen years in equal measure.
[youtube=http://www.youtube.com/watch?v=h3Yrhv33Zb8]
Perhaps, with the promise of new Aerosmith music in 2012 - and the impending 25th anniversary of Permanent Vacation and the comeback that led fans to still give a hoot about Aerosmith nearly 40 years after their debut - Box of Fire II won't be too much of a pipe dream.
Aerosmith, Box of Fire II: The Geffen Years (Geffen/UMe)
Disc 1: Done with Mirrors (originally released as Geffen GHS 24091, 1985)
Let the Music Do the Talking
My Fist Your Face
Shame on You
The Reason a Dog
Shela
Gypsy Boots
She's on Fire
The Hop
Darkness (CD bonus track - Geffen 9 24091-2, 1985)
Disc 2: Permanent Vacation (originally released as Geffen GHS 24162, 1987)
Heart's Done Time
Magic Touch
Rag Doll
Simoriah
Dude (Looks Like a Lady)
St. John
Hangman Jury
Girl Keeps Coming Apart
Angel
Permanent Vacation
I'm Down
The Movie
Disc 3: Pump (originally released as Geffen GHS 24254, 1989)
Young Lust
F.I.N.E.
Love in an Elevator
Monkey on My Back
Janie's Got a Gun
The Other Side
My Girl
Don't Get Mad, Get Even
Voodoo Medicine Man
What It Takes
Disc 4: MTV Unplugged: Live at The Ed Sullivan Theater - 8/1/1990 (previously unreleased)
Hangman Jury
Monkey on My Back
Love Me Two Times
Seasons of Wither
Big 10 Inch Record
One Way Street
Smokestack Lightning
Dream On
Milk Cow Blues
Toys in the Attic
Walkin' the Dog
Train Kept A-Rollin'
Home Sweet Home
Disc 5: Get a Grip (originally released as Geffen GEFD-24455, 1993)
Intro
Eat the Rich
Get a Grip
Fever
Livin' on the Edge
Flesh
Walk On Down
Shut Up and Dance
Cryin'
Gotta Love It
Crazy
Line Up
Amazing
Boogie Man
Discs 6-7: A Little South of Sanity (originally released as Geffen GEFD2-25221, 1998)
Eat the Rich (Live)
Love in an Elevator (Live)
Falling in Love (is Hard on the Knees) (Live)
Same Old Song and Dance (Live)
Hole in My Soul (Live)
Monkey on My Back (Live)
Livin' on the Edge (Live)
Cryin' (Live)
Rag Doll (Live)
Angel (Live)
Janie's Got a Gun (Live)
Amazing (Live)
Back in the Saddle (Live)
The Other Side (Live)
Last Child (Live)
Walk On Down (Live)
Dream On (Live)
Crazy (Live)
Mama Kin (Live)
Walk This Way (Live)
Dude (Looks Like a Lady) (Live)
What It Takes (Live)
Sweet Emotion (Live)
Disc 8: Big Ones, Remixed
Dude Looks Like a Lady (Urban Dude Mix)
Angel (A.O.R. Mix)
Rag Doll (Extended Vacation)
Love in an Elevator (Elevator Mix)
The Other Side (Matt Dike Honky Tonk Version)
Amazing (Orchestral)
Crazy (Orchestral)
Line Up (Smokey Bar Mix)
Dude Looks Like a Lady (Rockin' Dude Mix)
Rag Doll (Rockapella Mix)
The Other Side (Club Mix)
Disc 8, Tracks 1 and 9 from Geffen 12" single 0-20813, 1987
Disc 8, Track 2 from Geffen CD single 9 20918-2 (U.K.), 1987
Disc 8, Tracks 3 and 10 from Geffen 12" single 0-20919, 1988
Disc 8, Track 4 from Geffen promotional 12" single PRO-A-3810, 1989
Disc 8, Tracks 5 and 11 from Geffen CD single 9 21458-2, 1990
Disc 8, Track 6 from Geffen CD single 9 21867-2, 1993
Disc 8, Track 7 from Geffen CD single 9 21932-2, 1994
Disc 8, Track 8 from "Walk on Water" CD single - Geffen GEFDM-21969 (AUS), 1994
Disc 9: Rough Ones
She's on Fire (Live)
The Hop (Live)
My Fist Your Face (Live)
Walk This Way - Run-D.M.C. featuring Steven Tyler and Joe Perry
Once is Enough
Ain't Enough
Theme from "Wayne's World"
Love Me Two Times
Don't Stop
Can't Stop Messin'
Head First
Livin' on the Edge (Demo)
Deuces Are Wild
Walk on Water
Blind Man
Disc 9, Tracks 1-3 from "Darkness" 12" single - Geffen 0-20501, 1985
Disc 9, Track 4 from Raising Hell (Profile Records PRO-1217, 1986)
Disc 9, Track 5 from "Dude (Looks Like a Lady)" 12" single - Geffen 0-20751, 1987
Disc 9, Track 6 from Japanese pressing of Pump - Warner-Pioneer 22P2-2954, 1989
Disc 9, Track 7 from "The Other Side" CD single - Geffen 9 21458-2, 1990
Disc 9, Track 8 from Air America: Original Soundtrack Album (MCA Records MCAD-6469, 1990)
Disc 9, Tracks 9 and 12 from "Livin' on the Edge" CD single - Geffen 9 21821-2, 1993
Disc 9, Track 10 from European pressings of Get a Grip (Geffen GEF-24444, 1993)
Disc 9, Track 11 from "Cryin'" CD single - Geffen MVCG-13005 (JP), 1993
Disc 9, Track 13 from The Beavis and Butt-Head Experience (Geffen GEFD-24613, 1993)
Disc 9, Tracks 14-15 from Big Ones (Geffen GEFD-24716, 1994)