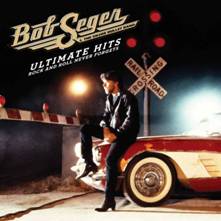 As if getting some of Bob Seger's albums back on CD wasn't exciting enough this year, a new double-disc compilation puts some of his greatest hits (and a few rarities) back on shelves, where they belong.
Ultimate Hits: Rock and Roll Never Forgets, boasts 26 tracks of Bob Seger on his own, with The Silver Bullet Band and - most exciting of all - with The Bob Seger System. The original mono single version of "Ramblin' Gamblin' Man" will feature on this set alongside classics like "Old Time Rock and Roll," "Night Moves," "Like a Rock," "Still the Same" and "Shakedown."
Additional rarities and new tracks include Seger and The Silver Bullet Band's take on "Little Drummer Boy" from 1987's A Very Special Christmas, a new cover of Little Richard's "Hey, Hey, Hey, Hey" (subtitled "Going Back to Birmingham") and an unreleased version of Tom Waits' "Downtown Train," recorded in 1989 but shelved to avoid competition with Rod Stewart's hit version.
The 66-year-old rocker is still going strong, wrapping up a successful tour later this year and writing material for a new album in 2012. Until then, Ultimate Hits is out November 21, and the track list is after the jump.
Bob Seger and The Silver Bullet Band, Ultimate Hits: Rock and Roll Never Forgets (Capitol/EMI, 2011)
Disc 1
Old Time Rock and Roll
Hollywood Nights
Night Moves
Mainstreet
Roll Me Away
Turn the Page (Live)
Her Strut
Still the Same
You'll Accomp'ny Me
We've Got Tonight
Like a Rock
Fire Lake
Tryin' to Live My Life Without You (Live)
Disc 2
Rock and Roll Never Forgets
Against the Wind
Ramblin' Gamblin' Man (Mono Single Version) - The Bob Seger System
The Fire Down Below
Travelin' Man (Live)
Beautiful Loser (Live)
Shakedown - Bob Seger
Shame on the Moon
Katmandu - Bob Seger
Little Drummer Boy
Wait for Me - Bob Seger
Hey Hey Hey Hey (Going Back to Birmingham) - Bob Seger
Downtown Train
Disc 1, Tracks 1-2, 8 and 10 from Stranger in Town (Capitol, 1978)
Disc 1, Tracks 3-4 and Disc 2, Tracks 1 and 4 from Night Moves (Capitol, 1976)
Disc 1, Track 5 and Disc 2, Track 8 from The Distance (Capitol, 1982)
Disc 1, Track 6 and Disc 2, Tracks 5-6 from 'Live' Bullet (Capitol, 1976)
Disc 1, Tracks 7, 9 and 12 and Disc 2, Track 2 from Against the Wind (Capitol, 1980)
Disc 1, Track 11 from Like a Rock (Capitol, 1986)
Disc 1, Track 13 from Nine Tonight (Capitol, 1981)
Disc 2, Track 3 from Capitol single 2297, 1968. Original version from Ramblin' Gamblin' Man (Capitol, 1968)
Disc 2, Track 7 from Beverly Hills Cop II: Original Motion Picture Soundtrack (MCA, 1987)
Disc 2, Track 9 from Beautiful Loser (Capitol, 1975)
Disc 2, Track 10 from A Very Special Christmas (A&M, 1987)
Disc 2, Track 11 from Face the Promise (Capitol, 2006)
Disc 2, Track 12 previously unreleased
Disc 2, Track 13 recorded 1989, previously unreleased