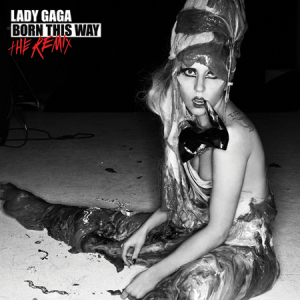 It wouldn't be the holiday season without a few reissues of recent works, and we've got a big one coming up in just a month: a sprawling three-disc version of Lady Gaga's monster hit album Born This Way.
Love her or hate her, the New York girl born Stefani Germanotta has gone from Madonna-aping pop singer to bizarro pop-cultural force since her 2008 debut. The release of this year's Born This Way, her second studio-length effort (following 2009's excellent EP The Fame Monster and a throwaway remix album), was a major event in and of itself, selling over a million copies in its first week of release, the highest-selling single week debut in five years. (The controversial first-week Amazon MP3 price of 99 cents probably helped drive sales.)
While it's not her most focused work, the number of influences she draws from on the record - not only Madonna but Michael Jackson, Duran Duran, Def Leppard, Whitney Houston, CHIC and Bruce Springsteen (poignant, mood-heightening album closer "The Edge of Glory," featuring the last studio work of the Big Man, Clarence Clemons, is one of the highlights) - is impressive. And the quartet of Top 10 hits, including the title track (the 1,000th song to top the Billboard charts), "Judas," "The Edge of Glory" and "Yoü and I," aren't too shabby either. (Fifth single "Marry the Night," to be released alongside this new reissue, might join the ranks soon.)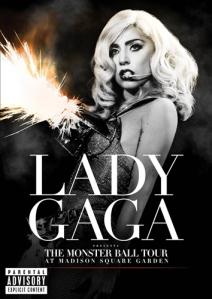 As The Fame Monster was available on its own or with The Fame for the 2009 holiday season, Born This Way: The Collection is a combination of several new Gaga titles that will be available on their own for those who already got their copy of the album itself. In addition to the 17-track special edition version of the album (albeit without the remix disc that appeared in said package), fans will get Born This Way: The Remix, a new remix album featuring 14 all-new reconfigurations of tracks from noted DJs and dance producers, and the DVD of The Monster Ball Tour special broadcast on HBO earlier this spring. (Both the remix set and the live show will be available separately, with Monster Ball coming to DVD and Blu-Ray.)
All these sets - plus Gaga's Lady Gaga x Terry Richardson photo book - will be available November 21. Order the three-disc set at Amazon here and check the track list after the jump.
Lady Gaga, Born This Way: The Collection (Streamline/Kon Live/Interscope, 2011)
Disc 1: Special Edition LP (originally issued as first disc of double-disc special edition - Streamline/Kon Live/Interscope B0015374-72, 2011)
Marry the Night
Born This Way
Government Hooker
Judas
Americano
Hair
Scheiße
Bloody Mary
Black Jesus † Amen Fashion
Bad Kids
Fashion of His Love
Highway Unicorn (Road to Love)
Heavy Metal Lover
Electric Chapel
The Queen
Yoü and I
The Edge of Glory
Disc 2: Born This Way: The Remix (to be released separately as Streamline/Kon Live/Interscope B0016287-02, 2011)
Born This Way (Twin Shadow Remix)
Judas (Hurts Remix)
The Edge of Glory (Foster the People Remix)
Yoü and I (Wild Beasts Remix) *
Marry the Night (Totally Extinct Dinosaurs Remix)
Americano (Gregori Klosman Remix)
Bloody Mary (The Horrors Remix)
Scheiße (Guéna LG Remix)
Heavy Metal Lover (The Weeknd Remix)
Electric Chapel (Two Door Cinema Club Remix)
Black Jesus † Amen Fashion (Michael Woods Remix)
Judas (Goldfrapp Remix)
Yoü and I (Metronomy Remix) *
Judas (Röyskopp's European Imbecile Mix)
Track 1 previously released on "Judas" CD single - Interscope 0602527727028 (U.K.), 2011
Track 2 previously released on Judas: The Remixes (Interscope 0252774721 (U.K.), 2011)
Track 3 previously released on Interscope promotional CD, no cat. #, 2011
Tracks 4 and 13 previously released on Interscope U.K. 7" picture disc 252783, 2011
Disc 3: DVD - Lady Gaga Presents The Monster Ball Tour at Madison Square Garden (recorded 2/21-2/22/2011, broadcast on HBO 5/7/2011)
Dance in the Dark
Glitter and Grease
Just Dance
Beautiful, Dirty, Rich
The Fame
LoveGame
Boys Boys Boys
Money Honey
Telephone
Speechless
Yoü and I
So Happy I Could Die
Monster
Teeth
Alejandro
Poker Face
Paparazzi
Bad Romance
Born This Way