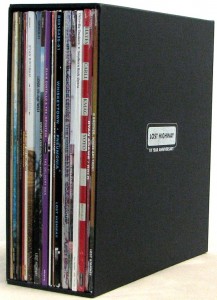 With a name like Lost Highway Records, it might be tough to parse the mission statement of such a company - unless, of course, you know your Hank Williams. In fact, they've been supplying fans with some of the best in alternative rock and country. And now, to celebrate a decade in business, next month sees the release of a mega-vinyl box set highlighting some of the label's best output.
Lost Highway, founded in 2000 by Luke Lewis, started their existence off with a bang, distributing the massively successful soundtrack to O Brother, Where Art Thou? (reissued and expanded earlier this year, in fact) as well as Ryan Adams' breakthrough Gold in 2001. Since then, they've handled distribution for country legends from Willie Nelson to Lucinda Williams, several of Johnny Cash's iconic, career-closing American Recordings, albums by rock stalwarts including Elvis Costello and Morrissey, great new rootsy acts like Black Joe Lewis and The Honeybears - and yes, even some catalogue action from Hank Williams.
In celebration of the label's one-decade mark, Lost Highway has been releasing some of their most famous albums, as well as recent favorites, on limited edition clear vinyl. Next month, to finish off the celebration, all 19 of those reissued albums will be boxed together. Only 500 boxes will be available worldwide, 250 of which are now available on Amazon.
After the jump, check out the LPs that are going to be in the box! (A special thanks to the great Buy These Records for the tip; fans of The Second Disc will likely find a lot to like about this site.)
Various Artists, Lost Highway 10th Anniversary Box Set (Lost Highway Records, 2011)
LP 1: Various Artists, O Brother Where Art Thou? (originally released as Lost Highway 088 170 069-2, 2000)
LP 2: Ryan Adams, Gold (originally released as Lost Highway 088 170 256-2, 2001)
LP 3: Hayes Carll, KMAG YOYO (& other American Stories) (originally released as Lost Highway B0015136-02, 2011)
LP 4: Drive By Truckers, Southern Rock Opera (originally released as Lost Highway 088 170 308-2, 2002)
LP 5: Lucinda Williams, Blessed (originally released as Lost Highway B0015189-02, 2011)
LP 6: Black Joe Lewis & The Honeybears, Scandalous (originally released as Lost Highway B0015215-02, 2011)
LP 7: Willie Nelson & Ray Price, Run That by Me One More Time (originally released as Lost Highway B0000616-01, 2003)
LP 8: Whiskeytown, Pneumonia (originally released as Lost Highway 088 170 199-2, 2001)
LP 9: Various Artists, Hank Williams: Timeless (originally released as Lost Highway 088 170 239-2, 2001)
LP 10: Johnny Cash, American VI: Ain't No Grave (originally released as Lost Highway B0013954-02, 2010)
LP 11: Elvis Costello & The Imposters, The Delivery Man (originally released as Lost Highway B0002593-02, 2004)
LP 12: Robert Earl Keen, Gravitational Forces (originally released as Lost Highway 088 170 198-2, 2001)
LP 13: Lucinda Williams, West (originally released as Lost Highway B0006938-02, 2007)
LP 14: Ryan Bingham, Mescalito (originally released as Lost Highway B0009396-02, 2007)
LP 15: Shelby Lynne, Just a Little Lovin' (originally released as Lost Highway B0009789-02, 2008)
LP 16: Willie Nelson, Countryman (originally released as Lost Highway B0004947-02, 2005)
LP 17: Hank Williams, 20 Greatest Hits (released as Lost Highway B0015972-01, 2011)
LP 18: Various Artists, Lost Highway 10th Anniversary
LP 19: Donavon Frankenreiter, Move By Yourself (originally released as Lost Highway B0006402-02, 2006)
LP 20: honeyhoney, Billy Jack (originally released as Lost Highway exact cat. # unknown, 2011)