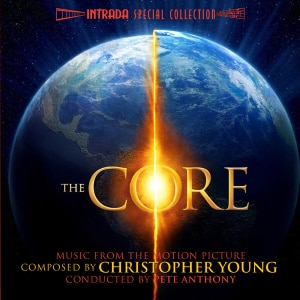 With the release of another major holy grail in the world of soundtrack collecting yesterday, it's worth pointing out another four awesome archival titles that may have been lost in the shuffle this past week.
First, Intrada's latest batch of catalogue soundtrack releases, announced Monday, bring to light two underrated gems from two very different composers. First up, after years of waiting, is an official release to the score to the 2003 sci-fi cult-classic The Core. Composer Christopher Young, whose eclectic body of work ventures from horror (A Nightmare on Elm Street II: Freddy's Revenge) to action (Spider-Man 3), wrote an accessible, urgent score that many of his fans consider to be his best. (A powerful effort, indeed, despite a film consistently derided as scientifically implausible.) The two-disc set adds an additional 20 minutes of music than what's been heard on a composer promotional disc, all mastered from Paramount Pictures' session master tapes.
The label has also prepped the debut release of Georges Delerue's score to Rapture, a 1965 drama about a forbidden romance in rural France. A haunting, melodic score  - one of the earliest scores by Delerue that exists in its entirety - the complete score is presented direct from tapes at 20th Century Fox as well as the composer's personal mono 1/4" tapes.
Another surprise release comes from French label Music Box Records: the complete score to the 1987 romantic comedy Overboard. Kurt Russell and Goldie Hawn (a real-life couple since 1983) star in the tale of a carpenter whose spoiled client develops amnesia after falling overboard on her yacht. The carpenter takes advantage of the situation by passing her off as his middle-class wife, and hilarity predictably ensues. The score, composed by legendary composer Alan Silvestri and released for the first time anywhere, is limited to 1,000 copies.
Finally, with all the frenzy for Gremlins from Film Score Monthly yesterday, it was easy to overlook another very exciting release from the label: two unreleased scores for two CBS television pilots composed by two music legends. Nightwatch, originally titled Chicago, Chicago, was a suspenseful drama created by Robert Altman, who had successfully brought to CBS a few similar features on Kraft Suspense Theatre, had a young jazz composer named Johnny Williams provide the scores for both those features and Nightwatch. (The pilot was ultimately never picked up, and later aired in 1968 as part of a one-off anthology. John Williams later composed the scores to Images (1972) and The Long Goodbye (1973) for Altman.) Similarly, a 1971 pilot about a doctor and cop who team up to stop a murderer in Los Angeles, Killer by Night, was not picked up for a series, but featured a jazzy score by the legendary Quincy Jones.
Both scores on this release are largely sourced from 1/4" mono tapes, mixed with a slight stereo ambience. (The theme and format music from Nightwatch are mixed in pure stereo.) And the set, limited to 3,000 copies, is, sadly, the last releases from both composers for the soon-to-be-retired FSM label.
Details and order info for all the scores above can be found after the jump.
Christopher Young, The Core: Music from the Motion Picture (Intrada Special Collection Volume 187, 2011 - original film released 2003)
Disc 1
The Core
Resurrection in Descent
In Drucke Ick Moet Sterven
Origami Lava
A Terror Toccata
Tactile Shifts
Project Destiny
Moved to the Core
Virgil T. *
Mantle Passage
Cor Cordium
Disc 2
Liberte
Diamonds Are Forever
Saknusemm
Intered Servants
Mundus Subterraneous
No Left Turns *
Unobtanium
Clouds Imagined *
Stellar Phrenology
The Terranaut March
All tracks except * previously released on double-disc composer promo.
Georges Delerue, Rapture: Original Motion Picture Soundtrack (Intrada Special Collection Volume 188, 2011 - original film released 1965)
Main Titles
Wedding Reception
Karen Fetches Agnes
Agnes and Seagulls
Agnes Plays Mouth Organ
Doll Thrown Over Cliff
Father Gives Agnes Gloves
The Hospital
Tragedy
"He's Mine - I Made Him"
Agnes Kisses Her Scarecrow 0:39
"You See How Much I Need You"
"I Can't Be Helped, I'm Mad"
Agnes Runs to Hospital
Agnes Looks in Mirror
Josef and Agnes Together
Josef and Agnes Love Scene
Agnes Frightened
Josef - The Police
Agnes Alone with Gulls
All tracks previously unreleased.
Alan Silvestri, Overboard: Original Motion Picture Soundtrack (Music Box Records MBR-007, 2011 - original film released 1987)
Main Titles
Welcome Home
Crabs 'R' Us
I'm Sorry
She Really is Something (Alternate Mix)
Water Fight/Chase Mom/Couch Puppies
Making Lunch
Something Not Horrible
No Boom Boom/There is a God
Dreamboat *
Daily Chores *
The Jig's Up
Turning the Boat Around
World's Best *
Daily Chores (Alternate) *
Annie and Dean
Finale
Love Theme from "Overboard" *
Finale (Alternate) *
All tracks previously unreleased. * denotes track unused in the film.
Johnny Williams/Quincy Jones, Nightwatch / Killer on the Loose: Original Television Soundtracks (Film Score Monthly Vol. 14, No. 16, 2011 - original pilots finished 1965 and 1972)
Nightwatch Main Title
Bertil's Bomb
Lund's Problem
Lund's Leap
The Cradle Might Rock
Granstrom's Headache
A Child's Fear
Kathryn Flees
The Run
By the Fence
Stumbling Around
Entering the Hospital
Inside the Hospital/The Final Dash
The Waiting Room
End Title
Nightwatch End Title
Chicago Group (Source)
Bumper #1/Bumper #2
Promo
Main Title/Opening Hold-Up
Dead Dip Bird
High Rent District
Doctor, Come Home/Girl Died
Point One
Somethin' Def
Oxygen Tent/22 Possibles/His Room
Sweaty Meeting
No Title
Doctor, Wife & Supermart
4th Cut to Hood/Wait
Microscope/Let's Get Him
Cut to Cops
Police
Door Up the Ladder
End Title
Tracey Source
All tracks previously unreleased. Tracks 1-19 from Nightwatch; Tracks 20-36 from Killer on the Loose.