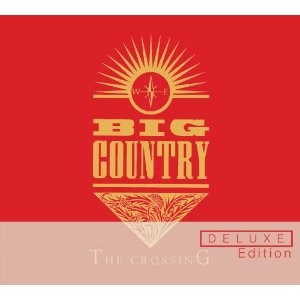 It looks like we've got the first deluxe edition of 2012 locked down - at least across the pond. Scottish band Big Country today announced the details for a new expansion of their fantastic debut, The Crossing, to coincide with a 30th anniversary tour across the United Kingdom. (The band reunited first in 2007 and again in 2010, both times with new vocalist Mike Peters of The Alarm, replacing late lead singer/guitarist Stuart Adamson, who died in 2001.)
Released in 1983, The Crossing was a killer first album for the Scottish band, thanks to a clutch of fantastic, almost theatric folk-infused rockers from the collective pen of the group (Adamson, guitarist Bruce Watson, bassist Tony Butler and drummer Mark Brzezicki), Watson and Adamson's rich landscape of guitar tones and the production of one Steve Lillywhite, who applied the same magic to The Crossing that he did on the first three albums by an ambitious, guitar-driven band from Ireland named U2.
The results were phenomenal: The Crossing peaked at No. 3 in the U.K. and was a solid Top 20 album in the U.S., where the album's "In a Big Country" was a Top 20 single and still one of the high points of '80s pop-rock. (Closer to home, "Fields of Fire" and "Chance" were Top 10 hits, as well.)
With a healthy following, both fans and sales-wise, it's not hard to see why Universal is rolling out a double-disc edition of the album. (It's actually the third CD reissue of the record, following a U.K. expansion in 1996 that added four B-sides and a U.S. re-release in 2002 which featured the alternate version of "Chance" released as a single and the entirety of the 1984 EP Wonderland.) This double-disc release features all seven of the non-LP B-sides from the singles released from The Crossing, as well as a bonus disc of demos, ten of which are being released for the first time. (Of particular interest to longtime fans is a trio of four-track demos from 1981 and four demos produced by Chris Thomas, noted producer for The Sex Pistols, The Pretenders and INXS, who helmed the band's debut single, "Harvest Home.")
The package will be out January 30, days before the band's Crossing the Country tour kicks off in England. Hit the jump to pre-order your copy on Amazon and see the track list (as generously bestowed upon the world by Slicing Up Eyeballs).
Big Country, The Crossing: Deluxe Edition (Mercury/UMC, 2012)
Disc 1: Original LP and B-sides
In a Big Country
Inwards
Chance
1000 Stars
The Storm
Harvest Home
Lost Patrol
Close Action
Fields of Fire
Porrohman
Balcony
Flag of Nation (Swimming)
Angle Park
All of Us
Heart and Soul
The Crossing
The Tracks of My Tears (Live @ Locamo Tiffany's, Glasgow - 7/4/1983)
Disc 2: Demos
Angle Park (4-Track Demo, 1981)
Harvest Home (4-Track Demo, 1981)
We Could Laugh (4-Track Demo, 1981)
In a Big Country (Demo)
The Storm (Demo)
Big City (Demo)
Fields of Fire (Riverside Studios, BBC TV)
Lost Patrol (Phonogram Studios Demo)
Inwards (Phonogram Studios Demo)
A Thousand Stars (Chris Thomas Demo)
Close Action (Chris Thomas Demo)
Lost Patrol (Chris Thomas Demo)
Inwards (Chris Thomas Demo)
Fields of Fire (Demo)
Ring Out (Demo)
A Thousand Stars (Demo)
Chance (Demo)
Disc 1, Tracks 1-10 released as Mercury LP 812 780-1, 1983
Disc 1, Tracks 11-12 released on "Harvest Home" 12" single - Mercury COUNT 112, 1982
Disc 1, Track 13 released on "Fields of Fire" 7" single - Mercury COUNT 2, 1983
Disc 1, Tracks 14-15 released on "In a Big Country" 12" single - Mercury COUNT 313, 1983
Disc 1, Tracks 16-17 released on "Chance" 12" single - Mercury COUNT 412
Disc 2, Tracks 4-6 and 14-17 released on Rarities IV - Track Record TRA-1037, 2003
All other tracks previously unreleased