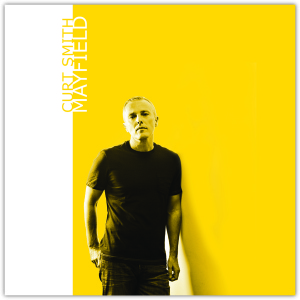 Here's an under-the-radar catalogue release for your consideration this week: a reissue of Mayfield, a nice little solo album by Curt Smith, one-half of synth-rock legends Tears for Fears.
Unless you're a major '80s pop geek, you'd probably be okay with having no idea who made up the membership of Tears for Fears. But most of our readers probably know that singer/guitarist Roland Orzabal and singer/bassist Curt Smith made the nucleus of the band that gave us "Mad World," "Shout," "Everybody Wants to Rule the World" and "Sowing the Seeds of Love" during the '80s before seemingly disappearing from the radar in the 1990s.
Of course, that's simply not the case, either. Orzabal and Smith had an acrimonious falling out, likely brought upon by the stress of consistent recording and touring for a decade (essentially since the end of both mens' teenage years). Orzabal pushed on with the TFF moniker, releasing two incredibly underrated albums in the mid-'90s, while Smith released one all-but-forgotten album in the U.K. in 1993, reportedly to fulfill the remainder of his contract with PolyGram.
But before TFF ultimately reunited in the mid-2000s (and continue to tour overseas), Smith did engage in some musical experiments on his own. One of them was Mayfield, a 1998 project that saw Smith fronting a modest live band. (This ensemble was the first of many collaborations between Smith and guitarist Charlton Pettus, who co-wrote all of Mayfield's songs and worked on Tears for Fears' Everybody Loves a Happy Ending in 2004.) As Smith himself remarks in the liner notes of the reissue, "The premise was to not use my name...and just try to rediscover the joys of playing music live."
The record, reissued on Smith's own KOOK Media (partly, as he admits, to satiate both fan demand and to make some money off the album, the original distributor having long since shuttered), features new artwork and one bonus track, a re-recording of the original album's "Trees" with vocal instrumentalist Janice Whaley (best known for her work as The Smiths Project, a fascinating, a cappella cover of The Smiths' entire discography).
The album is available through all digital retailers now, and is physically available through Amazon U.S. as a disc-on-demand title. Smith will also announce a deluxe bundle edition later this month.
You know where to find the track list.
Mayfield, Mayfield: Expanded Edition (KOOK Media, 2011)
What Are We Fighting For?
Sorry Town
Jasmine's Taste
Reach Out
Trees
Mother England
Snow Hill
I Don't Want to Be Around
Sun King
Gone Again
Trees (featuring Janice Whaley)
Tracks 1-10 released as Zerodisc CD 001, 1998. Track 11 is a newly-recorded bonus track.