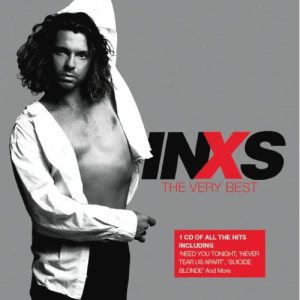 You certainly wouldn't be wrong in debating the merits of another INXS compilation on store shelves, particularly after the good job Rhino did with 2001's double-disc Shine Like It Does: The Anthology and the breezy, single-disc The Best of INXS the next year. (The band, of course, haven't released much new material worth covering since the tragic death of original frontman Michael Hutchence in 1997.) But in the U.K., new things are happening with the band's catalogue - Universal Music has acquired the license to all of INXS' albums outside the U.S. - and while great things are planned, it's worth starting small and reminding the public of one of Australia's best pop-rock acts of the past few decades.
With that in mind, October saw Universal release The Very Best, a new compilation both available in single-disc and deluxe two-CD/one-DVD formats. The single disc set includes all the hits you'd come to expect from an INXS hits set ("Need You Tonight," "Original Sin," "Never Tear Us Apart," "Suicide Blonde," "What You Need," "New Sensation") and a few you might not ("Just Keep Walking," "Baby Don't Cry").
Collectors, and even those whose fandom is more than casual, are going to want to spring for the deluxe set. In addition to adding some of the more glaring omissions from the single disc version ("Don't Change," "The One Thing") and a few album cuts (most from Kick), there are a few rarities and unreleased goodies to enjoy. These include "Good Times," the band's collaboration with former Cold Chisel frontman Jimmy Barnes that appeared on the soundtrack to The Lost Boys; four vintage live tracks and a mashup of "Need You Tonight" with an unlisted song by Gwen Stefani of No Doubt (if the proliferation of amateur remixes are any indication, it's likely her solo hit "Hollaback Girl"). Additionally, a DVD includes a 45-minute documentary, videos and rare live performances for television.
The sets are available now and the full breakdown is after the jump.
INXS, The Very Best (Petrol Electric/UMTV 0600753360002 (U.K.), 2011)
Disc 1 (also released as single-disc edition)
Need You Tonight
Mystify
Suicide Blonde
Taste It (7" Version)
Original Sin
Heaven Sent
Disappear
Never Tear Us Apart
The Gift
Devil Inside
Beautiful Girl
By My Side
Kiss the Dirt (Falling Down the Mountain)
Elegantly Wasted
New Sensation
What You Need
Listen Like Thieves
Just Keep Walking
Bitter Tears
Baby Don't Cry
Disc 2
Don't Change
The One Thing
Shining Star
The Stairs
Please (You Got That...)
Burn for You
I Send a Message
The Loved One
Salvation Jane
Shine Like It Does
Stay Young
Kick
Calling All Nations
To Look at You
Good Times - INXS and Jimmy Barnes
Need You Tonight/Hollaback Girl - INXS vs. Gwen Stefani
Kiss the Dirt (Falling Down the Mountain) (Live at the Edinburgh Playhouse - 12/3/1987)
What You Need (Live at the Edinburgh Playhouse - 12/3/1987)
Mystify (Live at the Edinburgh Playhouse - 12/3/1987)
Disappear (Live at Brixton Academy, London - 10/28/1994)
Disc 3: DVD
The Very Best Documentary
Taste It (Top of the Pops - 5/5/1992)
The Strangest Party (Top of the Pops - 10/6/1994)
Never Tear Us Apart (Later...with Jools Holland - 11/12/1994)
Need You Tonight (promo video)
What You Need (promo video)
Beautiful Girl (promo video)
Suicide Blonde (promo video)
The Gift (international promo video)
Disc 1, Tracks 1-2, 8, 10 and 15 and Disc 2, Tracks 8 and 12-13 from Kick (WEA, 1987)
Disc 1, Tracks 3, 7, 12 and 19 from X (WEA, 1990)
Disc 1, Tracks 4, 6, 11 and 20 from Welcome to Wherever You Are (EastWest, 1992)
Disc 1, Track 5 and Disc 2, Tracks 6-7 from The Swing (WEA, 1984)
Disc 1, Track 9 and Disc 2, Track 5 from Full Moon, Dirty Hearts (EastWest, 1993)
Disc 1, Tracks 13 and 16-17 and Disc 2, Track 10 from Listen Like Thieves (WEA, 1985)
Disc 1, Track 14 from Elegantly Wasted (Mercury, 1997)
Disc 1, Track 18 from INXS (Deluxe, 1980)
Disc 2, Tracks 1-2 and 14 from Shabooh Shoobah (WEA, 1982)
Disc 2, Track 3 from Live Baby Live (EastWest, 1991)
Disc 2, Track 9 from The Best of INXS (Atlantic/Rhino, 2002)
Disc 2, Track 11 from Underneath the Colours (Deluxe, 1981)
Disc 2, Track 15 from The Lost Boys: Original Motion Picture Soundtrack (Atlantic, 1987)
All other tracks previously unreleased