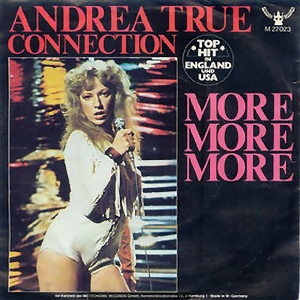 Welcome to another installment of Reissue Theory, where we focus on notable albums and the reissues they may someday see. Today, we honor a recently deceased disco queen by telling the story of her unusual brush with chart success.
Word crept out last night that former disco diva and adult film actress Andrea True passed away earlier this month. At Second Disc HQ, it certainly prompted a few spins of her signature hit "More, More, More," one of disco's most senseless earworms. It also prompted a bit of a reassessment of her most unusual pair of careers.
True, born Andrea Marie Truden in 1943, was just another teenage girl seeking fame on the movie screen in 1960s New York. But fame was, as always, fleeting. Outside of minor roles (including an extra role on The Way We Were), Truden had little luck. Desperate, she began working in the burgeoning adult film industry (under various names, including Inger Kissin, Andrea Travis and Catherine Warren) and found both recognition and modest salaries.
Her biggest break came in a surprising place: Jamaica. True was hired by a realtor to shoot commercials when a failed political coup left her stuck on the island, unable to leave as long as there was money in her pocket. Rather than waste her time or money doing nothing, she made a bold move: she called a friend, producer Gregg Diamond (of Bionic Boogie fame) to her side to record some music with local talent under the moniker The Andrea True Connection. Diamond came with a half-finished song that packed a few catchy choruses and instrumental breaks, to which True set some simple lyrics. The last piece of the puzzle, though, was disco legend Tom Moulton, who took the finished master (which was allowed out of Jamaica) and mixed it into a pristine, dance floor-filling single. Buddah Records was happy to release the song, "More, More, More," as a single to discos in the winter of 1976, but its height on Billboard's Hot Dance Club Play chart (where it reached No. 2) led the label to release the song as a commercial single. It made the Top 5 on both sides of the Atlantic, peaking at No. 4 in America.
[youtube=http://www.youtube.com/watch?v=RlJGrIyt-X8]
An album was inevitable, and More, More, More was exactly what you'd expect: passable disco-pop with risqué enough lyrics for an X-rated starlet to sing with conviction. The album peaked in the middle ranges of both the black album charts and pop charts. Follow up singles "Party Line," "N.Y., You Got Me Dancing" and "What's Your Name, What's Your Number" were all Top 10 dance hits, but none had the crossover appeal of "More," and sophomore album White Witch was a flop. (In 1980, True recorded a punk-rock album, War Machine, which was never released in the States.)
True briefly returned to adult films, but her age combined with the increasing popularity of the genre on video instead of theaters made work slight. A goiter on her vocal cords canned any chances of singing again, but True made do as an astrologer and drug counsellor in Florida. (It certainly didn't hurt that her co-writing credit on "More, More, More" bought in a royalty check here and there, especially when Canadian sibling act Len sampled the hypnotic instrumental break of the song for their own "Steal My Sunshine," which climbed to the Top 10 in the U.S.)
For our Reissue Theory, we've envisioned a release of both Andrea True Connection albums on one disc, neither of which have appeared on the format. All the tracks, some of which stretch out to ten minutes (your standard disco jams, indeed!), would be included in their entirety. For disco fanatics, it would do exactly what True told VH-1 she wanted her music to: give people pleasure. (Surely there was a wink in there!)
Read our theoretical track list and enjoy some of the music of The Andrea True Connection after the jump!
The Andrea True Connection, The Complete Buddah Albums
Party Line
Keep It Up Longer
More, More, More
Fill Me Up (Heart to Heart)
Call Me
What's Your Name, What's Your Number
You Make Love Worthwhile
Life Is What You Make It
It's All Up to You
New York You've Got Me Dancing
White Witch
Sally Can't Dance
Tracks 1-5 released as More, More, More (Buddah LP BDS-5760, 1976)
Tracks 6-12 released as White Witch (Buddah LP BDS-5702, 1977)
[youtube=http://www.youtube.com/watch?v=moAHDseNlXY]
[youtube=http://www.youtube.com/watch?v=HD9zJvbUxpI]
[youtube=http://www.youtube.com/watch?v=E1fzJ_AYajA&ob=av3e]