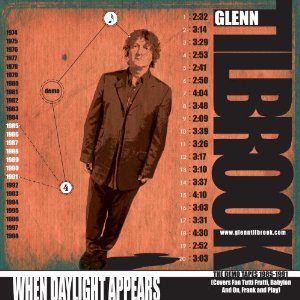 Here's a treat for any of you British pop fans out there: another series of demos from Squeeze songwriter Glenn Tilbrook.
When Daylight Appears: The Demo Tapes 1985-1991 spotlights Squeeze at one of their most underrated stages in a wildly underrated career. In 1985, the band ended a three-year breakup, reuniting singers/songwriters guitarists Tilbrook and Chris Difford, keyboardist Jools Holland (increasingly known outside of Squeeze for his burgeoning television host career on The Tube), drummer Gilson Lavis and new bassist Keith Wilkinson. This new lineup is the closest the famously revolving band can call "classic," releasing three consecutive albums, Cosi Fan Tutti Frutti (1985), Babylon and On (1987) and Frank (1989). (Another, Play (1991), followed with all but Holland.)
Despite the excellent craftsmanship of the Difford-Tilbrook partnership (which had endured the breakup with the release of an eclectic "solo" album in 1984), the songs, which experimented with increasingly modern production stylings, were not considered much of a return to form for a band championed by no less a New Wave pioneer than Elvis Costello (who produced 1981's magnum opus East Side Story and signature song "Tempted"). That said, this era found the band reaching their greatest success in the United States, as 1987 single "Hourglass," with a colorful, visually arresting music video, peaked in the Billboard Top 20.
[youtube=http://www.youtube.com/watch?v=Z4U8RCN1kfU]
In all, 15 of the disc's 19 tracks are clearly demos of songs that later appeared on albums (with "Wedding Bells," later turning up as the B-side of "Hourglass" and "Happiness is King" appearing on the flip of 1991's "Satisfied"). Though much of the material is likely lo-fi, four-track demos - usually Tilbrook singing and playing guitar with a drum machine backing him up - it often retains the spirit of the original tracks, with some surprise arrangements from time to time putting new spins on familiar favorites.
Tilbrook, who with Difford has written some of the best and most underrated pop tunes for Squeeze since the late 1970s, has been intermittently releasing entries in a series of five compilations of demos for Squeeze since the band reunited in the mid-2000s to play a lengthy series of concerts across the world. The first set, 2007's The Past Has Been Bottled, focused solely on songs written for East Side Story, the group's 1981 magnum opus (or, at least, the one that has their most widely-known song, "Tempted"). In the Sky Above, released a year later, concentrated on demos from the band's last three albums (Some Fantastic Place (1993), Ridiculous (1995) and Domino (1998)), while Dreams Are Made of This, released in 2009, was the most worthy for collectors, stretching from the duo's earliest songwriting moments in 1974 all the way to 1981's excellent Argybargy. Where will the fifth series take us - perhaps between 1982 and 1984, or through Tilbrook's solo years? Only time will tell. Until then, enjoy a link to the new set after the jump!
Glenn Tilbrook, When Daylight Appears: The Demo Tapes 1985-1991 (Quixotic Records QUIXCD0021, 2011)
I Won't Ever Go Drinking Again
Hits of the Year
Big Beng
Break My Heart
Lover's Tree
Hourglass
The Prisoner
Baby Town
Wedding Bells
Striking Matches
Footprints
In Today's Room
The Waiting Game
Love Circles
Satisfied
Walk a Straight Line
Letting Go
Crying in My Sleep
Happiness is King
The Day I Get Home