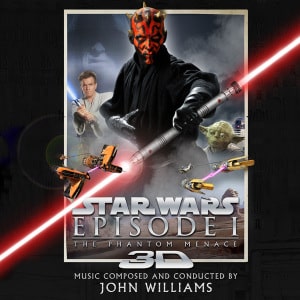 As Star Wars fans count down to a theatrical reissue of the chronological beginning of the six-film series, new fans will get a chance to rediscover its musical merits, thanks to a new reissue from Sony Classical.
The year 1999 was a monumental year for fans of George Lucas' Star Wars series. After years of discussions and planning, that May saw the release of Star Wars Episode I: The Phantom Menace, the first of a new prequel trilogy that explained how Lucas' mythological galaxy fell into the turmoil depicted in the classic Star Wars trilogy from 1977 to 1983.
The merits of the film, which centered on an intergalactic trade dispute and introduced a 10-year-old Anakin Skywalker - the boy who would become a powerful Jedi and, later, black-masked villain Darth Vader - were certainly up for debate. Critics and even some fans were put off by the juvenile antics, slow plotting and unusually out-of-place characters in the new film. But it was hard to debate the merits of a new Star Wars score by John Williams, who'd written the Oscar-winning music to the original Star Wars (1977) and the excellent scores to The Empire Strikes Back (1980) and Return of the Jedi (1983). For his first Star Wars score in 16 years, Williams led The London Symphony Orchestra in a stirring performance that reinterpreted classic themes from the original trilogy while drafting new ones, namely the epic "Duel of the Fates," written for the climactic battle sequence toward the end of the movie.
In 1999, Sony Classical released a healthy, 74-minute soundtrack that featured various highlights of the film score. But in the actual picture, what was heard on the album was heavily edited and shifted throughout the film, a practice that would unfortunately become pro forma in the subsequent prequels in 2002 and 2005. This led to one of the biggest major-label soundtrack tempests in a teapot: the 2000 release of the double-disc "Ultimate Edition" of the Episode I soundtrack, which was roundly criticized by fans for presenting the strangely-edited score presentation instead of all the music recorded for the film sans edits.
The upcoming reissue of the soundtrack, due February 7 (in advance of the 3D reissue of the film , goes back to basics, offering the original soundtrack album with one bonus track from the Ultimate Edition - a version of "Duel of the Fates" with dialogue from the film mixed in. (This version was used in a promo music video for the soundtrack.)
There's no domestic pre-order link yet (Amazon's U.S. link lists it as an overly expensive import), but you can hit the jump to view the track list. (Editor's note: if you've never seen The Phantom Menace, there are a few major spoilers in the track titles on the soundtrack.)
John Williams and The London Symphony Orchestra, Star Wars Episode I: The Phantom Menace - Original Motion Picture Soundtrack (originally released as Sony Classical SK 61816, 1999 - reissued Sony Classical 88691 94372-2, 2012)
Star Wars Main Title and The Arrival at Naboo
Duel of the Fates
Anakin's Theme
Jar Jar's Introduction and The Swim to Otoh Gunga
The Sith Spacecraft and The Droid Battle
The Trip to the Naboo Temple and The Audience with Boss Nass
The Arrival at Tatooine and The Flag Parade
He is the Chosen One
Anakin Defeats Sebulba
Passage Through the Planet Core
Watto's Deal and Kids at Play
Panaka and the Queen's Protectors
Queen Amidala and The Naboo Palace
The Droid Invasion and The Appearance of Darth Maul
Qui-Gon's Noble End
The High Council Meeting and Qui-Gon's Funeral
Augie's Great Municipal Band and End Credits
Duel of the Fates (Dialogue Version) (originally released on Star Wars Episode I: The Phantom Menace - The Ultimate Edition - Sony Classical S2K 89460, 2000)