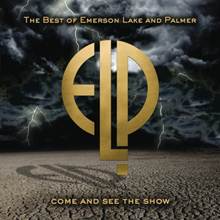 Legendary prog-rock supergroup Emerson, Lake & Palmer have signed a new deal with Razor & Tie Records to distribute their catalogue, kicking things off with a new compilation.
One of the early supergroups in rock history, comprised of keyboardist Keith Emerson of The Nice, King Crimson bassist Greg Lake on guitar and vocals and drummer Greg Palmer of Atomic Rooster, ELP were a defining force in progressive rock music, melding traditional rock statements with jazz and classically-inspired arrangements, quoting composers from Bach and Copland to Prokofiev and Mussorgsky.
Though they were never major presences on the charts (save the U.K. No. 2 hit "Fanfare for the Common Man"), their works enjoy constant rotation on classic rock radio, notably "Karn Evil 9: 1st Impression (Part 2)," featuring the iconic opening line that gives this post (as well as a 1974 live album) its name. ELP broke up in 1979, after which Emerson and Lake toured with former Rainbow drummer Cozy Powell in the 1980s; the band reunited from 1991 to 1998 and played a one-off anniversary concert in 2010.
In addition to a new, 14-track compilation, The Best of Emerson, Lake & Palmer: Come and See the Show, which is available today, the label announced remastered, expanded releases of the band's first six albums (studio albums Emerson, Lake & Palmer (1970), Tarkus (1971), Trilogy (1972) and Brain Salad Surgery (1973) and live albums Pictures at an Exhibition (1971) and Welcome Back My Friends to the Show That Never Ends...Ladies and Gentlemen, Emerson, Lake & Palmer (1974)) as due this year.
It will not be the first reissue campaign for the band; Rhino remastered and expanded several of the band's albums in the 1990s, as did Shout! Factory with different bonus material in the last five years.
Hit the jump to check out the new compilation ("currently unavailable" on Amazon) and keep it here for ELP reissue news as it's reported!
The Best of Emerson, Lake & Palmer: Come and See the Show (Razor & Tie, 2012)
Karn Evil 9: 1st Impression (Part 2)
Lucky Man
From the Beginning
Knife-Edge
Hoedown (Taken from Rodeo)
Jerusalem
C'est La Vie
Still...You Turn Me On
Tank
Fanfare for the Common Man
Toccata
Peter Gunn (Live @ The Olymic Stadium, Montreal - 8/26/1977)
Nutrocker
I Believe in Father Christmas
Tracks 1, 6, 8 and 11 from Brain Salad Surgery (Manticore, 1973)
Tracks 2, 4 and 9 from Emerson, Lake & Palmer (Island (U.K.), 1970/Cotillion (U.S.), 1971)
Tracks 3 and 5 from Trilogy (Island (U.K.)/Cotillion (U.S.), 1971)
Tracks 7 and 10 from Works, Volume 1 (Atlantic, 1977)
Track 12 from In Concert (Atlantic, 1979)
Track 13 from Pictures at an Exhibition (Island (U.K.), 1971/Cotillion (U.S.), 1972)
Track 14 from Works, Volume 2 (Atlantic, 1977)