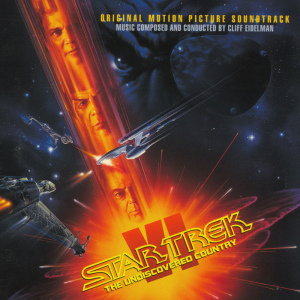 Intrada's two newest archival soundtrack releases take listeners from the deepest reaches of Arthurian legend to space (the final frontier).
First up, it's an unlimited, expanded pressing of Cliff Eidelman's score to Star Trek VI: The Undiscovered Country. The sixth Trek film has several notable "lasts" to its credit: the last to feature the original series' cast its entirety (1995's Generations and the 2009 series reboot featured several of the major players), the second and last film in the series by Star Trek II: The Wrath of Khan director Nicholas Meyer and the last Trek project series creator Gene Roddenberry saw to completion (he died days after viewing a pre-release assembly of the film).
The film presents an unthinkable event: the Klingon Empire, affected by a major ecological disaster, brokers an uneasy truce with the Federation. Kirk, Spock and the crew of the Enterprise discover a plot to unravel the secret peace talks, and race against time to stop the traitors. Eidelman's dark, dramatic score marks one of the most interesting departures for the series, and this double-disc set presents both the complete original film score, with two alternate cues and two cues composed for the film's theatrical trailers (Trek VI is the only film in the series to have music written exclusively for a trailer), as well as a remaster of the original soundtrack album.
But there's more - an Arthurian adaptation with an interesting score history is also after the jump!
The poem Sir Gawain and the Green Knight, the tale of a knight of King Arthur's court and his fantastical adventures, has existed since at least the 14th century. Astoundingly, it was only in 1973 that an adaptation was made for the screen. Murray Head (yes, that Murray Head) starred as Sir Gawain and Stephen Weeks directed; Weeks would re-adapt the material 11 years later as Sword of the Valiant with Miles O'Keefe and Sean Connery as the title characters.
Composer Ron Goodwin (whose scores include Where Eagles Dare, Alfred Hitchcock's Frenzy and Disney's cult classic One of Our Dinosaurs is Missing) contributed a score that lived up to the adventurous and occasionally mystical tone of the film (a central motif includes four ominous notes for the Green Knight). What's interesting, though, is that he would end up rescoring much of his own work in post-production, meaning almost two complete scores exist on this double-disc set, all remastered from the original source tapes.
Order your copies at the links below!
Cliff Eidelman, Star Trek VI: The Undiscovered Country - Music from the Motion Picture (Intrada MAF 7117, 2012 - original film released 1991)
Disc 1: Original score
Overture
The Incident
Spacedock/Clear All Moorings
Spock's Wisdom
Guess Who's Coming
Assassination
Surrender for Peace
The Death of Gorkon
The Trial/Morally Unjust Evidence
Sentencing
Rura Penthe/First Sight of Rura Penthe
Alien Fight
First Evidence/The Search
Escape from Rura Penthe
The Mirror
Revealed
Mind Meld
Dining on Ashes
The Battle for Peace/The Final Chance for Peace/The Final Count
The Undiscovered Country
Sign Off
Star Trek VI End Credits Suite
Trailer (Take 10)
Guess Who's Coming (Alternate)
Sign Off (Alternate)
Trailer (Take 2)
Disc 2: Original soundtrack LP (released as MCA Records 10512, 1991)
Overture
An Incident
Clear All Moorings
Assassination
Surrender for Peace
Death of Gorkon
Rura Penthe
Revealed
Escape from Rura Penthe
Dining on Ashes
The Battle for Peace
Sign Off
Star Trek VI Suite
Ron Goodwin, Sir Gawain and the Green Knight: Original Motion Picture Soundtrack (Intrada Special Collection Vol. 196, 2012 - original film released 1973)
Disc 1
Titles
March of the Degenerated Knights
Let the Game Begin
Gawain's Galop
Green Light Flashes
The Chalice
The Black Knight
The Ring
Sweet Mother of God, What Have I Done
The Crossbow
The Cave
Linet Awakens
Disc 2
Oswald and Seneschal
Staff Fight
Fortinbras
The Battlement
Tower on Fire
Bertilak's Castle
The Altar
This Make Good Seeing
The Battle
Deal Me My Destiny
Live On, Sir Gawain