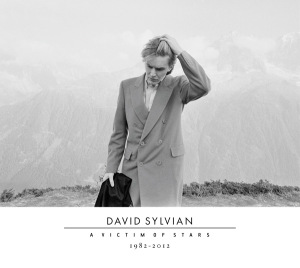 If all you know of David Sylvian is his excellent work in the New Wave band Japan, some would say you have a lot to learn. Fortunately, a new compilation from EMI U.K. is here to help.
A Victim of Stars 1982-2012 collates the best works of the erstwhile Japan frontman, from their biggest hit single "Ghosts" to the present day, with a new single, "Where's Your Gravity?" Along the way, there are a host of intriguing collaborations with some of the best avant-garde rockers in the business, from keyboardist Ryuchi Sakamoto to guitarist Robert Fripp.
While Sylvian's last major compilation, 2000's Everything and Nothing, featured a bevy of outtakes from his then-most recent album, Dead Bees on a Cake (1999), the few rarities here come from non-LP singles and other ephemera throughout the early portion of Sylvian's solo career. However, in addition to his material recorded for Virgin, EMI has licensed several tracks from Sylvian's recent albums on his independent labe, Samadhisound.
The double-disc set, released this Monday, is available to buy now and can be previewed after the jump.
David Sylvain, A Victim of Stars 1982-2012 (Virgin/EMI CDVD 3097 (U.K.), 2012)
Disc 1
Ghosts (Remix)
Bamboo Houses - Riyuchi Sakamoto and David Sylvian
Bamboo Music - Riyuchi Sakamoto and David Sylvian
Forbidden Colours - Riyuchi Sakamoto and David Sylvian
Red Guitar
The Ink in the Well
Pulling Punches
Taking the Veil
Silver Moon
Let the Happiness In
Orpheus
Waterfront
Pop Song
Blackwater - Rain Tree Crow
Every Colour You Are (Live) - David Sylvian and Robert Fripp
Heartbeat (Tainai Kaiki II) (Remix) - Ryuchi Sakamoto and David Sylvian
Disc 2
Jean the Birdman - David Sylvian and Robert Fripp
Alphabet Angel
I Surrender
Darkest Dreaming
A Fire in the Forest
The Only Daughter
Late Night Shopping
Wonderful World - Nine Horses
The Banality of Evil - Nine Horses
Darkest Birds - Nine Horses
Snow White in Appalachia
Small Metal Gods
I Should Not Dare
Manafon
Where's Your Gravity?
Disc 1, Track 1 from Everything and Nothing (Virgin, 2000). Original version from Tin Drum (Virgin, 1981)
Disc 1, Tracks 2-3 from non-LP single (Virgin, 1982)
Disc 1, Track 4 from Merry Christmas, Mr. Lawrence: Original Motion Picture Soundtrack (Virgin, 1983)
Disc 1, Tracks 5-7 from Brilliant Trees (Virgin, 1984)
Disc 1, Tracks 8-9 from Gone to Earth (Virgin, 1986)
Disc 1, Tracks 10-12 from Secrets of the Beehive (Virgin, 1987)
Disc 1, Track 13 from non-LP single (Virgin, 1989)
Disc 1, Track 14 from Rain Tree Crow (Virgin, 1991)
Disc 1, Track 15 from Damage: Live (Virgin, 1994)
Disc 1, Track 16 from Heartbeat (Virgin, 1992)
Disc 2, Track 1 from The First Day (Virgin, 1993)
Disc 2, Tracks 2-4 from Dead Bees on a Cake (Virgin, 1999)
Disc 2, Tracks 5-7 from Blemish (Samadhisound, 2003)
Disc 2, Tracks 8-10 from Snow Borne Sorrow (Samadhisound, 2005)
Disc 2, Tracks 11-12 and 14 from Manafon (Samadhisound, 2009)
Disc 2, Track 13 from Died in the Wool: Manafon Variations (Samadhisound, 2011)
Disc 2, Track 14 is a new track