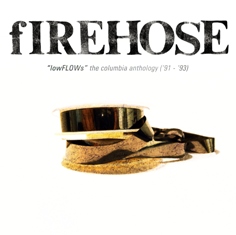 California alt-rock legends fIREHOSE are reuniting for a tour this spring, and to celebrate, Legacy is releasing their last two albums on one set with rare and unreleased bonus tracks.
fIREHOSE was the musical progression for bassist/singer Mike Watt and drummer George Hurley of The Minutemen, after that band's guitarist and longtime friend, D. Boon, was killed in a car accident in 1986. Watt and Hurley were all but ready to cease playing altogether, but were convinced otherwise by an unlikely source: a 21-year-old fan named Ed Crawford, who'd made a pilgrimage to meet the duo from his native Ohio to the band's native San Pedro district of Los Angeles. Crawford's enthusiasm inspired Watt and Hurley profoundly, and they formed a new ensemble with the young man (taking their name from one of Bob Dylan's cards in the "Subterranean Homesick Blues" promo clip).
After three records on the independent SST label and a successful spot opening for their friends Sonic Youth on tour, fIREHOSE were signed to Columbia Records, where their final albums, 1991's Flyin' the Flannel and 1993's Mr. Machinery Operator, were released. With A-list production from Paul Q. Kolderie (who's produced LPs for Radiohead, The Lemonheads, Uncle Tupelo and Hole) on Flannel and Dinosaur Jr.'s J. Mascis on Machinery, both albums deserve a reappraisal in the greater context of the hardcore punk scene in the days before grunge broke through to the mainstream.
And with "lowFLOWS": The Columbia Anthology '91-'93, the band is poised to do just that. The double-disc set features both of the band's final albums expanded with promo-only single mixes, live material, non-LP tracks and four unreleased recordings.
The set is out on April 3, two days before the band kicks off a 16-day reunion tour that culminates with an appearance at the Coachella Music and Arts Festival in Indio, California on the 20th. Hit the jump to make it yours and check out the track list.
fIREHOSE, lowFLOWs: The Columbia Anthology '91-'93 (Columbia/Legacy 88691 95415-2, 2012)
Disc 1: Flyin' the Flannel and bonus material
Down with the Bass
Up Finnegan's Ladder
Can't Believe
Walking the Cow
Flyin' the Flannel
Epoxy, for Example
O'er the Town of Pedro
Too Long
The First Cuss
Anti-Misogyny Maneuver
Toolin'
Song for Dave Alvin
Tien an Man Dream Again
Lost Colors
Towin' the Line
Losers, Boozers and Heroes
Max and Wells
Down with the Bass (Instrumental)
The Red and the Black (Live)
Sophisticated Bitch (Live)
Revolution (Part Two) (Live)
Slack Motherfucker (Live)
What Gets Heard (Live)
Mannequin (Live)
Makin' the Freeway (Live)
Disc 2: Mr. Machinery Operator and bonus content
Formal Introduction
Blaze
Herded Into Pools
Witness
Number Seven
Powerful Hankerin'
Rocket Sled/Fuel Tank
Quicksand
Disciples of the Way
More Famous Quotes
Sincerely
Hell-Hole
4.29.92
The Cliffs Thrown
Blaze (Instrumental)
Witness (March Again Edit)
4.29.92 (Live)
Powerful Hankerin' (Live)
Tien an Man Dream Again (Live)
Formal Introduction (Live)
Disc 1, Tracks 1-16 released as Flyin' the Flannel (Columbia 47839, 1991)
Disc 1, Track 17 from A Matter of Degrees: Original Motion Picture Soundtrack
Disc 1, Track 18 and Disc 2, Tracks 17-19 previously unreleased
Disc 1, Tracks 19-25 released as Live Totem Pole (Columbia 44K-74152, 1992)
Disc 2, Tracks 1-14 released as Mr. Machinery Operator (Columbia 53208, 1993)
Disc 2, Track 15 from GeNrECidE: A Compilation (Columbia 53450, 1993)
Disc 2, Track 16 from Columbia promotional single CSK 5173, 1993
Disc 2, Track 20 from Big Bottom Pow Wow promotional EP (Columbia CSK, 5122, 1993)