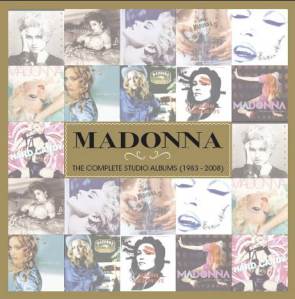 As the calendar turns over into March, Madonna fans are predictably going into overdrive thanks to the release of MDNA, her latest studio album, on the 26th. It's going to be her first effort not distributed by Warner Bros.; she left the label to sign an all-encompassing deal with Live Nation in 2007, and while Warner distributed her live Sticky & Sweet Tour set in 2010, Universal's Interscope Records will distribute MDNA.
Her rich back catalogue is very much in Warner Music's archives, though; 2009 saw the career-spanning compilation Celebration, but there has been no catalogue activity since then - until now. Rhino U.K. is re-releasing some of Madonna's works on CD and vinyl the same day that MDNA hits stores.
For vinyl collectors, five albums - 1983's self-titled album, 1984's Like a Virgin, 1986's True Blue, 1989's Like a Prayer and 1992's Erotica - are being released on the format. All the original artwork is replicated, including the original True Blue poster, and all the sets will be single-LP affairs save for the double-vinyl Erotica.
And then there's The Complete Studio Albums 1983-2008, which collates 11 of Madonna's Warner albums from those 25 years with the label. It's difficult to think of any of it as "complete," as there's plenty of discs that could have bore inclusion into the box (remix album You Can Dance (1987), 1990's I'm Breathless, featuring music from and inspired by the film Dick Tracy - which she co-starred in - as well as smash hit "Vogue"). The only bonus tracks present in the set are the remixes from the remastered editions of Madonna, Like a Virgin and True Blue released in 2001.
Still, if you're a U.K. Madonna fan who wants to dive headfirst after a compilation or two, this is hard to beat. Pre-order the box here and hit the jump for a full breakdown. (Kudos to Super Deluxe Edition for their reportage.)
Madonna, The Complete Studio Albums 1983-2008 (Warner Bros./Rhino (U.K.), 2012)
Disc 1: Madonna (originally released as Sire Records 23867, 1983)
Lucky Star
Borderline
Burning Up
I Know It
Holiday
Think of Me
Physical Attraction
Everybody
Burning Up (12" Version) (12" A-side - Sire 0-29715, 1983)
Lucky Star (New Mix) (12" promotional A-side - Sire PRO-A-2069, 1983)
Disc 2: Like a Virgin (originally released as Sire Records 25157, 1984)
Material Girl
Angel
Like a Virgin
Over and Over
Love Don't Live Here Anymore
Dress You Up
Shoo-Be-Doo
Pretender
Stay
Like a Virgin (Extended Dance Mix) (12" A-side - Sire 0-20239, 1984)
Material Girl (Extended Dance Mix) (12" A-side - Sire 0-20304, 1985)
Disc 3: True Blue (originally released as Sire Records 25442, 1986)
Papa Don't Preach
Open Your Heart
White Heat
Live to Tell
Where's the Party
True Blue
La Isla Bonita
Jimmy Jimmy
Love Makes the World Go 'Round
True Blue (The Color Mix) (12" A-side - Sire 0-20533, 1986)
La Isla Bonita (Extended Remix) (12" A-side - Sire 0-20633, 1987)
Disc 4: Like a Prayer (originally released as Sire Records 25844, 1989)
Like a Prayer
Express Yourself
Love Song
Till Death Do Us Part
Promise to Try
Cherish
Dear Jessie
Oh Father
Keep It Together
Pray for Spanish Eyes
Act of Contrition
Disc 5: Erotica (originally released as Sire Records/Maverick 45031, 1992)
Erotica
Fever
Bye Bye Baby
Deeper and Deeper
Where Life Begins
Bad Girl
Waiting
Thief of Hearts
Words
Rain
Why's It So Hard
In This Life
Did You Do It?
Secret Garden
Disc 6: Bedtime Stories (originally released as Maverick 45467, 1994)
Survival
Secret
I'd Rather Be Your Lover
Don't Stop
Inside of Me
Human Nature
Forbidden Love
Love Tried to Warn Me
Sanctuary
Bedtime Story
Take a Bow
Disc 7: Ray of Light (originally released as Maverick/Warner Bros. Records 46847, 1998)
Drowned World/Substitute for Love
Swim
Ray of Light
Candy Perfume Girl
Skin
Nothing Really Matters
Sky Fits Heaven
Shanti/Asthangi
Frozen
The Power of Good-Bye
To Have and Not to Hold
Little Star
Mer Girl
Disc 8: Music (originally released as Maverick/Warner Bros. Records 47598, 2000)
Music
Impressive Instant
Runaway Lover
I Deserve It
Amazing
Nobody's Perfect
Don't Tell Me
What It Feels Like for a Girl
Paradise (Not for Me)
Gone
Disc 9: American Life (originally released as Maverick/Warner Bros. Records 48439, 2003)
American Life
Hollywood
I'm So Stupid
Love Profusion
Nobody Knows Me
Nothing Fails
Intervention
X-Static Process
Mother and Father
Die Another Day
Easy Ride
Disc 10: Confessions on a Dance Floor (originally released as Warner Bros. Records 49460, 2005)
Hung Up
Get Together
Sorry
Future Lovers
I Love New York
Let It Will Be
Forbidden Love
Jump
How High
Isaac
Push
Like It or Not
Disc 11: Hard Candy (originally released as Warner Bros. Records 511269, 2008)
Candy Shop
4 Minutes (featuring Justin Timberlake and Timbaland)
Give It 2 Me
Heartbeat
Miles Away
She's Not Me
Incredible
Beat Goes On (featuring Kanye West)
Dance 2Night (featuring Justin Timberlake)
Spanish Lesson
Devil Wouldn't Recognize You
Voices