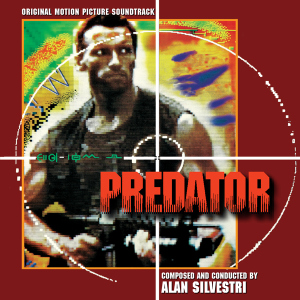 Intrada's latest batch of soundtrack releases should be cause for celebration, if you're not an easily offended fan.
First, and most controversially, the label has announced a second pressing of the score to Alan Silvestri's score to the 1987 sci-fi/action classic Predator. One of the best soundtrack's of Silvestri's mid-to-late-'80s period of greatness (which also saw the scores to gems like Back to the Future and Who Framed Roger Rabbit), Predator is a kinetic, rhythmic score that fits perfectly with the tone of the film, the tale of an American Special Forces outfit on a mission in the jungles of South America. The group, led by Col. Alan "Dutch" Schaefer (Arnold Schwarzenegger), comes across a more fearsome foe than global terrorists, a stealthy alien hunter who decimates the group with violent traps and weapons.
The Predator score, a fan favorite, was finally released as a limited title by Varese Sarabande in 2003. That edition sold out not long after its release; when Intrada announced another limited reissue (slightly re-edited and remastered) in 2010, it sold out in about a day. This edition, commissioned as an unlimited title by licensor 20th Century Fox and composer Silvestri, features different artwork, minor tweaks in editing at the suggestion of fans, and an additional brief unused cue that appeared on Varese's edition. Discussion of the merits of this reissue has been heated (a thread at the Film Score Monthly forum has been closed due to uncivil discussion), but this writer maintains that getting the music out to the many people who doubtlessly missed out on both releases is far more important than the sanctity of limited edition status.
But things for Intrada have a Disney-style happy ending in more ways than one, as you'll find out after the jump!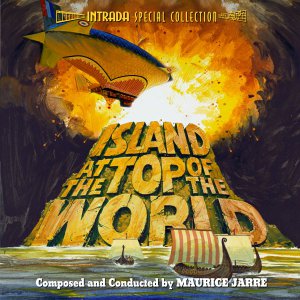 That's right, another Intrada/Disney score has been announced: Maurice Jarre's underrated soundtrack to 1974's The Island at the Top of the World. In this film, a trio of adventurers - a British aristocrat in search of his missing son, a Scandinavian archaeologist and a French inventor - trek to the Arctic in a dirigible and make a surprising discovery in the form of an uncharted island. (Disney trivia geeks might know that the team's dirigible, the Hyperion, was named for the street where Walt Disney's studio could be found from 1925 to 1940. The Walt Disney Company's publishing arm also takes its name from that roadway.) Jarre's score, at times haunting, heroic and melodic, is getting its first release anywhere. (A Disneyland Records LP released alongside the film featured the story narrated by Disney Legend Thurl Ravenscroft, accompanied by Jarre's themes on solo organ!)
Best of all, Intrada has confirmed that its next batch of titles, to be released March 20, are both from the Disney library, guaranteeing a month of magic for soundtrack enthusiasts. The new Predator and Island are yours to order below.
Alan Silvestri, Predator: Original Motion Picture Soundtrack (Intrada MAF 7118, 2012 - original film released 1987)
20th Century-Fox Fanfare (arr. Elliot Goldenthal)
Main Titles
Something Else/Cut 'Em Down/Payback Time
The Truck
Jungle Trek
Girl's Escape
Blain's Death
What Happened?
He's My Friend
We're Gonna Die
Building the Trap
The Waiting
Can You See Him?
Dillon's Death
Billy and Predator
Dutch Builds Trap
Predator Injured
Hand to Hand Combat
Predator's Death
The Aftermath/The Pick-Up and End Credits
All tracks previously released on Varese Sarabande VCL 0803 1022, 2003 and Intrada Special Collection Vol. 141, 2010. Track 1 recorded for Alien3 (1992).
Maurice Jarre, The Island at the Top of the World: Original Motion Picture Soundtrack (Intrada Special Collection Vol. 193, 2012 - original film released 1974)
Title & Theme
We're Under Way
The Dirigible
Full Speed
Traveling
Oomiak is Trapped
Follow It
The Storm
They Start the Trek
Donald's House
We Know Donald
The Viking City
The Chase
In the Volcano
Burning Lava
Escape Through the Ice Palace
Battle with the Sea Beasts
Flyin' Without Engine
God's Punishment
Happy Ending
All tracks previously unreleased