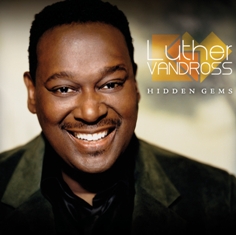 If you miss the smooth, soulful voice of Luther Vandross - and, perhaps, wish to dig deeper than his greatest hits - a new compilation from Epic Records and Legacy Recordings might have you covered.
On April 17, just three days before what would have been the singer's 61st birthday, the label will release Hidden Gems, a compilation of album cuts and non-LP tracks intended to showcase one of the greatest male voices in contemporary R&B history.
The 15-track compilation, compiled and produced by Vandross' niece Seveda Williams and cousin Brenda Shields, spans Luther's entire career, from "You Stopped Loving Me" off debut album Never Too Much, to "Once Were Lovers" and a cover of "Buy Me a Rose," a song made famous by Kenny Rogers, from posthumous Grammy-winning album Dance with My Father. In addition to Luther's own compositions, there are some impressive covers, including versions of "The Impossible Dream" from the Broadway hit Man of La Mancha, Little Anthony and The Imperials' "Goin' Out of My Head" and the Lieber-Stoller-co-written "I (Who Have Nothing)," sung as a duet with R&B singer Martha Wash.
While it's not chock full of obscurities if you've tracked down Luther's albums - "I'd Rather" was a sizable Adult Contemporary hit and received a substantial amount of radio play - there are a few harder-to-find cuts on the disc, notably a song from the 1997 compilation One Night with You: The Best of Love, Volume 2, two early-'90s soundtrack songs and a Japanese bonus track from the artist's penultimate, self-titled album on J Records in 2001.
The package features liner notes by Vandross' good friend and collaborator Fonzi Thornton, and makes for a great next step in your Luther collection. Check out the track list after the jump!
Luther Vandross, Hidden Gems (Epic/Legacy 88699 19682 9 2, 2012)
When You Call on Me (Baby That's When I Come Runnin')
Once You Know How
I Know You Want To
Once Were Lovers
You Stopped Loving Me
The Impossible Dream
Are You Using Me?
Goin' Out of My Head
The Thrill I'm In
Heart of a Hero
Buy Me a Rose
I (Who Have Nothing) (with Martha Wash)
I'd Rather
Like I'm Invisible
You Really Started Something
Track 1 from One Night with You: The Best of Love, Volume 2 (Epic, 1997)
Track 2 from Forever, For Always, For Love (Epic, 1982)
Track 3 from Any Love (Epic, 1988)
Tracks 4 and 11 from Dance with My Father (J, 2003)
Track 5 from Never Too Much (Epic, 1981)
Track 6 from Songs (Epic, 1994)
Track 7 from I Know (Virgin, 1998)
Track 8 from Your Secret Love (Epic, 1996)
Track 9 from Money Train: Original Motion Picture Soundtrack (Epic Soundtrax, 1995)
Track 10 from Hero: Original Motion Picture Soundtrack (Epic, 1992)
Track 12 from Power of Love (Epic, 1991)
Tracks 13-14 from Luther Vandross (J, 2001)
Track 15 from Japanese pressing of Luther Vandross (J, 2001)