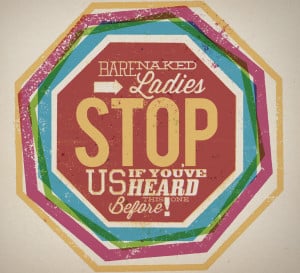 Canadian rockers Barenaked Ladies are releasing a compilation of outtakes and rarities that, fortunately, more or less lives up to the title.
Stop Us If You've Heard This One Before!, a counterpoint to last year's Hits from Yesterday and the Day Before, features 12 tracks, only two of which have ever seen the official light of day. (Those tracks are a remix of megahit "One Week" and "Yes, Yes, Yes," a bonus track on some versions of the band's 2003 album Everything to Everyone.)
The remainder of the album is mostly split between studio outtakes from the mid-2000s, ("I Don't Get It Anymore," "I Can, I Will, I Do," "Long While" and "Second Best" date to the Everything sessions, while "Half a Heart" and "Adrift" ended up re-recorded for 2006's Barenaked Ladies Are Me) and live tracks from the early '90s (including a cover of The Beastie Boys' "Shake Your Rump").
The band, whose last album All in Good Time (2010) was the first without founding member Steven Page, will embark on a summer tour with Blues Traveler, Big Head Todd & The Monsters and Cracker in July and August. Stop Us hits stores on May 8. Hit the jump for the full track breakdown.
Barenaked Ladies, Stop Us If You've Heard This One Before! (Reprise/Rhino, 2012)
I Don't Get It Anymore
Yes, Yes, Yes
Half a Heart
The Old Apartment (Demo)
Shake Your Rump (Live @ The Santa Maria Hilton - 10/13/1994)
Same Thing (Live Somewhere in Canada 1992)
One Week (Pull's Break Remix)
Teenage Wasteland (Live @ Massey Hall 4/3/1993)
Long While (Demo)
Second Best (Demo)
I Can, I Will, I Do
Adrift (Outtake)
Track 2 released on deluxe edition of Everything to Everyone (Reprise 48515-2, 2003)
Track 7 released on Reprise promotional 12"/CD single PRO-9525, 1998
All other tracks previously unreleased:
Tracks 1, 3, 9-10 and 12 from the sessions to Everything to Everyone (Reprise, 2003). Finished versions of Track 10 released on that album, and finished versions of Tracks 3 and 12 released on Barenaked Ladies Are Me/Men (Desperation, 2006/2007)
Finished version of Track 4 released on Born on a Pirate Ship (Reprise, 1996)
Track 5 is a Beastie Boys cover
Studio version of Track 6 released on Born on a Pirate Ship (Reprise, 1996)
Track 9 previously un-recorded
Track 11 from the sessions to Disc 1: All Their Greatest Hits (Reprise, 2001). Finished version released on Barenaked Ladies Are Me/Men (Desperation, 2006/2007)