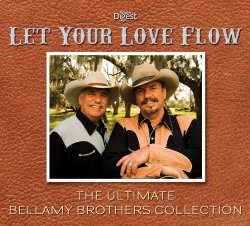 Country-pop crossovers The Bellamy Brothers are releasing a box set through Reader's Digest, collating four discs' worth of hits with rare and new tracks.
Howard and David Bellamy, self-taught brothers from Florida who enjoyed mixing traditional country sounds with rock/pop influences, first enjoyed success behind the scenes of the music industry. David wrote Top 5 country hit "Spiders and Snakes" for Jim Stafford, while Howard became his road manager. (Trivia alert: Stafford's previous manager was a man named Leo Gallagher, who would become a famed stage act when he dropped his first name and took a sledgehammer to a plethora of watermelons.) Eventually, the brothers signed to Curb Records and released an international hit, the soaring "Let Your Love Flow," in 1976.
The single only hit No. 21 on the country charts, however, and subsequent chart success would be hard to come by until 1979, when the duo scored their first country No. 1 single, "If I Said You Had a Beautiful Body Would You Hold It Against Me." Thus began a string of country hits through the '80s (all but one of their singles reached the Top 40 during the decade), released through Curb and distributed by a number of labels, including Warner Bros., Elektra and MCA.
In the '90s, the brothers eked out some success releasing their recordings on their own label. (They briefly returned to Curb in 2006 for Angels and Outlaws, Vol. 1, a new compilation featuring duets with other country superstars.) They continue to tour and record, garnering some minor controversy in 2010 for the politically charged track "Jalapeños." That track is one of 60 included on this four-disc set, as well as two new tracks, "Spanish Bible" (to be released on a forthcoming gospel album) and "What a Country."
[youtube=http://www.youtube.com/watch?v=cDZZURyqQyk]
You can order the Bellamy box here and check the track list after the jump. (A note on discographical information: the duo have recorded and re-recorded their catalogue in the past, and there's unfortunately no way as of now to tell which are original masters and which might be re-recorded. To that end, we have not included any sourcing at this time.)
The Bellamy Brothers, Let Your Love Flow: The Ultimate Bellamy Brothers Collection (Reader's Digest, 2012)
Disc 1
Let Your Love Flow
If I Said You Had a Beautiful Body (Would You Hold It Against Me)
Redneck Girl
Old Hippie
I Need More of You
Do You Love As Good As You Look?
Dancin' Cowboys
When I'm Away from You
Crazy from the Heart
Feelin' the Feelin'
Sugar Daddy
For All the Wrong Reasons
Kids of the Baby Boom
Lie to You for Your Love
I Could Be Persuaded
Disc 2
Get Into Reggae Cowboy
Lovers Live Longer
Forget About Me
Country Rap
World's Greatest Lover
Rip Off the Knob
She Don't Know That She's Perfect
Crossfire
Cowboy Beat
I Love Her Mind
She's Awesome
You Ain't Just Whistlin' Dixie (Live)
Rebels Without a Clue
Big Love
Where's Your Brother?
Disc 3
You'll Never Be Sorry
You're My Favorite Star
They Could Put Me in Jail
Too Much is Not Enough
Hillbilly Hell
I'll Give You All My Love Tonight
Santa Fe
Almost Jamaica
Center of My Universe
Guilty of the Crime
Jalapeños
Let's Fall in Love Again
Blue California
Save Your Love
Mexico Came Here
Disc 4
Love by the Moon
Back in the Day
Heart of My Heart
Blame It on the Fire in My Heart
Strung Out
After the Storm
I Wish I Had You
The Fires of Time
Where Did the Common Sense Go?
Lost in Ireland
Up and Away
Our Love
Trust Me
Spanish Bible
What a Country