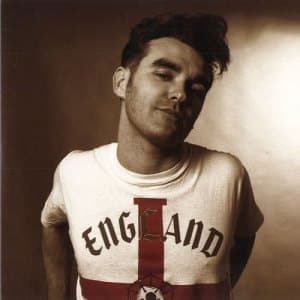 Today bought a major dark cloud over the days of Morrissey and The Smiths fans everywhere, even more so than the reissue of Viva Hate. Passions Just Like Mine, the long-running discography/videography/gigography for Manchester's favorite singer/songwriter, has closed up shop.
In a statement, the site's founder, Stephane, announced a desire to pursue "a few other personal projects in mind (unrelated to Morrissey)" but was still taking suggestions as to "what to do with the body." (The body of the site is currently gone,  as Stephane "could not deal with the site just stagnating there, slowly becoming incomplete.")
As a fan, I'm going to miss PJLM's exhaustive comprehension to its subject - as you can guess, such a quality is endearing around these parts - not necessarily out of my love for Moz or The Smiths (although I cherish both) but particularly because I love websites that keep such musical flames alive. Were it not for the devotion of fans and the usability of HTML, I'd never known there were at least two versions of Duran Duran's Rio I'd want to acquire. My Tears for Fears Reissue Theory post wouldn't have been the same. Sure, sometimes you get lucky on Wikipedia, but it's hard to beat a well-crafted, singularly obsessive music site.
So in tribute to Stephane and his work, we ask you, our readers: what are your favorite sites obsessively devoted to music? It can be one artist, a few, a whole label, whichever. We want you to pay tribute to them, because we're lucky to have them all in our lives.