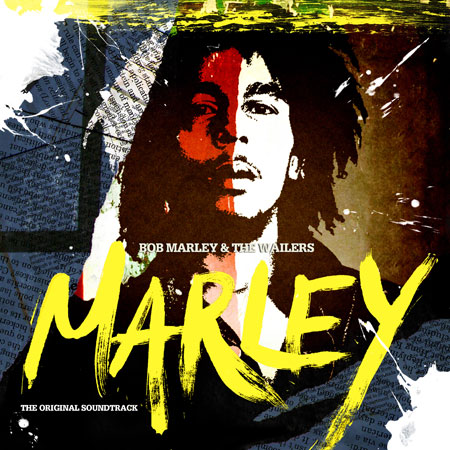 With the impending release of Marley, a new documentary chronicling the life and work of Jamaica's favorite son, Universal is releasing a new compilation of tunes featured in the movie, featuring a few rare and unreleased goodies.
Robert Nestor Marley remains one of the definitive forces in the reggae genre. From his early works as a member of The Wailers alongside fellow legends Peter Tosh and Bunny Wailer, to his reinvention of the group as a backing band for his increasingly beautiful, rhythmic and socially-conscious records in the mid-1970s, Marley remains a pioneer who is arguably responsible for the Western world taking any interest in the genre. (The 1984 compilation Legend, released three years after the singer passed away, remains the biggest-selling album of the genre.)
While the Marley soundtrack (to be released over two compact discs and three vinyl albums) features Marley and The Wailers' biggest hits, including "Stir It Up," "I Shot the Sheriff," "Get Up, Stand Up," "Three Little Birds" and "One Love/People Get Ready," there are a few surprises to be had. In addition to the inclusion of a great deal of early Wailers material, much of which was released in the mid-'60s on Jamaican labels like Upsetter, Beverley's and Marley's own Wail'n Soul'm, and only belatedly introduced to American audiences on collectors' sets like 1992's Songs of Freedom box set, there is one completely unreleased track: a live version of "Jammin'" at the One Love Peace Concert held in Kingston in 1978. The concert, intended to quell political and social unrest in Marley's home country, was the singer's first live appearance there since surviving an assassination attempt two years earlier. During this performance, Marley invited Prime Minister Michael Manley and his rival, Jamaican Labour Party leader Edward Seaga, to the stage and held hands with them both - a striking gesture of Marley's tireless efforts for peace.
[youtube=http://www.youtube.com/watch?v=NOhDBe-pmUs]
The soundtrack is available Tuesday, April 17, and the full track list is after the jump.
Bob Marley & The Wailers, Marley: The Original Soundtrack (Tuff Gong/Island B0016736-02, 2012)
Disc 1
Corner Stone
Judge Not
Simmer Down
Small Axe
Mellow Mood
Stir It Up
Concrete Jungle
Crazy Baldhead
Natty Dread
Trenchtown Rock (Live @ The Roxy, West Hollywood - 5/26/1976)
Get Up, Stand Up
Work
Disc 2
Jammin' (Live @ The National Stadium, Kingston, Jamaica - 4/22/1978)
Exodus Dub (Kindred Spirit Dub Mix)
No Woman, No Cry (Live @ The Lyceum, London - 7/18/1974)
War/No More Trouble (Live @ The Rainbow, London - 6/4/1977)
I Shot the Sheriff (Live @ The Lyceum, London - 7/18/1974)
Roots, Rock, Reggae
Three Little Birds
Real Situation
Could You Be Loved
One Love/People Get Ready
Redemption Song
High Tide, Low Tide
Disc 1, Track 1 from Soul Rebels (Upsetter/Trojan, 1970)
Disc 1, Track 2 released on Beverley's single, 1962
Disc 1, Track 3 from The Wailing Wailers (Studio One, 1965)
Disc 1, Tracks 4 and 11 from Burnin' (Tuff Gong/Island, 1973)
Disc 1, Track 5 released on Wail'n Soul'm single, 1966
Disc 1, Tracks 6-7 from Catch a Fire (Tuff Gong/Island, 1973)
Disc 1, Track 8 and Disc 2, Track 6 from Rastaman Vibration (Tuff Gong/Island, 1976)
Disc 1, Track 9 from Natty Dread (Tuff Gong/Island, 1974)
Disc 1, Track 10 from Natural Mystic (Tuff Gong/Island, 1995)
Disc 1, Track 12 and Disc 2, Tracks 8-9 and 11 from Uprising (Tuff Gong/Island, 1980)
Disc 2, Track 1 previously unreleased
Disc 2, Track 2 released on Tuff Gong/Island 12" single (U.K.), 1992
Disc 2, Tracks 3 and 5 from Live! (Tuff Gong/Island, 1975)
Disc 2, Track 4 from Exodus: Deluxe Edition (Tuff Gong/Island, 2001)
Disc 2, Tracks 7 and 10 from Exodus (Tuff Gong/Island, 1977)
Disc 2, Track 12 first released on Songs of Freedom (Tuff Gong/Island, 1992)