Welcome to another installment of Reissue Theory, where we focus on notable albums and the reissues they could someday see. Now that they're safely ensconced in the Rock and Roll Hall of Fame, it's time to imagine a deluxe edition of Guns N' Roses' landmark debut album - and we think we made up a pretty good list.
It's safe to say the door has finally, unquestionably closed on the classic Guns N' Roses lineup as of this weekend, when the legendary California hard-rockers were inducted into the Rock and Roll Hall of Fame in their first year of eligibility. Original members Slash, Duff McKagan and Steven Adler, as well as Use Your Illusion-era members Matt Sorum and Gilby Clarke, took to the stage to perform some of their biggest hits for an enthusiastic crowd. (The other two founding members, Izzy Stradlin and W. Axl Rose, did not attend, with vocalist Rose writing a strong but somewhat-measured letter declining his honor.)
Of course, Rose has been shedding original GN'R members since the mid-'90s, and had lost all of them by 1997. And since 1993's covers album The Spaghetti Incident? there's only been one album of Guns material: the long-gestating, semi-passable Chinese Democracy (2008). But no matter your opinion on the mercurial frontman's stance on the Rock Hall induction, it is near impossible to deny that when Guns N' Roses are good - regardless of whatever drama surrounds them - they're damned good.
And, as late '80s rock albums and certainly debut albums go, Appetite for Destruction ranks deservedly high on the list.
From the piercing intro to "Welcome to the Jungle" to the cataclysmic dregs of "Rocket Queen," the dozen tracks on Appetite are caked in grime and danger, arguably one of the realest incarnations of the fear and ruin rock and roll was prophesied to bring to middle America. Even the moments approaching beauty and catharsis - "Paradise City" and chart-topping single "Sweet Child O' Mine" chief among them - are riddled with a nervous edge that threatens to torch everything within a five-mile radius.
Under different circumstances, nobody would have to speculate on a deluxe edition of Appetite for Destruction. If there was any unity between Rose and his former compatriots, this classic album would have been remastered and expanded at least a decade ago. But this is reality, and we have to sort of struggle to imagine what we'd get under the thinnest of conditions.
But it seems possible. Our 25th anniversary edition of Appetite would feature almost no "rare" material, but would get the band's whole output between 1986 and 1989 in print, in one place and in the best sonic quality possible.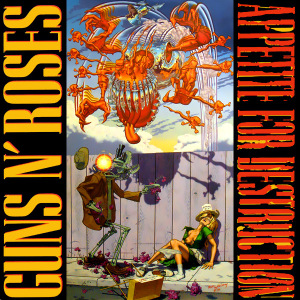 A two-disc deluxe set (with the original cover art at right reinstated, naturally) would cover the original 12-track album on one disc. The bonus disc would chiefly feature 1988's GN'R Lies compilation, which combined 1986's Live ?!*@ Like a Suicide with four new tracks, including the excellent "Patience" and the incendiary "One in a Million." (In an ideal world, the Suicide tracks would be stripped of their faux live audience overdubs and presented as raw as they were recorded.)
The bonus disc would close with three live tracks released as various single B-sides (and in one spot on the Japanese Live from the Jungle EP) and one exceptionally rare remix of "Sweet Child O' Mine" commissioned for a promo single by Steve Thompson and Michael Barbiero. (This is different from the standard radio remix of the track, running slightly shorter.)
Guns N' Roses, Appetite for Destruction: 25th Anniversary Deluxe Edition (Geffen/UMe)
Disc 1: Original remastered LP (originally released as Geffen Records LP GHS 24148, 1987)
Welcome to the Jungle
It's So Easy
Nightrain
Out Ta Get Me
Mr. Brownstone
Paradise City
My Michelle
Think About You
Sweet Child O' Mine
You're Crazy
Anything Goes
Rocket Queen
Disc 2: Bonus material 1986-1988
Reckless Life
Nice Boys
Move to the City
Mama Kin
Patience
Used to Love Her
You're Crazy (Acoustic)
One in a Million
Whole Lotta Rosie (Live)
It's So Easy (Live)
Knockin' on Heaven's Door (Live)
Sweet Child O' Mine (The All Dayparts Remix)
Tracks 1-4 released with overdubbed crowd noise as Live ?!*@ Like a Suicide EP (UZI Suicide Records USR-001, 1986)
Tracks 5-8 released on GN'R Lies (Geffen GHS 24198, 1988)
Tracks 9-11 released on Guns N' Roses "Live from the Jungle" EP (Warner-Pioneer P-6270 (JP), 1987) and on "Welcome to the Jungle" U.K. 12" single (Geffen GEF 30T, 1987)
Track 12 released on Geffen promotional CD PRO-CD-3077, 1987