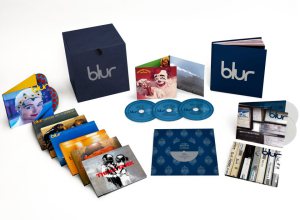 While Blur frontman Damon Albarn has been less than positive about the future of the band following this year's reunion tour, EMI's catalogue team would like you to think otherwise with an upcoming high profile reissue campaign collecting the band's discography.
Blur 21, to be released July 30 in the U.K. in celebration of the anniversary of the group's debut album Leisure (1991), collates all of the influential Britpop band's albums, from Leisure to Think Tank (2003), pairs each with a bonus disc of non-LP B-sides and rare cuts, mixes in four discs of almost entirely unreleased demos and studio sessions from every era of the band's existence (including their early, pre-Blur days under the name Seymour), adds three DVDs of live and hard-to-find promotional content and throws in a collectible 7" single and hardbound book of liner notes. (Take note, audiophiles - Leisure, Modern Life is Rubbish (1993), Parklife (1994), The Great Escape (1995), and the band's 1997 self-titled album are all newly remastered.)
Obviously, this is one of the more heavy-duty box sets to expect at this point in 2012, but more casual fans have got some goodies to look forward to as well: EMI is releasing the studio albums and their respective bonus discs as new double-disc sets around the same time. (The demos and video content will remain box-only, though.) A box set of audiophile vinyl reissues of the seven studio albums is also forthcoming.
Hit the jump for an exhaustive look at the contents of Blur 21.
[youtube=http://www.youtube.com/watch?v=t1uUnxf_cpE]
Blur 21: The Box (EMI, 2012)
Disc 1: Leisure (originally released as Food Records FOODCD 6, 1991)
She's So High
Bang
Slow Down
Repetition
Bad Day
Sing
There's No Other Way
Fool
Come Together
High Cool
Birthday
Wear Me Down
Disc 2: Leisure bonus material
I Know (Extended Mix) (B-side to "She's So High" - Food Records CDFOOD26, 1991)
Down (B-side to "She's So High" - Food Records CDFOOD26, 1991)
There's No Other Way (Extended Version) (single A-side - Food Records 12FOOD29, 1991)
Inertia (B-side to "There's No Other Way" - Food Records 12FOOD29, 1991)
Mr Briggs (B-side to "There's No Other Way" - Food Records 12FOOD29, 1991)
I'm All Over (B-side to "There's No Other Way" - Food Records 12FOOD29, 1991)
Won't Do It  (B-side to "There's No Other Way" - Food Records 12FOODX29, 1991)
Day Upon Day (Live) (B-side to "There's No Other Way" - Food Records 12FOODX29, 1991)
There's No Other Way (Blur Remix) (single A-side - Food Records 12FOODX29, 1991)
Bang (Extended Version) (single A-side - Food Records 12FOOD31, 1991)
Explain (B-side t0 "Bang" - Food Records 12FOOD31, 1991)
Luminous (B-side t0 "Bang" - Food Records 12FOOD31, 1991)
Berserk (B-side t0 "Bang" - Food Records CDFOOD31, 1991)
Uncle Love (B-side t0 "Bang" - Food Records 12FOOD31, 1991)
I Love Her (Demo Version) (fan club single - Food Records LOVE001, 1997)
Close (fan club single - Food Records CLOSE001, 1998)
Disc 3: Modern Life is Rubbish (originally released as Food Records FOODCD 9, 1993)
For Tomorrow
Advert
Colin Zeal
Pressure on Julian
Star Shaped
Blue Jeans
Chemical World
Intermission
Sunday Sunday
Oily Water
Miss America
Villa Rosie
Coping
Turn It Up
Resigned
Commercial Break
Disc 4: Modern Life is Rubbish bonus material
Popscene (single A-side - Food Records 12FOOD37, 1992)
Mace (B-side to "Popscene" - Food Records 12FOOD37, 1992)
Badgeman Brown (B-side to "Popscene" - Food Records 12FOOD37, 1992)
I'm Fine (B-side to "Popscene" - Food Records CDFOOD37, 1992)
Garden Central (B-side to "Popscene" - Food Records 12FOOD37, 1992)
For Tomorrow (Visit to Primrose Hill Extended Version) (single A-side - Food Records 12FOOD40, 1993)
Into Another (B-side to "For Tomorrow" - Food Records 12FOOD40, 1993)
Peach (B-side to "For Tomorrow" - Food Records CDFOODS40, 1993)
Bone Bag (B-side to "For Tomorrow" - Food Records CDFOODS40, 1993)
Hanging Over (B-side to "For Tomorrow" - Food Records 12FOOD40, 1993)
When the Cows Come Home (B-side to "For Tomorrow" - Food Records CDFOOD40, 1993)
Beachcoma (B-side to "For Tomorrow" - Food Records CDFOOD40, 1993)
Chemical World (Reworked) (single A-side - Food Records CDFOODS45, 1993)
Es Schmecht (B-side to "Chemical World" - Food Records CDFOOD45, 1993)
Young and Lovely (B-side to "Chemical World" - Food Records CDFOOD45, 1993)
Maggie May (B-side to "Chemical World" - Food Records FOOD45, 1993)
My Ark (B-side to "Chemical World" - Food Records CDFOOD45, 1993)
Daisy Bell (A Bicycle Made for Two) (B-side to "Sunday Sunday" - Food Records CDFOODX46, 1993)
Let's All Go Down the Strand (B-side to "Sunday Sunday" - Food Records CDFOODX46, 1993)
Disc 5: Parklife (originally released as Food Records FOODCD10, 1994)
Girls and Boys
Tracy Jacks
End of a Century
Parklife
Bank Holiday
Bad Head
The Debt Collector
Far Out
To the End
London Loves
Trouble in the Message Centre
Clover Over Dover
Magic America
Jubilee
This is a Low
Lot 105
Disc 6: Parklife bonus material
Magpie (B-side to "Girls and Boys" - Food Records CDFOODS47, 1994)
Anniversary Waltz (B-side to "Girls and Boys" - Food Records CDFOODS47, 1994)
People in Europe (B-side to "Girls and Boys" - Food Records CDFOOD47, 1994)
Peter Panic (B-side to "Girls and Boys" - Food Records CDFOOD47, 1994)
Girls and Boys (Pet Shop Boys 12" Remix) (promo 12" A-side - Food Records 12FOODGB47, 1994)
Threadneedle Street (B-side to "To the End" - Food Records CDFOODS50, 1994)
Got Yer! (B-side to "To the End" - Food Records CDFOODS50, 1994)
Beard (B-side to "Parklife" - Food Records CDFOOD53, 1994)
To the End (French Version) (B-side to "Parklife" - Food Records CDFOOD53, 1994)
Supa Shoppa (B-side to "Parklife" - Food Records CDFOODS53, 1994)
Theme from an Imaginary Film (B-side to "Parklife" - Food Records CDFOODS53, 1994)
Red Necks (B-side to "End of a Century" - Food Records CDFOOD56, 1994)
Alex's Song (B-side to "End of a Century" - Food Records CDFOOD56, 1994)
Jubilee (BBC Radio 1 Session, 1994) *
Parklife (BBC Radio 1 Session, 1994) *
End of a Century (Cadena 40 Principales Acoustic Version) (from promo CD single - EMI Records (Spain) 12 2698 2, 1995)
Disc 7: The Great Escape (originally released as Food Records FOODCD14, 1995)
Stereotypes
Country House
Best Days
Charmless Man
Fade Away
Top Man
The Universal
Mr Robinson's Quango
He Thought of Cars
It Could Be You
Ernold Same
Globe Alone
Dan Abnormal
Entertain Me
Yuko and Hiro
Disc 8: The Great Escape bonus material
One Born Every Minute (B-side to "Country House" - Food Records CDFOOD63, 1995)
To the End (La Comedie) (feat. Francoise Hardy) (B-side to "Country House" - Food Records CDFOOD63, 1995)
Ultranol (B-side to "The Universal" - Food Records CDFOODS69, 1995)
No Monsters in Me (B-side to "The Universal" - Food Records CDFOODS69, 1995)
Entertain Me (Live It! Remix) (B-side to "The Universal" - Food Records CDFOODS69, 1995)
The Man Who Left Himself (B-side to "Stereotypes" - Food Records CDFOOD73, 1996)
Tame (B-side to "Stereotypes" - Food Records CDFOOD73, 1996)
Ludwig (B-side to "Stereotypes" - Food Records CDFOOD73, 1996)
The Horrors (B-side to "Charmless Man" Food Records CDFOOD77, 1996)
A Song (B-side to "Charmless Man" Food Records CDFOOD77, 1996)
St Louis (B-side to "Charmless Man" Food Records CDFOOD77, 1996)
Country House (Live at Mile End - 6/17/1995) (from Food Records EP CDFOODS63, 1995)
Girls and Boys (Live at Mile End - 6/17/1995) (from Food Records EP CDFOODS63, 1995)
Parklife (Live at Mile End - 6/17/1995) (from Food Records EP CDFOODS63, 1995)
For Tomorrow (Live at Mile End - 6/17/1995) (from Food Records EP CDFOODS63, 1995)
Charmless Man (Live at The Budokan) (B-side to "It Could Be You" - Toshiba-EMI (JP) TOCP-8908, 1996)
Chemical World (Live at The Budokan) (B-side to "It Could Be You" - Toshiba-EMI (JP) TOCP-8908, 1996)
Eine Kleine Lift Musik (from The Help Album - Go! Discs Records 442-828682-2, 1995)
Disc 9: Blur (originally released as Food Records FOODCD 19, 1997)
Beetlebum
Song 2
Country Sad Ballad Man
M.O.R.
On Your Own
Theme from Retro
You're So Great
Death of a Party
Chinese Bombs
I'm Just a Killer for Your Love
Look Inside America
Strange News from Another Star
Movin' On
Essex Dogs
Disc 10: Blur bonus material
All Your Life (B-side to "Beetlebum" - Food Records CDFOOD89, 1997)
A Spell (for Money) (B-side to "Beetlebum" - Food Records CDFOOD89, 1997)
Woodpigeon Song (B-side to "Beetlebum" - Food Records CDFOODS89, 1997)
Dancehall (B-side to "Beetlebum" - Food Records CDFOODS89, 1997)
Get Out of Cities (B-side to "Song 2" - Food Records CDFOOD93, 1997)
Polished Stone (B-side to "Song 2" - Food Records CDFOOD93, 1997)
Bustin' + Dronin' (B-side to "Song 2" - Food Records CDFOODS93, 1997)
M.O.R. (Road Version) (single A-side - Food Records CDFOOD107, 1997)
Swallows in the Heatwave (B-side to "M.O.R." - Food Records CDFOOD107, 1997)
Death of a Party (7" Remix) (from promo CD single - Food Records CDFOODDJ109, 1997)
Cowboy Song (from Dead Man on Campus: Music from the Motion Picture - DreamWorks DRMD 50032, 1998)
Beetlebum (Live Acoustic) (from EMI Records (DE) limited edition single (cat. # unknown), 1997)
On Your Own (Live Acoustic) (from EMI Records (DE) limited edition single (cat. # unknown), 1997)
Country Sad Ballad Man (Live Acoustic) (B-side to "Song 2" - Food Records CDFOODS93, 1997)
This is a Low (Live Acoustic) (from EMI Records (DE) limited edition single - 72438 84710 2 2, 1997)
M.O.R. (Live in Utrecht - 4/29/1997) (from EMI Records (DE) EP - 72438 21215 2 7, 1997)
Death of a Party (Live in Utrecht - 4/29/1997) (from EMI Records (DE) EP - 72438 21215 2 7, 1997)
Song 2 (Live in Utrecht - 4/29/1997) (from EMI Records (DE) EP - 72438 21215 2 7, 1997)
Disc 11: 13 (originally released as Food Records FOODCD29, 1999)
Tender
Bugman
Coffee and TV
Swamp Song
1992
B.L.U.R.E.M.I
Battle
Mellow Song
Trailerpark
Caramel
Trimm Trabb
No Distance Left to Run
Optigan I
Disc 12: 13 bonus material
French Song (B-side to "Tender" - Food Records CDFOODS117, 1999)
All We Want (B-side to "Tender" - Food Records CDFOODS117, 1999)
Mellow Jam (B-side to "Tender" - Food Records CDFOOD117, 1999)
X-Offender (Damon/Control Freak's Bugman Remix) (B-side to "Coffee & TV" - Food Records CDFOODS122, 1999)
Coyote (Dave's Bugman Remix) (B-side to "Coffee & TV" - Food Records CDFOODS122, 1999)
Trade Stylee (Alex's Bugman Remix) (B-side to "Coffee & TV" - Food Records CDFOOD122, 1999)
Metal Hip Slop (Graham's Bugman Remix) (B-side to "Coffee & TV" - Food Records CDFOOD122, 1999)
So You (B-side to "No Distance Left to Run" - Food Records CDFOODS123, 1999)
Beagle 2 (B-side to "No Distance Left to Run" - Food Records CDFOOD123, 1999)
Tender (Cornelius Remix) (B-side to "No Distance Left to Run" - Food Records CDFOODS123, 1999)
Far Out (Beagle 2 Remix) (from "No Distance Left to Run" DVD single - Food Records DVDFOOD001, 1999)
I Got Law (Demo) (from Japanese pressings of 13 - Toshiba-EMI TOCP-65091, 1999)
Music is My Radar (from The Best Of - Food Records FOODCD33, 2000)
Black Book (B-side to "Music is My Radar" - Food Records CDFOODS135, 2000)
Disc 13: Think Tank (originally released as Parlophone 582 9972, 2003)
Ambulance
Out of Time
Crazy Beat
Good Song
On the Way to the Club
Brothers and Sisters
Caravan
We've Got a File on You
Moroccan Peoples Revolutionary Bowls Club
Sweet Song
Jets
Gene by Gene
Battery in Your Leg
Me, White Noise
Disc 14: Think Tank bonus material
Money Makes Me Crazy (Marrakech Mix) (B-side to "Out of Time" - Parlophone CDR 6606, 2003)
Tune 2 (B-side to "Out of Time" DVD single - Parlophone DVDR 6606, 2003)
The Outsider (B-side to "Crazy Beat" - Parlophone CDRS 6610, 2003)
Don't Be (B-side to "Crazy Beat" DVD single - Parlophone DVDR 6610, 2003)
Morricone (B-side to "Good Song" - Parlophone CDR 6619, 2003)
Me, White Noise (Alternate Version) (B-side to "Good Song" DVD single - Parlophone DVDR 6619, 2003)
Some Glad Morning (fan club single - Parlophone SGLAD01, 2005)
Don't Be (Acoustic Mix) (from giveaway single with copies of The Observer - Parlophone BLURCOVER1, 2003)
Sweet Song (Demo) (from giveaway single with copies of The Observer - Parlophone BLURCOVER1, 2003)
Caravan (XFM Session, October 2003) *
End of a Century (XFM Session, October 2003) *
Good Song (XFM Session, October 2003) *
Out of Time (XFM Session, October 2003) *
Tender (XFM Session, October 2003) *
Disc 15: Rarities 1 (Seymour & Leisure Era)
Dizzy (Seymour Rehearsal & Demo) (B-side to "Sunday Sunday" - Food Records CDFOOD46, 1993)
Mixed Up (Seymour Rehearsal & Demo) (B-side to "Sunday Sunday" - Food Records 12FOODS46, 1993)
Birthday (Seymour Demo) *
Sing (to Me) (Demo) (fan club single - Food Records SING001, 2000)
Fool (Seymour 4-Track Demo) *
She's So High (Seymour Rehearsal) *
Won't Do It (Demo) (fan club single - Parlophone WONT001, 2002)
I Know (Falconer Studio Demo) *
Repetition (Falconer Studio Demo) *
High Cool (7" Master) *
Always (Early Version of "I'm Fine") *
Come Together (Demo) (fan club single - Parlophone WONT001, 2002)
I'm All Over (Demo) *
Wear Me Down (Demo) *
Disc 16: Rarities 2 (Modern Life is Rubbish Era)
I Love Her (Alternate Version) *
Popscene (1991 Demo) *
Beached Whale (4-Track Demo) *
Death of a Party (Demo) (fan club single - Food Records DEATH 1, 1996)
Pap Pop (4-Track Demo) *
Pressure on Julian (Demo) *
Colin Zeal (Demo) *
Sunday Sunday (Demo) *
Never Clever (from Food 100 compilation - Food Records CDFOOD100, 1997)
Advert (Demo) *
Star Shaped (Demo) *
She Don't Mind (Demo) *
Coping (Andy Partridge Version) *
Sunday Sleep (Andy Partridge Version) *
7 Days (Andy Partridge Version) *
Kazoo (Early Version of "Turn It Up") *
The Wassailing Song (giveaway single - Food Records BLUR 6, 1992)
When the Cows Come Home (demo) *
For Tomorrow (Mix 1 – Early Demo) *
Magpie (Early Demo) *
Disc 17: Rarities 3 (Parklife & The Great Escape Era) *
Parklife (Demo)
Clover Over Dover (Demo)
Jubilee (Demo)
One a Minute (Demo)
Badhead (Demo)
Far Out (Electric Version)
The Debt Collector (Demo)
Trouble in the Message Centre (Demo)
Rednecks (Take 1)
Rednecks (Take 2)
Alex's Song (Demo)
Cross Channel Love (Home Demo)
Ernold Same (Demo)
Saturday Morning (Demo)
Hope You Find Your Suburb (Eine Kleine Lift Musik Vocal Demo)
Rico (Demo)
Bored House Wives ("Entertain Me" Early Version)
Disc 18: Rarities 4 (Blur, 13, The Best Of & Think Tank Era)
Beetlebum (Demo) *
On Your Own (Mario Caldato Jr Mix) *
Woodpigeon Song (Original Full Length Version) *
Battle (Jam, Mayfair Studios 11 August 1999) *
Caramel (Ambient Version) *
So You (Alternative Version) *
Squeezebox ("Music is My Radar" Alternative Version) *
Jawbone ("Black Book" Alternative Version) *
"1" (Bill Laswell Session, 2000) *
"3" (Bill Laswell Session, 2000) *
Sir Elton John's Cock *
Avoid the Traffic *
Money Makes Me Crazy (Deepest Darkest Devon Mix)
Don't Bomb When You're the Bomb *
Nutter *
Piano *
Kissin' Time - Marianne Faithfull featuring Blur (from Kissin' Time - Hut Recordings CDHUTF71, 2002)
Fool's Day (non-LP single - Parlophone R 6811, 2010)
Track TBC
DVD 1: Showtime: Live at Alexandra Palace, 10/7/1994 (originally released as EMI Records VHS MVN-4914023, 1995)
Lot 105
Sunday Sunday
Jubilee
Tracy Jacks
Magic America
End of a Century
Popscene
Trouble in the Message Centre
She's So High
Chemical World
Bad Head
There's No Other Way
To the End
Advert
Supa Shoppa
Mr Robinson's Quango
Parklife
Girls and Boys
Bank Holiday
This is a Low
DVD 2: The Singles Night – Live at Wembley, 12/11/1999 *
I Know
She's So High
There's No Other Way
Popscene
For Tomorrow
Chemical World
Girls and Boys
To the End
Parklife (with Phil Daniels)
End of a Century
Country House
The Universal
Charmless Man
Beetlebum
Song 2
On Your Own
M.O.R.
Tender
Coffee & TV
No Distance Left to Run
DVD 3: Rarities
B.L.U.R.E.M.I (Live 13 at London Depot, 10 March 1999) *
No Distance Left to Run (Live 13 at London Depot, 10 March 1999)
Tender (Live 13 at London Depot, 10 March 1999)
Battle (Live 13 at London Depot, 10 March 1999)
Beetlebum (Live 13 at London Depot, 10 March 1999) *
Bugman (Live 13 at London Depot, 10 March 1999) *
Trimm Trabb (Live 13 at London Depot, 10 March 1999) *
Mellow Song (Live 13 at London Depot, 10 March 1999) *
Song 2 (Live 13 at London Depot, 10 March 1999) *
Dizzy - Seymour *
There's No Other Way (Live on Eggs 'n' Baker - Children's BBC) *
To the End (La Comedie) Feat. Francoise Hardy (French promo video)
It Could Be You (Japanese promo video) *
Music is My Radar (promo video)
Out of Time (promo video)
Crazy Beat (promo video)
Good Song (promo video)
7" Single: Superman (Live at The Square, Harlow, Essex - 12/18/1989)