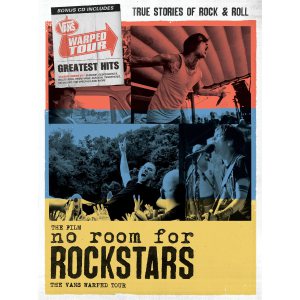 During the last boom era for the music industry, everything was big. Bigger than big, even. Whole festivals were taken on the road, rather than just anchored to one place. Lollapalooza popularized this idea in the early '90s, and the rolling festival concept hit its zenith in 1995, with the birth of the Vans Warped Tour. The tour, sponsored by the long-running skate shoe company, has catered to the ever-burgeoning scene of alternative and punk subcultures, welcoming both living legends of punk and ska and modern hitmakers, including The Specials, Bad Religion, NOFX, Blink-182, Weezer and more.
The tour kicks off its arguably largest leg this year, with a date scheduled for the U.K. in November, the first time the Warped Tour has played outside North America. Shout! Factory is also releasing a new documentary, No Room for Rockstars, explaining the history and culture of the tour based on footage from the 2010 leg.
The DVD, which includes another 90 minutes of bonus footage, will also feature a special extra for catalogue enthusiasts: a 10-track bonus disc of notable tracks by favorite past acts. While they don't look to be live recordings from years of tours (which would have been a real coup), the set, which includes tunes by No Doubt, The Buzzcocks, Sublime and The Damned, would make the perfect road mix, should you decide to take a trek to the next Warped date near you.
The DVD/CD set is out May 15. Hit the jump for a look at the track list.
Various Artists, The Vans Warped Tour Greatest Hits (Shout! Factory, 2012)
Possessed to Skate - Suicidal Tendencies
Spiderwebs - No Doubt
Same in the End - Sublime
Concrete Jungle - The Specials
What Do I Get - The Buzzcocks
Can't Wait One More Minute - CIV
I'm the One - The Descendents
Us Vs. Them - Sick of It All
Love Song - The Damned
Every Single Day - Pennywise
Track 1 from Join the Army (Caroline, 1987)
Track 2 from Tragic Kingdom (Interscope, 1995)
Track 3 from Sublime (MCA, 1996)
Track 4 from Specials (2 Tone, 1979)
Track 5 from United Artists single, 1978
Track 6 from Set Your Goals (Revelation, 1995)
Track 7 from Everything Sucks (Epitaph, 1996)
Track 8 from Built to Last (East West, 1997)
Track 9 from Machine Gun Etiquette (Chiswick, 1979)
Track 10 from About Time (Epitaph, 1995)