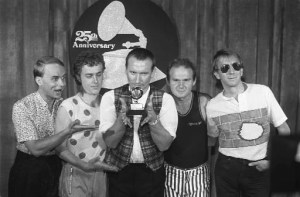 The sudden, recent news of the passing of Greg Ham, saxophonist/flautist and founding member of Australian rock band Men at Work, comes at a strange and sad time. Yesterday in fact marked the 30th anniversary of the release of the band's breakthrough debut, Business As Usual, in America. More importantly, though, it's the sad loss of a figure who contributed a lot to early '80s rock music.
Ham, who was 58, was the spice that set Men at Work's hard driving, New Wave-inspired sounds apart from their international contemporaries. Scottish-born, Australian-raised vocalist Colin Hay had a keening tenor that recalled Sting in places, and guitarist Ron Strykert's textures could really turn heads on some songs. But that extra magic on the band's first two chart-topping singles, "Who Can It Be Now?" and "Down Under," was all Ham's, who lent his talents to the saxophone riff of the former and the flute figure of the latter. In a statement, Hay praised the work of his bandmate and friend for 40 years. "The saxophone solo on "Who Can It Be Now" was the rehearsal take. We kept it, that was the one. He's here forever."
It's interesting, then, that the band only had three studio albums to their credit, making for a pretty swift overview by way of reissues and compilations. Join us in paying tribute to Hay, Ham and the rest of Men at Work with this special Back Tracks trip down memory lane.
Business As Usual (CBS, 1981 - reissued Columbia/Legacy, 2003)
It's less common now, but there was a time when overnight success was harder to grasp. Business As Usual was that kind of an album in America: it wasn't released on our shores until the spring of 1982, about six months after its Australian release - and it didn't start having any effect on the charts until the end of the year. But when it did, everyone knew about it. Business As Usual topped the Billboard charts for 15 weeks in 1982 and 1983 - more than the album's stay at No. 1 on the U.K. and Australian charts combined.
While you could certainly argue that the success of Men At Work was exacerbated by the current pop/rock landscape (the biggest international rock band at the time was arguably The Police - to which Men at Work ostensibly owed their semi-reggae sound - and they hadn't recorded an album since 1981, a lengthy break in pop terms), there's no getting around the fact that Business As Usual bears some great tunes. In addition to the still-played No. 1 singles "Who Can It Be Now?" and "Down Under," you've got some catchy tracks in "Underground," "Be Good Johnny" and "I Can See It in Your Eyes." It's a considerably fat-free New Wave album, which lends to its appeal to this day.
In 2003, Legacy Recordings reissued Men at Work's first two albums with bonus tracks. For Business As Usual, two non-LP B-sides were appended as bonus tracks ("Crazy," from the "Down Under" single, and "F-19" from the flip side of "Be Good Johnny"), along with live renditions of "Underground" and "Who Can It Be Now" from a concert in 1996. (More on that show in a bit.) Omitted was the B-side to "Who Can It Be Now" ("Anyone for Tennis"), or the 1980 independently-released debut single from the band, featuring a track called "Keypunch Operator" and an early recording of "Down Under."
Cargo (CBS, 1983 - reissued Columbia/Legacy, 2003)
With a Grammy for Best New Artist, six million copies of Business As Usual sold in the U.S. and competition running high (Business As Usual was succeeded in the charts by Michael Jackson's Thriller, and The Police had ended their period of silence with their last and most successful LP, Synchronicity), there was likely a lot of pressure for Men at Work to succeed a second time. Happily, they did - Cargo, which sold about half of Business' intake, was bolstered by a handful of hits, including two of their most underrated singles ("Overkill" and "It's a Mistake"). "Dr. Heckyll and Mr. Jive was another Top 10 hit for the band, while songs like "High Wire" were also strong if somewhat formulaic.
Cargo was reissued alongside Business As Usual in 2003, this time including every relevant studio B-side on the disc and adding three vintage live performances, two of which were from singles, and one of which ("The Longest Night") would appear on a foreign compilation and provide a crucial signpost for fans of the band in years to come.
Two Hearts (CBS, 1985)
Were the wheels starting to fall off for Men at Work by the middle of the decade? Arguably so: before convening to record the album, bassist John Rees and drummer Jerry Speiser were unceremoniously fired from the band. Strykert quit partway through recording what would become the group's final studio album, and Ham would depart by the end of the tour.
And to make matters worse, Two Hearts isn't even a beautiful disaster. It's just not that good. So not that good that it only went gold in America, and it's never been reissued past its original pressings on CD. (Any theoretical bonus material would be consigned to extended remixes of singles "Hard Luck Story," "Maria" and "Everything I Need" - the only such mixes commissioned during the band's lifespan.) All in all, an ignoble end to a promising band.
[youtube=http://www.youtube.com/watch?v=qDGYqW-btp8]
'81-'85 / The Works (CBS, 1986 - reissued 1992)
This Australia-only compilation, released on CD in 1992 as The Works, is notable for being one of the only compilations with any sort of unreleased material: the live version of "The Longest Night" later released on the expanded Cargo, and new extended remixes of Two Hearts' "Sail to You" and the megahit "Down Under."
Contraband: The Best of Men at Work (Columbia/Legacy, 1996)
Amid a number of substandard budget compilations (1995's Puttin' In Overtime) and generic ones under Legacy's various hits series, Contraband may not be the best for a new fan - five tracks from Two Hearts is pushing it - but it's got a decent non-chronological flow to it. And it has one bonus track, a live version of "I Like To" from Cargo that was previously released on the B-side to the "High Wire" single.
Brazil '96 (BMG, 1997) / Brazil (Columbia/Legacy, 1998)
Men at Work had done pretty much everything anyone expected of them by the time they closed up shop - except for one thing. South American fans clamored for many years for a tour. So, against all odds, Hay and Ham did just that, setting out to tour the continent with an assortment of backing musicians under the Men at Work moniker. The resultant sets - featuring a small bit of Colin Hay's solo material sprinkled into the hits and deep cuts of the band itself - was released as Brazil '96 in that country, and was released in America a year later with a slightly simpler title and a great bonus: the last new track credited to Men at Work, a studio version of "The Longest Night."
The Essential Men at Work (Columbia/Legacy, 2003) / Playlist: The Very Best of Men at Work (Columbia/Legacy, 2009)
Among the aforementioned "generic compilations," these might be the best for a new fan to start. Essential is the closest to chronological (even then, it's really not - it sort of weaves Cargo and Two Hearts together), and an Australian edition includes a few bonus tracks (including that aforementioned extended "Down Under" and a lot more album cuts) and a DVD of music videos (the only one of its kind). Playlist, meanwhile, includes something from every one of the band's four main releases, including "The Longest Night" and a live track from Brazil.