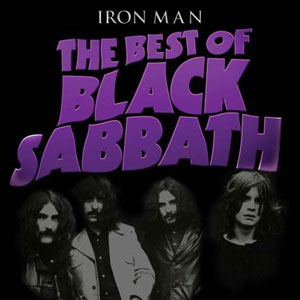 It's been a winding road for Black Sabbath fans, likely anxious over the band's somewhat perilous reunion late last year. Original members Ozzy Osbourne, Tony Iommi, Geezer Butler and Bill Ward announced their plans late last year to tour and release a new album in 2012 - a plan that's been semi-sidelined by Iommi undergoing treatment for lymphoma and contractual disagreements with Ward. Only three dates have been announced for the band this year, including a pair of overseas gigs and a stint at Lollapalooza in August.
That said, Sanctuary, the controller of the band's catalogue in Europe, is planning a modest push for new fans with the release of a new compilation this summer. Iron Man: The Best of Black Sabbath is a 14-track disc featuring material from six of the band's first eight albums, all of which featured Osbourne as lead vocalist.
If you've purchased the many, many releases of the band's back catalogue, there's certainly nothing here you don't already own. But new fans might want to spin "Paranoid," "Iron Man," "Snowblind" and other killer cuts, and they'll have a shiny new disc with which to do so when this appears in shops on June 4.
Check out the track list after the jump.
Black Sabbath, Iron Man: The Best of Black Sabbath (Sanctuary (U.K.), 2012)
Paranoid
Iron Man
Changes
Fairies Wear Boots
War Pigs
Never Say Die
Children of the Grave
The Wizard
Snowblind
Sweet Leaf
Evil Woman (Don't Play Your Games)
Sabbath Bloody Sabbath
Black Sabbath
N.I.B.
Tracks 1-2 and 4-5 from Paranoid (Vertigo, 1970)
Tracks 3 and 9 from Volume 4 (Vertigo, 1972)
Track 6 from Never Say Die! (Vertigo, 1978)
Tracks 7 and 10 from Master of Reality (Vertigo, 1971)
Tracks 8, 11 and 13-14 from Black Sabbath (Vertigo, 1970)
Track 12 from Sabbath Bloody Sabbath (WWA Records, 1973)