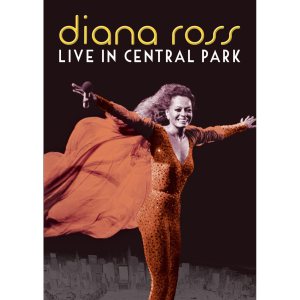 The hair is the first thing you notice when Diana Ross emerges from a troupe of grass skirt-clad dancers on stage at Central Park in New York City on July 21, 1983. Miss Ross, as she's gotten older, is easily distinguished for that dark, curly mane, like a proud lioness. But while her hair was as resplendent as usual on this night, it was...askew.
Musicologists and hardcore Diana fans know why without any explanation: Ross' Central Park concert had the unfortunate circumstance of being schedule the same night a torrent of wind and rain blanketed the city. The ensuing concert special, airing on Showtime, captured a beautiful, almost surreal night, with Ross' unique powerhouse persona - slender limbs outstretched to the sky, gleaming grin winding up a near-hysterical audience - as New York's first line of defense against Mother Nature.
The incredible battle of wills, which crescendoed into an early end to the first concert and a quickly scheduled follow-up show on the following, drier night, has finally been captured on DVD. Diana Ross: Live in Central Park (Shout! Factory 826663-13128) is a heck of a collectible for her fan base, but does a pretty astounding job of crossing over into essential viewing for soul and R&B enthusiasts in general.
[youtube=http://www.youtube.com/watch?v=On9ZQWrzArM]
Diana Ross' post-Supremes packaging may not be for everyone. Sometimes, it felt she vacillated too easily between soothing soul goddess and Norma Desmond-ish diva. (For younger readers, this is, not surprisingly, sort of how Michael Jackson carried himself, too.) But that almost obstinate resistance came in handy as the '80s dawned, first with the release of the excellent, CHIC-produced diana in 1980 (on which Ross sounded as spirited as she had in the '60s, with a decidedly modern twist), and then with the Central Park special Diana: For One and For All.
The 47-minute program, broadcast live to satellite on Showtime in the U.S., has the then-39-year-old star all but laughing in the face of the elements. She urges calm among her audience, and doesn't shy away from anything. She insists on extending an onstage ramp to get closer to the crowd, and refuses to retreat from the increasing downpour. (The affable commentary on the special by Cable ACE-winning director Steve Binder only serves to perpetuate the idea that Diana's attitude came less from a "come see about me" mindset and more from a need to entertain her fans.)
[youtube=http://www.youtube.com/watch?v=QoRBFNOgeHw]
Funnily enough, the power of the rain-shortened concert almost makes the next night's sunny full show an afterthought. But Diana's energy hasn't let up in the 24-hour gap between shows. (Another small treat for nostalgists: the recap of the previous show that starts the full feature, complete with clips of vintage New York newscasts.) Though the first third is ripe with the same emotional beats as the night before, the full show also gives us stellar performances of "I'm Coming Out" and "Upside Down," as well as some choice covers (Michael Sembello's "Maniac," Stevie Wonder's "Ribbon in the Sky," a slight but spirited run-through on Michael Jackson's "Beat It").
It's hard to complain about having Diana Ross: Live in Central Park to add to our collections. (The transfer, it should be noted, is pretty great, with only a few artifacts toward the end of the original special and a clear transfer on the full concert.) If a little "love shower" couldn't stop Miss Ross from putting on a hell of a show...well, who are we to argue?