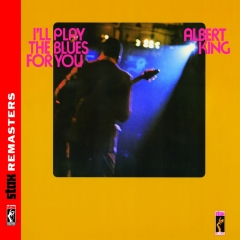 It wasn't that Albert King couldn't play music other than the blues…but even when crooning in his most velvety-rich style, there was just something inherently lived-in, worldly, and commanding about that voice…in other words, something bluesy.  And though that underrated voice would be enough for a lesser artist, King's greatest gift was as a guitarist.  Perhaps the best display of both of those titanic talents was the 1972 Stax album with the apt title of I'll Play the Blues for You, just reissued and expanded by Concord Music Group (STX-33716, 2012).
A towering six-foot-four, King hailed from Mississippi but spent his youth in various spots before settling in Memphis in 1966 where he was signed by Stax.  A transitional period for Stax was just around the corner.  Otis Redding and members of Stax mainstays The Bar-Kays tragically perished in a plane crash in December 1967, and then the company's distribution deal with Atlantic Records ended a year later.  Both events contributed to the formation of a new Stax with a leaner, meaner, even funkier sound.  King's 1967 Born Under a Bad Sign, recorded for Stax with "house band" Booker T. and the MGs as well as the Memphis Horns, became one of the most influential blues albums of all time.  Further releases followed, including 1968's Live Wire/Blues Power, recorded far from Memphis at San Francisco's Fillmore, and a 1970 tribute to another King, Elvis Presley.  But I'll Play the Blues for You, produced and arranged for King by Allen Jones and Henry Bush, was a landmark.  It provided King with a new signature song via the title track, as well as showcasing all sides of his musical prowess.
Hit the jump to delve into Concord's remastered edition of this seminal album!
That lengthy title song is virtually King's manifesto.   With its spoken-word rap section and a creamy vocal, it's just one of many highlights here.  King had sung standards earlier in his career, and his voice wasn't always that of a blues shouter, but a richly textured instrument. Naturally, King's famous electric blues guitar – the guitar which has influenced legends like Jimi Hendrix and Eric Clapton - is out front all over this record, as it should be.  The songwriting (from a variety of contributors) is taut, though, and King's solos never feel self-indulgent.
"Breaking Up Somebody's Home" is another greasy magnum opus from King.  Although it was released as a single, it's best enjoyed in the 7+ minute LP version here.  The song had already been recorded by Ann Peebles of the competing Hi label, and Peeebles' rendition scored a No. 13 R&B hit.  But King gives her recording a run for its money.  The groove laid down by the reformed Bar-Kays and the Memphis Horns is smoking, with just the right amount of danger as King emphatically declares: "I know it's useless hangin' on when you belong to someone else…got no one to turn to, tired of being alone, feel like breaking up somebody's home!"  King is no less direct on "Don't Burn Down the Bridge ('Cause You Might Wanna Come Back Across)," promising the song's intended target that "the grass ain't no greener on the other side of the tracks!"  I wouldn't doubt him, personally.
The oddest track is a cover of Smokey Robinson's "I'll Be Doggone," popularized over at Motown by Marvin Gaye.  Despite the major differences in the labels' sounds, many Stax artists actually recorded songs from The Sound of Young America, and some of those covers have even been anthologized on CD! King's "Doggone" was likely overdubbed with applause; there was no need, really, as the performance alone is forceful on its own.  The original Detroit dancefloor rhythm is, naturally, superseded by a smoldering southern soul treatment, and Smokey's melody also takes a backseat as Albert intones the lyrics.  The track also allows King to indulge in some friendly competition with The Hardest Working Man in Show Business, at one point shouting, "James Brown ain't the only man who can get funky!"
The aggressive fellow of "Breaking Up Somebody's Home," who wouldn't mind giving another man some pain to get his woman, returns in "Answer to the Laundromat Blues."  It's literally an answer song to Albert's 1966 hit "Laundromat Blues," and the album's lone attempt at humor.  But here's one track that might fall into the "less said, the better" category: Again, King talks more than sings, which is disappointing considering how potent and even silky his vocals could be.  But it's the lyrics that are a bit cringe-inducing.  That said, if you can ignore the threats of a "whooping" to his lady if she leaves her washing machine (!), there's some mean guitar work here!  Indeed, the musicianship throughout the entire album is impeccable, with King enjoying some great interplay with bassist James Alexander.  The Isaac Hayes Movement even lends support.
Four bonus tracks, all of which are previously unreleased, have been added to this fine new release in the Stax Remasters series.  Two are alternate takes, while "I Need a Love" and "Albert's Stomp" are both heard for the first time anywhere.   Of the alternates, "I'll Play the Blues For You" is around a minute-and-a-half longer than the issued take, yet lacks its spoken rap.  The horn arrangement is also different, its sinuous saxophone creating a strong contrast to King's searing guitar.  In either version, though, this is a song in which not only the melody but the arrangement lingers in the mind.  The alternate take of "Don't Burn the Bridge" is minus the finished horn arrangement.  As a result, King's vocal sounds even more imploringly menacing!  "I Need a Love" is an enjoyable up-tempo cut, and "Albert's Stomp" is ready-made for dancing, with an organ providing the musical counterpoint to King's guitar.
Bill Dahl provides a new essay, and Joe Tarantino has remastered for crisp sound.  Albert King remained with Stax right up until the label's bankruptcy, and continued to record for a variety of other labels until his death in 1992.  Right up to the end, King stayed true to his style and continued to influence rising young guitarists. But there was only one Albert King, the man who could play a right-handed guitar, left-handed…and upside down!  Call it "soul blues," "electric blues" or something else altogether, but Albert King's I'll Play the Blues for You remains a vibrant R&B milestone.
You can order I'll Play the Blues for You here!