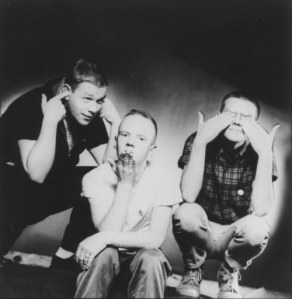 Edsel continues populating a busy release schedule with recently-announced expansions of three albums from two bands featuring Scottish pop singer Jimmy Somerville.
British pop fans might know Somerville today as the falsetto-voiced singer who crooned several hits in the '80s and '90s (including a chart-topping dance track in the U.S., "Heartbeat," in 1995). But his first brushes with stardom happened with a pair of synthpop bands in the middle of the 1980s. First, there was his brief but notable tenure as lead singer of Bronski Beat from 1983 to 1985; Somerville and bandmates Steve Bronski and Larry Steinbachek all addressed the still-taboo topic of homosexuality in their music (all three were publicly out) but never sacrificed the music for the message. The catchy singles "Smalltown Boy" and "Why?" were Top 10 hits in 1984 and remain notable gay anthems to this day.
[youtube=http://www.youtube.com/watch?v=Xuz94ZIPfJk]
Somerville departed Bronski Beat amid personal and professional tensions, forming The Communards with classically-trained musician Richard Coles. Though Somerville remained a prominent gay icon, The Communards' biggest hits were high-energy covers of soul classics. Their take on "Don't Leave Me This Way," performed by Harold Melvin & The Blue Notes and Thelma Houston, was England's top-selling single of 1986, and a cover of The Jackson 5's "Never Can Say Goodbye" was a Top 5 hit, too.
Edsel's two-disc editions of Bronski Beat's The Age of Consent and The Communards' Communards and Red all come brimming with extras, including non-LP B-sides and single remixes, many of which are making their debuts on CD. The Age of Consent includes the remix album Hundreds & Thousands in its entirety, while Red features all of the live tracks from Storm Paris, a triple-12" set released in 1988. Somerville contributed new notes to all three sets (Coles contributed to the Communards packages).
Look for these in U.K. shops on July 2 and hit the jump for the full breakdowns!
Bronski Beat, The Age of Consent: Deluxe Edition (Edsel EDSK-7008, 2012)
Disc 1: The Age of Consent and bonus material
Why?
It Ain't Necessarily So
Screaming
No More War
Love and Money
Smalltown Boy
Heatwave
Junk
Need-a-Man Blues
I Feel Love/Johnny Remember Me
Smalltown Boy (7" Edit)
Why (Remix)
I Feel Love Medley (Source Mix)
It Ain't Necessarily So (12" Version)
Red Dance
Disc 2: Hundreds & Thousands and bonus material
Heatwave (Goldberg Remix)
Why? (Goldberg Remix)
Run from Love (Meita Remix)
Hard Rain (Goldberg Remix)
Smalltown Boy (Goldberg Remix)
Junk (Goldberg Remix)
I Feel Love (Fruit Mix)
Hard Rain (Demo)
Screaming (Demo)
Signs (and Wonders)
The Potatoe Fields
Run from Love (Radio Version)
Puit D'Amour
Close to the Edge
Cadillac Car
Disc 1, Tracks 1-10 released as Forbidden Fruit/London LP BITLP 1, 1984
Disc 1, Track 11 was Forbidden Fruit/London single A-side BITE1, 1984
Disc 1, Track 12 was Forbidden Fruit/London 12" A-side BITEX2, 1984
Disc 1, Track 13 was MCA 12" A-side 23550 (U.S.), 1984
Disc 1, Tracks 14-15 and Disc 2, Track 14 from Forbidden Fruit/London 12" BITEX3, 1984
Disc 2, Tracks 1-6 released as Forbidden Fruit/London LP BITLP 2, 1985
Disc 2, Track 7 from Forbidden Fruit/London 12" BITER4, 1985
Disc 2, Track 8 was the B-side to Forbidden Fruit/London single BITDJ5, 1985
Disc 2, Track 9 from Raging Spool cassette compilation - New Musical Express NME-014, 1984
Disc 2, Tracks 10-11 and 13 from Forbidden Fruit/London 12" BITEX4, 1985
Disc 2, Track 12 from Metronome 12" 886 009-1 (DE), 1985
Disc 2, Track 15 was the B-side to "Why?" - Forbidden Fruit/London single BITE2, 1984
The Communards, Communards: Deluxe Edition (Edsel ESDK-7009, 2012)
Disc 1: Original LP and bonus tracks
Don't Leave Me This Way
La Dolarosa
Disenchanted
Reprise
So Cold the Night
You Are My World
Lover Man
Don't Slip Away
Heavens Above
Forbidden Love
Breadline Britain
Disenchanted (Total Dance Remix)
Judgement Day
Don't Leave Me This Way (Son of Gotham City Mix Part 1)/Sanctified
When the Walls Come Tumbling Down (Live in Oxford)
Disc 2: Bonus material
You Are My World ('87 Single Version)
Don't Leave Me This Way (Son of Gotham City Mix Part 2)
So Cold the Night (Remixed Club Version)
Heavens Above (10" Version)
Johnny Verso
Sentimental Journey
The Message
Disenchanted (Instrumental)
So Cold the Night (Instrumental)
Never No More
Sanctified
When the Walls Come Tumbling Down
The Multimix (Don't Leave Me This Way, So Cold the Night, Disenchanted)
Annie
Disc 1, Tracks 1-10 released as London Records LONLP 18, 1986
Disc 1, Track 11 and Disc 2, Tracks 4 and 6 from London Records 12" LONX77, 1985
Disc 1, Track 12 and Disc 2, Track 8 from London Records 12" LONXR89, 1986
Disc 1, Track 13 and Disc 2, Track 1 were London Records single LON123, 1987
Disc 1, Track 14 from London Records 12" LONRR103, 1986
Disc 1, Track 15 from London Records cassette LONFC110, 1987
Disc 2, Track 2 from London Records 12" LONX103, 1986
Disc 2, Tracks 3 and 13 were London Records 12" LONXP110, 1986
Disc 2, Tracks 5 and 14 from London Records 12" LONX89, 1986
Disc 2, Track 7 from London Records 12" LONXR123, 1987
Disc 2, Track 9 from London Records 12" promo LONXDJ110, 1986
Disc 2, Tracks 10 and 12 from London Records 12" LONX110, 1986
Disc 2, Track 11 from London Records single LON103, 1986
The Communards, Red: Deluxe Edition (Edsel EDSK-7010, 2012)
Disc 1: Red and bonus tracks
Tomorrow
T.M.T. ♥ T.B.M.G.
Matter of Opinion
Victims
For a Friend
Never Can Say Goodbye
Lovers and Friends
Hold On Tight
If I Could Tell You
C Minor
For a Friend (Unplugged)
Never Can Say Goodbye (San Paulo Mix)
Romanze for Violin, Piano & Hedgehog
There's More to Love (Jalapeño Mix)
Tomorrow (Extended 12" Version)
Zing Went the Strings of My Heart
Disc 2: Bonus material
Never Can Say Goodbye (Shep Pettibone Extended Mix)
When the Boy in Your Heart is the Boy in Your Arms
I Just Want to Let You Know
Scat
Piece of Saxophone
Never Can Say Goodbye (San Paulo Dub Mix)
For a Friend (Remix)
Victims (Live)
Don't Leave Me This Way (Live)
Heavens Above (Live)
You Are My World (Live)
So Cold the Night (Live)
For a Friend (Live)
Never Can Say Goodbye (Live)
Hold On Tight (Live)
Spanish Rap (El Amor No Es Solo Un Hombre Y Una Mujer)
Never Can Say Goodbye (Instrumental Mix)
Disc 1, Tracks 1-10 released as London Records LONLP39, 1987
Disc 1, Track 11 exact origin undetermined
Disc 1, Track 12 and Disc 2, Track 6 from London Records 12" LONXR158, 1987
Disc 1, Tracks 13 and 15 and Disc 2, Tracks 3-4 were London Records 12" LONX143, 1987
Disc 1, Tracks 14 and 16 and Disc 2, Tracks 2 and 16 were London Records 12" LONX173, 1988
Disc 2, Tracks 1 and 5 from London Records 12" LONX158, 1987
Disc 2, Tracks 7-15 from Storm Paris - London Records LONZ166, 1988
Disc 2, Track 17 from MCA 12" promo L33-17469 (U.S.), 1987