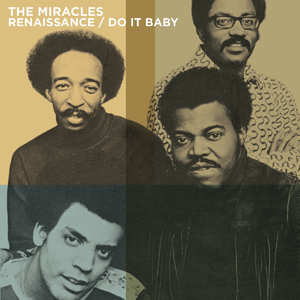 What does it sound like when one of Motown's most famous lead singers of the '60s does the unthinkable and amicably parts from his group? For the first time on CD, fans are about to find out, with the release of The Miracles' Renaissance and Do It Baby albums on the Hip-O Select label this month.
Longtime Miracles frontman and legendary singer Smokey Robinson had a hankering to walk away from his group for awhile, not due to infighting but his own multitude of commitments. His wife and bandmate, Claudette Rogers, had been off the road since 1964 (but continued to sing with the group) and the pair had been trying to start a family. Robinson also earned a second job as vice-president for his beloved label, and wanted to take a more behind-the-scenes role in the industry. Plans to retire from the group in the late '60s were briefly jettisoned with the surprise success of "The Tears of a Clown," but in 1972, after a lengthy farewell tour and a public transition to his successor, Billy Griffin, Robinson was out of the spotlight. (Robinson would, of course, begin recording solo within a few years; those works have been steadily compiled by Hip-O Select over the past year.)
The Miracles, now consisting of Griffin, Ronnie White, Warren "Pete" Moore, Bobby Rogers and Marv Tarplin (who would later depart to work with Smokey, and would be replaced by Griffin's brother Donald), were guided by the executive producer credit of their former frontman, not to mention an embarrassment of hidden treasures from some of Motown's best songwriters. Diana's brother Arthur Ross and Leon Ware contribute "What Good is a Heart For," Willie Hutch lends his pen to "I Wanna Be with You" and album closer "I Didn't Know the Show Was Over" and the smoldering "I Love You Secretly" was written by Marvin Gaye, then-wife Anna Gordy-Gaye and Elgie Stover in the middle of the Let's Get It On. (The Miracles' recording was one of a few tracks from this LP available on CD, thanks to Let's Get It On's deluxe edition.)
But without a heavily promoted lead single, Renaissance was a commercial failure despite high critical marks. Follow-up Do It Baby, with its sexual come-on of a lead single, fared far better. The title track peaked at No. 13 (the band's most successful post-Smokey single until the No. 1 smash "Love Machine," from 1976's City of Angels), and the LP featured several songs previously recorded by The Jackson 5 ("Up Again," "Can't Get Ready for Losing You"). The Do It Baby album also lends itself to the sole bonus track on this two-fer reissue: a new, throwback remix of that title track by legendary disco mixer Tom Moulton.
This disc is now shipping online, with an in-store date of June 26, and it's yours to order after the jump.
The Miracles, Renaissance / Do It Baby (Hip-O Select/Motown B0016862-02, 2012)
What is a Heart Good For
If You're Ever in the Neighborhood
I Wanna Be with You
Wigs and Lashes
Don't Let It End (Til You Let It Begin)
I Love You Secretly
I Don't Need No Reason
Nowhere to Go
I Didn't Realize the Show Was Over
Do It Baby
Up Again
Where Are You Going To My Love
What is a Heart Good For
You Are Love
Give Me Just Another Day
We Feel the Same
Calling Out Your Name
A Foolish Thing to Say
Can't Get Ready for Losing You
Do It Baby (A Tom Moulton Mix)
Tracks 1-9 released as Tamla LP T-325L, 1972
Tracks 10-19 released as Tamla LP T6-334 S1, 1974
Track 20 is a previously unreleased bonus track