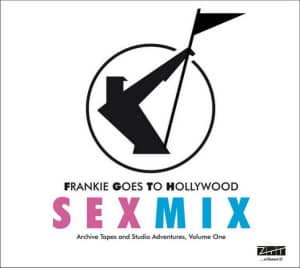 The past few years has seen a flurry of catalogue activity from iconic U.K. label Zang Tuum Tumb. The ongoing Element Series, distributed by England's Salvo Music imprint, has seen artists from 808 State and Propaganda to Frankie Goes to Hollywood and The Art of Noise expanded and remastered in lavish double-disc packages.
This summer, ZTT adds to the Element Series a compilation of rarities from the short but intricate discography of Frankie Goes to Hollywood. The quartet's "Relax" was one of the label's biggest international successes, and England embraced their highly sexualized brand of dance-rock, taking "Relax," "Two Tribes" and "The Power of Love," the band's first three singles, to No. 1 on the charts. (Subsequent singles "Welcome to the Pleasuredome" and "Rage Hard" were Top 5 hits.)
On the typically idiosyncratic Sexmix double-disc compilation cooked up in the ZTT vaults, some of Frankie's rarest remixes are put on CD for the first time. The compilation primarily draws from cassette single programs, which often differed greatly from 7" and 12" track listings. The original U.K. "singlette" editions of all four singles from debut LP Welcome to the Pleasuredome (1984) can be found on Sexmix, along with CD single versions of "Rage Hard" and "Warriors of the Wasteland" from the band's second and final LP Liverpool (1987). Rare versions of "Relax," "The World is My Oyster" and "Watching the Wildlife" round out the set, along with a rare cover of Rod Stewart's "Da Ya Think I'm Sexy?" which was first released in 2009 as a digital bonus track from the Frankie Say Greatest hits compilation.
August 6 is this set's release date in the U.K., an Amazon placeholder page exists here. Hide yourself after the jump for the track list.
Frankie Goes to Hollywood, Sexmix: Archive Tapes and Studio Adventures, Volume One (ZTT/Salvo SALVOMDCD28, 2012)
Disc 1
Happy Hi! (All in the Body)
Welcome to the Pleasuredome (The Soundtrack from Bernard Rose's Video)
Get It On (Long Version)
Welcome to the Pleasuredome (How to Remake the World)
Happy Hi! (All in the Mind)
Relax (International)
The Power of Love (Extended Singlette Version)
The World is My Oyster (Trapped)
Holier Than Thou (FGTH's Christmas Message)
The World is My Oyster (Scrapped)
Holier Than Thou (further festive messaging)
The Power of Love (Instrumental Singlette Version)
The World is My Oyster (at its full length)
Don't Lose What's Left
Rage Hard + ++ *
Disc 2
Relax (Sex Mix)
Later On (from One September Monday)
Ferry Cross The Mersey (...and here I'll stay)
Two Tribes (Keep the Peace - Intro)
One February Friday (Singlette Version Part 1)
Two Tribes (Carnage)
One February Friday (Singlette Version Part 2)
War (somewhere between Hiding and Hidden)
One February Friday (Singlette Version Part 3)
Two Tribes (Keep the Peace - Outro)
Warriors of the Wasteland (Compacted)
Do You Think I'm Sexy?
Watching the Wildlife (Voiceless)
Disc 1, Tracks 1-5 released as ZTT cassette CTIS 107, 1985
Disc 1, Track 6 released on ZTT 12" single 12 ZTAS 7, 1985
Disc 1, Tracks 7-12 released as ZTT cassette CTIS 105, 1984
Disc 1, Track 13 released on ZTT single ZTAS 5, 1984
Disc 1, Tracks 14-15 released as ZTT CD single ZCID 22, 1986
Disc 2, Tracks 1-3 released as ZTT cassette CTIS 102, 1984
Disc 2, Tracks 4-10 released as ZTT cassette CTIS 103, 1984
Disc 2, Track 11 released as ZTT CD single ZCID 25, 1986
Disc 2, Track 12 from iTunes version of Frankie Say Greatest (ZTT (no cat. #), 2009)
Disc 2, Track 13 released on ZTT 12" single 12 ZTAS 26, 1987