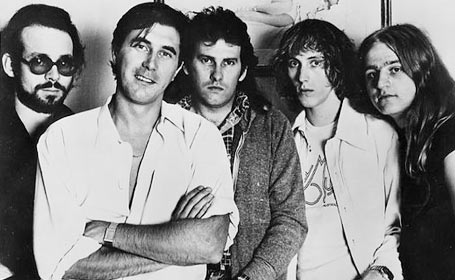 Roxy Music, arguably the original New Romantics, are coming back in a big way on the catalogue side of things in 2012, with a new box set and additional surprises to follow.
Primarily comprised of singer Brian Ferry, guitarist Phil Manzanera, keyboardist Brian Eno, saxophonist Andy McKay and drummer Paul Thompson (with an almost-consistently shuffling lineup during their active years, including England's greatest fill-in Paul Carrack of Ace, Squeeze and Mike + The Mechanics), Roxy combined the twin elegances of Beatlesesque rock and Bowie-ish glam to rapturous critical and commercial acclaim. None of their studio albums missed the U.K. Top 10, and they amassed 13 Top 20 singles. (Although Eno would leave the band in 1973 for a wildly influential career as a producer, his influence was long felt.) The group split up in 1983, with Ferry and the others embarking on solo careers, but reconvened in 2001 (minus Eno) for a tour and have performed on and off ever since. (The 66-year-old Ferry, ironically enough, made headlines in the entertainment press recently for marrying his 29-year-old girlfriend, who had previously dated one of Ferry's sons.)
As initially announced, The Complete Recordings 1972-1982 will present all eight of the band's studio albums, from Roxy Music to Avalon, each digitally remastered and expanded with a host of non-LP B-sides and remixes, 12 of which are making their debut on CD. Initially, the package was due to feature four DVDs presenting the music in "high-resolution audio, transferred digitally from the original analogue masters." (According to the link at the top, the DVDs would have featured the albums in 96/24 LPCM stereo.) However, the set will now only feature 10 compact discs: the original albums will be presented on their own, while the bonus content will form the final two discs. (Thanks to super reader Rich for elucidating for us!)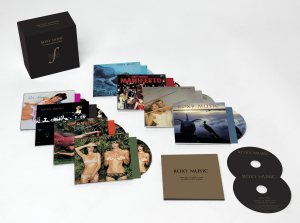 The set is out on August 6, and will, according to a press release, be the first in a series of catalogue activities to commemorate the band's 40th anniversary. Have a look at the track list and make your pre-orders after the jump!
Roxy Music, The Complete Recordings 1972-1982 (Virgin, 2012)
Disc 1: Roxy Music (originally released as Island ILPS 9200, 1972)
Re-make/Re-model
Ladytron
If There is Something
2HB
The Bob (Medley)
Chance Meeting
Would You Believe?
Sea Breezes
Bitters End
Disc 2: For Your Pleasure (originally released as Island ILPS 9232, 1973)
Do the Strand
Beauty Queen
Strictly Confidential
Editions of You
In Every Dream Home a Heartache
The Bogus Man
Grey Lagoons
For Your Pleasure
Disc 3: Stranded (originally released as Island ILPS 9252, 1973)
Street Life
Just Like You
Amazona
Psalm
Serenade
A Song for Europe
Mother of Pearl
Sunset
Disc 4: Country Life
The Thrill of It All
Three and Nine
All I Want is You
Out of the Blue
If It Takes All Night
Bitter Sweet
Triptych
Casanova
A Really Good Time
Prairie Rose
Disc 5: Siren (originally released as Island ILPS 9344, 1975)
Love is the Drug
End of the Line
Sentimental Fool
Whirlwind
She Sells
Could It Happen to Me?
Both Ends Burning
Nightingale
Just Another High
Disc 6: Manifesto (originally released as Polydor POLH 001, 1979)
Manifesto
Trash
Angel Eyes
Still Falls the Rain
Stronger Through the Years
Ain't That So
My Little Girl
Dance Away
Cry, Cry, Cry
Spin Me Round
Disc 7: Flesh + Blood (originally released as Polydor POLH 002, 1980)
The Midnight Hour
Oh Yeah
Same Old Scene
Flesh and Blood
My Only Love
Over You
Eight Miles High
Rain Rain Rain
No Strange Delight
Running Wild
Disc 8: Avalon (originally released as E'G Records HP 50, 1982)
More Than This
The Space Between
Avalon
India
While My Heart is Still Beating
The Main Thing
Take a Chance with Me
To Turn You On
True to Life
Tara
Discs 9-10: Bonus material
Virginia Plain (single A-side - Island WIP 6144, 1972)
The Numberer (single B-side - Island WIP 6144, 1972)
Pyjamarama (Island Mix) (single A-side - Island WIP 6159, 1973)
Pyjamarama (Polydor Mix) (single B-side - Polydor 2001 739, 1977)
The Pride and the Pain (single B-side - Island WIP 6159, 1973)
Do the Strand (USA 7" Mix) (single A-side -  Island 12 713 AT (Germany), 1973) *
Hula Kula (single B-side - Island WIP 6173, 1973)
Your Application's Failed (single B-side - Island WIP 6208, 1974)
The Thrill of It All (Edit) (from Greatest Hits - Polydor 2001 739, 1977) *
The Thrill of It All (USA 7" Mix) (single A-side - ATCO 45-7018 (U.S.), 1974) *
Love is the Drug (USA 7" Mix) (promo single B-side - ATCO 45-7042 (U.S.), 1975)*
Sultanesque (single B-side - Island WIP 6248, 1975)
Both Ends Burning (7" Mix) (single A-side - Island WIP 6262, 1975) *
For Your Pleasure (Live) (single A-side - Island WIP 6262, 1975) *
Trash 2 (single B-side - Polydor POSP 32, 1979)
Dance Away (Single Version) (single A-side - Polydor POSP 44, 1979)
Dance Away (Extended Mix) (12" A-side - ATCO DDK-7504 (Canada), 1979)
Angel Eyes (Single Version) (single A-side - Polydor POSP 67, 1979)
Angel Eyes (Extended Remix) (12" A-side - Polydor POSPX 67, 1979)
Oh Yeah (On the Radio) (single A-side - Polydor 2001 792, 1980) *
Manifesto (Remake) (single B-side - Polydor POSP 93, 1980)
South Downs (single B-side - Polydor 2001 792, 1980)
Lover (single B-side - Polydor ROXY 1, 1980)
Jealous Guy (single A-side - Polydor ROXY 2, 1981)
To Turn You On (First Version) (single B-side - Polydor ROXY 2, 1981) *
More Than This (7" Edit) (single A-side E'G Records ROXY 3, 1982)
Avalon (7" Single Version) (single A-side - E'G Records ROXY 4, 1982) *
Always Unknowing (single B-side - E'G Records ROXY 4, 1982)
Take a Chance with Me (7" Single Version) (single A-side - E'G Records ROXY 5, 1982) *
Take a Chance with Me (USA 7" Mix) (single A-side - Warner Bros./E'G Records 7-29978 (U.S.), 1982) *
The Main Thing (12" Single Version) (single B-side - E'G Records ROXY X5, 1982)
The Main Thing (Remix) (single B-side - E'G Records ROXY 5, 1982) *
* denotes track previously unreleased on CD