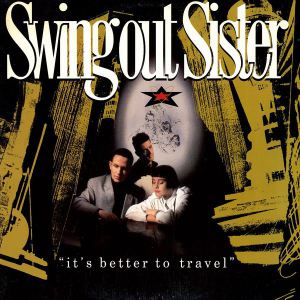 Well, this certainly doesn't happen often: a previously-reported expanded edition of U.K. pop group Swing Out Sister's debut LP is undergoing some 11th-hour changes, actually picking up a few bonus tracks for good measure.
When it was initially announced, the 25th anniversary edition of It's Better to Travel from Universal's U.K. arm featured the original nine-track LP and 11 bonus tracks over two discs. While there were plenty of B-sides and remixes to go around, many of them were previously available on compilations or other import editions of the album. (In particular, our brethren at Super Deluxe Edition were critical of the package, actually prompting a response on Twitter from S.O.S. keyboardist Andy Connell.)
Now, though, the package has been changed ever so slightly, and fans should have more than ever to look forward to on this set. What's been added? Hit the jump and take a look.
The first disc of the new expansion of It's Better to Travel has first and foremost been reorganized to closer replicate the original running order on initial CD pressings. (Those discs included remixes of singles "Breakout," "Surrender," "Blue Mood" and album cut "Twilight World," as well as an instrumental of "Communion" present on the second disc.)
The dozen tracks on Disc 2 still include all the extra content from the initially-announced track list, including five non-LP B-sides, but now adds four extra remixes. The "New Rockin' Version" and "Horny Version" of "Breakout" from a limited edition 12" single are now included, along with the "Roadrunner Mix" of "Surrender" from another limited 12" and the "Growler Mix" of "Blue Mood" from the original 12" single.
The new package is available two weeks later than the original version was intended to be, with a new release date of July 16. You can order it below.
It's Better to Travel: 25th Anniversary Expanded Edition (Mercury 5338878 (U.K.), 2012)
Disc 1: Original LP and bonus tracks
Breakout
Twilight World (Superb Superb Mix)
After Hours
Blue Mood
Surrender
Fooled by a Smile
Communion
It's Not Enough
Theme (from "It's Better to Travel")
Breakout (N.A.D. Mix)
Surrender (Stuff Gun Mix)
Twilight World (Gas Distress Mix)
Blue Mood (12″ Version)
Disc 2: More bonus material
Breakout (A New Rockin' Version) *
Surrender (Roadrunner Mix) *
Fooled by a Smile (12″ Mix)
Blue Mood (Dubbed Up Mix) *
Communion (Instrumental)
Dirty Money
Fever
Who's to Blame?
Wake Me When It's Over
Another Lost Weekend (Long Version)
Blue Mood (Growler Mix) *
Breakout (Horny Version) *
* indicates newly-included track
Disc 1, Tracks 1-9 released as Mercury LP OUTLP1, 1987
Disc 1, Track 10 and Disc 2, Track 6 from Mercury 12" single SWING 212, 1986
Disc 1, Track 11 and Disc 2, Track 8 from Mercury 12" single SWING 312, 1986
Disc 1, Track 12 from original CD pressings – Mercury 832 213-2, 1986
Disc 1, Track 13 and Disc 2, Track 4 from Mercury 12" single MERXR207, 1985
Disc 2, Tracks 1 and 12 from Mercury 12" single SWING 2212, 1986
Disc 2, Track 2 from Mercury 12" single SWING 3312, 1986
Disc 2, Tracks 3 and 7 from Mercury 12" single SWING 512, 1987
Disc 2, Track 5 from Mercury 12" single 870 242-1, 1987
Disc 2, Tracks 9 and 11 from Mercury 12" single MERX207, 1985
Disc 2, Track 10 from Another Non-Stop Sister (Mercury PPD-1031 (JP), 1986)