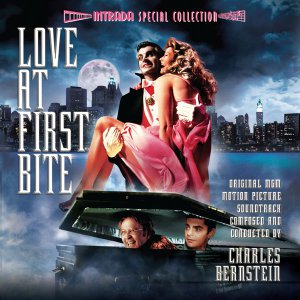 This week's soundtrack reissue offerings include two fantastical scores from one label and another pair of Jerry Goldsmith titles from a label that's done a fantastic job on recent releases from the late, great composer.
Over at Intrada, they've released one of their more-requested titles: Charles Bernstein's score to the comedy Love at First Bite. The 1979 film starred George Hamilton as a spooky but ultimately light-hearted Dracula, displaced from Transylvania to modern-day New York City. Bernstein's music evokes all the Eastern European chills of your typical vampire yarn, but the change of scenery begets some lighthearted forays into disco! Augmented with two disco mixes of cuts from the original soundtrack LP on Parachute Records, this premiere release of the complete score is certainly something for fans to sink their teeth into.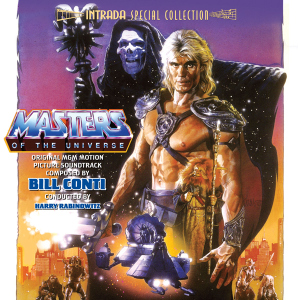 The same label has also prepped a new edition of another fantasy-minded score. Though the film version of Masters of the Universe was released in 1987, some years after the Saturday morning cartoon and action figure series of the same name had peaked among audiences, its place in the franchise has earned it some cult status - along with memorable performances by Dolph Lundgren as Prince Adam of Eternia (He-Man to us mere mortals) and Frank Langella as the villainous Skeletor. This is not the first release of Bill Conti's original score; a highlights LP was released on vinyl and CD by Varese Sarabande at the time of release, and said LP was paired with the complete score on a two-disc set released by La-La Land in 2008. This release, though, omits that original album in favor of a single-disc presentation of the original soundtrack.
And what Goldsmith gems does La-La Land have in store? Hit the jump to find out!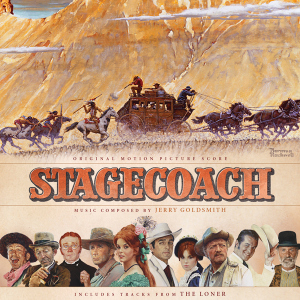 As if La-La Land hasn't spoiled Goldsmith fans enough already, there's two more of his classic soundtracks - namely, two scores for Westerns - getting reissued with new material. First, there's his score to the 1966 remake of the John Ford classic Stagecoach, directed by Gordon Douglas and starring Bing Crosby, Ann-Margaret and Slim Pickens as part of the group that "rode to greatness on the stagecoach to Cheyenne," as the film's poster so eloquently put it. One of Film Score Monthly's first CD releases in 1998, the score has been meticulously remastered and expanded, including the original LP program and adding not only the extra Goldsmith cues from episodes of the Rod Serling-created series The Loner but five previously unreleased tracks, including source cues and outtakes. This edition is limited to 2,000 units.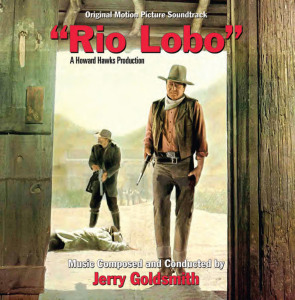 LLL has also expanded Goldsmith's score to the epic Rio Lobo (1970), the final film directed by Howard Hawks, starring John Wayne as a heroic Civil War colonel defending the film's eponymous town from corruption and murder. First released in a mixture of stereo and mono cues by Prometheus Records in 2001, LLL's team has recovered every surviving bit of the score, presenting it first complete in mono, then featuring several unreleased source and alternate cues followed by the five surviving stereo cues. Rio Lobo is limited to 3,000 copies.
All titles can be ordered below. Happy listening!
Charles Bernstein, Love at First Bite: Original MGM Motion Picture Soundtrack (Intrada Special Collection Volume 203, 2012 - original film released 1979)
Transylvania Moon/Main Title
Magazine Shoot
Horse/Harlem
Angry Peasants
The Count and The Girl
Sunrise
Cindy
Black Chicken
Salsa Source
Lament
Hypnosis
Rumanian Love Song
Carriage Ride
First Bite
Shrink's Office
Burn, Baby!
Manhattan Chase
Dinner Source
Uptown Church
Elevator
Manhattan Chase II
Love Bites Back
Dancin' Through the Night (Original Disco Mix)
Fly by Night (Original Disco Mix)
Tracks 23-24 from Parachute RRLP-9016, 1979. All other tracks previously unreleased.
Bill Conti, Masters of the Universe: Original MGM Motion Picture Soundtrack (Intrada Special Collection Volume 205, 2012 - original film released 1987)
Main Title
Quick Escape
Battle in Greyskull
To Earth
Where's the Key?
The Cemetery
Getting a Bearing
The Mercenaries
Battle At the Gym
Skeletor's Wrath
Evil-Lyn to Earth
Kevin's Plight
Centurion Attack
Julie Takes The Key
Skeletor Arrives
He-Man's Last Battle
Julie's Muzak
He-Man Gets Whipped
People of Eternia
The Final Battle
Time to Go
Happy Ending
End Credits
The Cosmic Key
Original score program previously released on La-La Land Records LLLCD 1071, 2008.
Jerry Goldsmith, Stagecoach: Original Motion Picture Score (La-La Land Records LLLCD 1215, 2012 - original film released 1966)
Main Title
The Stage is Coming
The Reward
The First Born
Family History
The Aftermath
A New Passenger
All is Forgiven
Escape Route
No More Indians
Get Out of Town
Stagecoach to Cheyenne - Wayne Newton
"The Texas Cowboy"
"Cindy"
"Buffalo Gals"
Main Title (Alternate)
The Stage is Coming (Raw Takes)
An Echo of Bugles
One of the Wounded
Main Title (with Narration)
Tracks 1-11 released as Mainstream LP S-6077, 1966. Track 11 was Capitol single A-side Capitol CL 15451, 1966. Tracks 18-20, from The Loner, first released on Film Score Monthly CD Vol. 1, No. 1, 1998. All other tracks previously unreleased.
Jerry Goldsmith, Rio Lobo: Original Motion Picture Soundtrack (La-La Land Records LLLCD 1221, 2012 - original film released 1970)
"Rio Lobo" Main Title
The Capture
A New Arrival
Unexpected Gun
A Good Teacher (Complete)
Quiet Town
No Place to Go
Plans
The Raid
The Scar/Hang On a Minute
Cordona's Capture
The Cantina
The Trade
"Rio Lobo" End Title
Assembly (Source)
Billy Boy (Source)
To Arms (Source)
POW Camp (Source)
Saloon Source Guitar #1
Saloon Source Guitar #2
Jew's Harp Source
Saloon Source Piano #1
Saloon Source Piano #2
Saloon Source Piano #3
On to Rio Lobo (Alternate Ending)
The Capture
New Arrival/Unexpected Gun
A Good Teacher/Quiet Town/Cantina
Plans/The Raid
Scar/Hang On a Minute/Finale
Tracks 1, 5, 7, 11, 13-14 and 26-30 released as Prometheus PCR-511, 2001. Tracks 1-14 in mono, Tracks 15-25 are source and alternate cues. Tracks 26-30 in stereo.